Are you ready for a beach vacation? Maintaining a style quotient while dressing up for a beach vacation is a tough task. If you are trying to determine the best beach wear for men then you are at the right place! This blog at Hiscraves talks about the best beachwear for men and tips on selecting the best one among so many available options. Check out this blog completely to add the best beach wear to your closet!
List of the Best Beach Wear for Men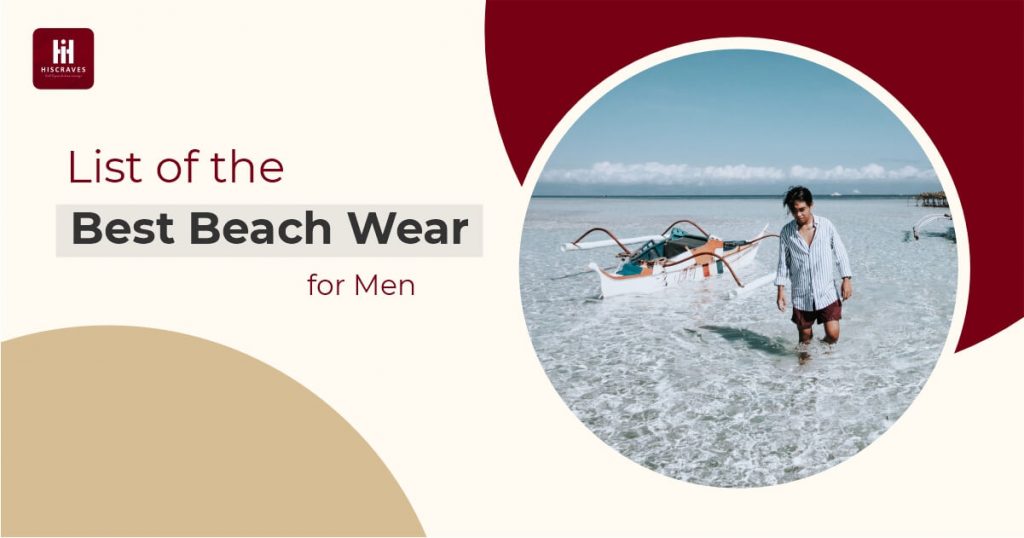 1. Sleeveless Tees and Shorts
Whether it is about beach vacation or simply spending time with oneself on your couch, a man's best friend is a sleeveless tee with shorts. This is an all time favourite of almost every man out there. This pair of beach wear for men is ideal whether you want to enjoy sea waters or want to have a cosy dinner on the beach. While selecting the shorts make sure it is simple in montane so that you can combine them with funky tees. Similarly, you can opt for vice versa pairing and get into the sparky beach look.
2. Tie-Dye T-shirts with Shorts
If you want to go with the current trends then surely opt for a tie-dye t-shirt. You can combine such t-shirts with denim shorts. This pair of beach clothes for men is funky yet they provide a smart party vibe. However, if you want to add more funk to your look then try slightly ripped shorts. Add some beach shirts over the tie-dye t-shirts to add a zing to the overall look. Don't forget to combine matching flip-flops with this combination.
3. Printed shorts with T-shirts
Printed shirts and t-shirts are quite common as a part of beach outfits. If you want to try something different and still look cool then try out printed shorts with half sleeve t-shirts. You can pair up solid plain t-shirts with printed shorts. Bold bright colours look great together with the shorts. These men's beach vacation clothes will make you stand out from others. However, never pair up both t-shirts and shorts printed as maintaining the contrast is essential for the overall look.
4. Linen Shirts with Chinos
Linen shirts are such dresses that never go out of fashion. Whether you are with your partner or friends at a beach a linen shirt with chinos would be a perfect combination. These beach wear shirts look the best when you opt for printed ones. While pairing printed linen shirts make sure to opt for only plain, bold-coloured chinos and striped or textured shirts. Whereas if you have selected plain solid shirts then go for floral or printed chinos. A flip-flop is the best pick to complement the entire look.
5. Swimwear
Most people want to enjoy the sea by indulging in its waves. For such people, swimwear will be the best. Whenever you plan a holiday to a beach then swimwear should be present in beach wear for men. While purchasing swimwear, choose colours that are shades of the ocean or simply go for black or grey versions. Alternatively, you can also opt for floral ones with small flower motifs. Whatever prints you buy, always buy cotton swimwear only as that will help in quick drying.
6. Vests with Shorts
When you are on a beach, sea water allures you to dive in. One of the most popular beach-type dresses for men is vests with shorts. Just like other combinations, pair one bold colour with another in contrast. If you opt for printed and bright funky vests then go for simple plain shorts. You can even add swimwear under the shorts.
If you have swimwear beneath your attire then you can slip out of shorts and enjoy the sea on the same day when you have visited the beach. With vests, you can pair up any type of shorts and have a casual and relaxed look. This dress is also a perfect fit for the times when you are away from the beach for snacks in the evenings.
7. Polo T-shirts with pants
One of the uncommon yet trending beach wear for men is polo t-shirts. Your vacation would remain incomplete without trying out colourful polo t-shirts. The best thing about polo t-shirts is that you can pair them with anything and everything. The most simple pick would be lounge pants or shorts. You can also add denim jackets to it as that will complement your beach look. This type of look is suitable for even beach parties.
8. Textured Shirts with denim shorts
Denim shorts are perfect for a beach party. There are a number of ways denim shorts can be paired. The most preferred and now in-trend beachwear is pairing denim shorts with textured shirts. The texture shirts are beach shirts for men that can be paired with pants as well as denim shorts. When paired with denim shorts you can complete your look with beach sandals and you are good to go for an evening beach party.
9. Hiscraves T-shirts with shorts/pants
Hiscraves T-shirts are the best pick for a beach vacation. If you are looking for beach wear for men then check out Hiscraves' collections. There is a huge range of t-shirt collections from which you can choose the contrast colour t-shirts to pair up with printed or floral shorts. You can also pair up pants with t-shirts for a party on the beach.
10. Striped Shirts
Short sleeve shirts are always present in the range of beach wear shirts for men. While opting for short sleeve shirts you can choose striped ones. They are more attractive if you are a sportsperson. With the striped shirts pair ultra cool shorts. Denim shorts are mostly preferred by men. Complete the entire look with either a pair of loafers or beach sandals and you are all set for a beach party.
You may like: 18 Year Boy Dressing Style | Trendy Teenage Guy Outfit in 2023 (Trending)
How to dress up in a cool beach outfit?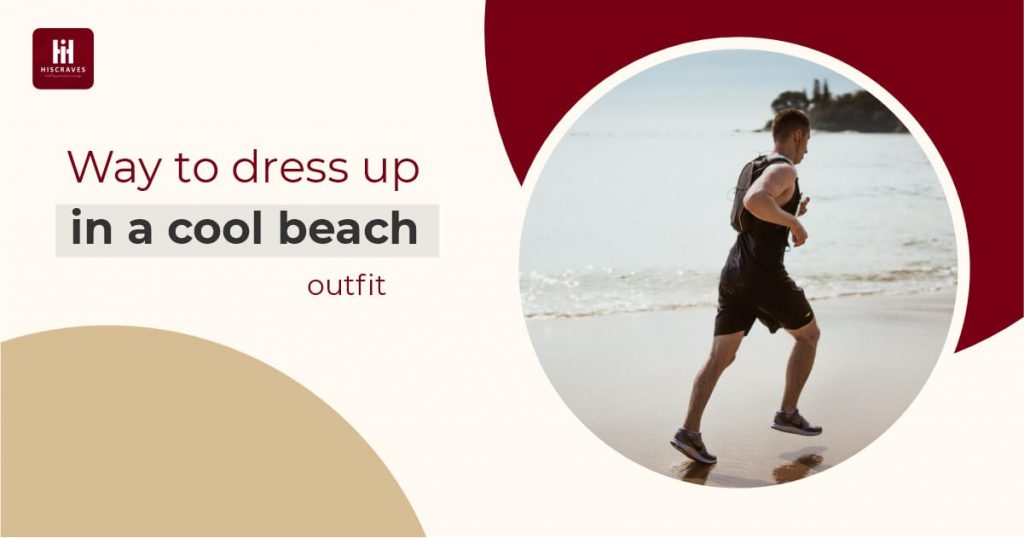 Now, you already know about many beachwear for men. When you are dressing up for the beach, how you dress up is equally important as what you wear. Usually, in daily life for formal occasions as well as for casual outings, we prefer to wear fitting clothes. But when it is about beach wear, choosing loose-fitted clothes should be your first preference. The clothes that are loose and flowy will allow your body to breathe easily on the hot and humid beach.
Of course, you are on a vacation to a beach so the attire should be cheerful whether you are dressing up for mornings or evenings. Below mentioned are some useful tips that will allow you to dress up in a cool beach outfit effortlessly:
Opt for bright colour clothes: You are on a vacation. It's time to celebrate and remain cheerful. On a beach, the sun is bright throughout the day. Hence, bright colours will look great as beach wear. Not only will they give you happy visuals but the photographs in bright colour look great. Try out different bright colour outfits for this beach vacation and create a happy cool beach look.
Long sleeve clothes for sensitive skin: Usually, men opt for short sleeve shirts for the beach as that provide comfort as well as look cool. But if you are someone who has sensitive skin to sun it's highly recommended to use long sleeve shirts. Such beach wear for men will keep you protected from the harsh sunlight of the sea. Moreover, the long sleeves shouldn't be tightly fitted, instead opt for flowy, loose-fitted shirts.
Beach colour shirts: Often men don't want to experiment with colours and choose the typical black or grey shades of clothing. When it is about selecting beach wear for your upcoming vacation, you can choose beach colour shirts. These shirts have somewhat similar shades like beach or sea. The outfits in this colour will enable you to stand out from others.
Apply layers of sunscreen: Once you are ready in your beach wear for a bash on the sea, apply sunscreen on the exposed parts of your skin. The sun's rays are way higher on the beach so it is essential to use a good sunscreen with a higher SPF. Those who have sensitive skin should add more than one layer of sunscreen.
Keep extra dry clothes: While deciding beach wear for men, always decide on an extra one or two pairs. When you are at the beach you have the urge to explore the beach more than you thought. Often you end up bashing in seawater without any plans. This gets your clothes completely wet. For such an unprecedented situation extra dry clothes are a must for any beach vacation.
Layer your outfits: Layering your outfit is required especially when you don't prefer long sleeve shirts. To protect yourself from harsh sunlight, use a short sleeve or long sleeve shirt over t-shirts or vests. This type of layering will add an extra charm to your beach outfit and at the same time work as a shield against the hot sunlight.
How to stay updated with Hiscraves?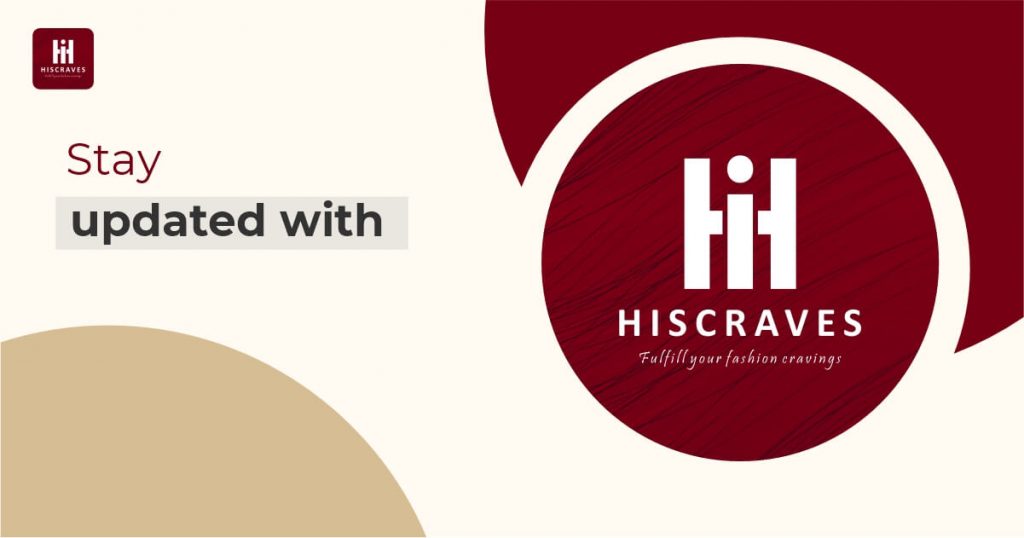 Hiscraves is a platform that has a huge collection of beachwear for men. Beach vacations are all about styling in the ways in which you feel comfortable. There aren't any such hard and fast rules related to men's beachwear. However, selecting the right clothes and the right pairs will not only enable you to appear attractive but you will feel comfortable while enjoying the beach. Hiscraves suggest the best picks! Plan according to the suggestions and reach out to the latest trends.
Shorts, floral shirts, half sleeves shirts, full sleeves, loose fitted shirts, beach colour t-shirts, etc. You can find all that is required for your vacation in one place. While choosing your favourites from Hiscraves, remain assured about the quality. Whether you want to spend your time in or out of the water, opt for fabrications that are lightweight and breathable such as cotton and linen. Get styled with Hiscraves designs and enjoy your beach vacation in a comfortable and stylish way!
We hope that this blog has already given you a glimpse of beach wear for men. You can explore the options on Hiscraves and grab some of the best combinations for your upcoming beach vacation. Even if you haven't planned a getaway to a beach, these wonderful beachwear collections will inspire you for the next vacation. A beach vacation will rejuvenate your mood and the right pieces of beach wear will capture your memories in the most stylish look ever!
Frequently Asked Questions
Which types of clothes to avoid at the beach?
Tight-fitted clothes and beachwear should be completely avoided. You should wear such clothes that help you to stay comfortable. Besides that, also avoid dull colours as bright colours look great as beach wear. 
What are the essentials for a beach vacation?
A perfect beach wear is a must for a beach vacation. Apart from that, sunglasses with UV protection, sunscreen, a watch with water resistance, and beach sandals are among the essentials. 
What to wear for a beach party at night?
For a beach party at night, wear striped or textured shirts with shorts be it denim shorts or normal shorts. You can pair them with a pair of loafers or sandals. However, any casual look is suitable for a beach party.
What colours are the best for beach wear?
Bright colours or beach colours are the best for beach wear. If you have trouble deciding the colours then opt for typical black and grey shades of beach wear.
Which bottom wears are suitable for the beach?
Shorts be it denim shorts or normal shorts are the best when you pair up with any type of shirt, t-shirt, or vest.