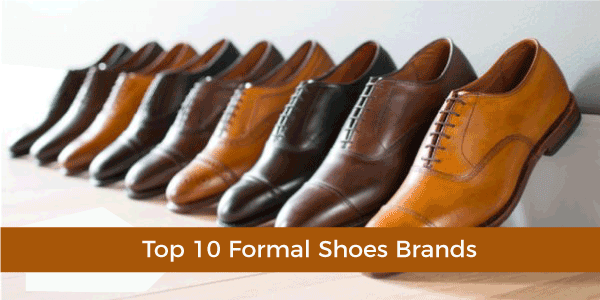 Every man should have a stylish pair of best formal shoes to wear for business meetings and other formal events. The perfect pair of formal shoes is important for creating an effective first impression and boosting self-assurance. It is normal to feel confused when there are so many distinct formal shoes brands and leather shoes for men available on the market nowadays. Are you looking for best formal shoes that are not only fashionable but also comfortable from the best formal shoes brands in India? Don't worry! You've found the right page. 
Formal shoes are needed for businessmen to attend events, cocktail parties, and formal black-tie events, so it's important to have a few pairs of formal shoes brands on hand at all times. The best formal shoes brands have to offer shoes that are both fashionable and stylish. Here, you'll find the top 10 formal shoe brands in India.
List of Formal Shoes Brands
1. Lee Cooper
Lee Cooper is an English-American clothing and shoe brand with headquarters in London. This formal shoes brand sells shoes all over the world and was founded by Morris Cooper in 1908. For its durability, comfort, and reliability, Lee Cooper is a formal shoes brand name that's trusted by many. If you want a pair of leather shoes brands that you can walk about in for many hours without getting tired of, look no further than Lee Cooper. Black, brown, and beige are the available colours for its formal shoes. One of the best formal shoes brands, Lee Cooper uses high-quality leather to make formal shoes.
2. Johnston & Murphy
It is an American company that sells apparel and shoes. The brand started creating premium quality formal shoes for adults, women, and kids in 1850. One of the best formal shoes brands, Johnston & Murphy Shoes are crafted of superior leather with the aim of creating a global standard for professionals. The brand offers formal shoes in a range of colours, including black, burgundy, green, white, brown, and brandy full-grain colours. Your feet stay at ease all the time because of the sole's extreme softness and comfort. Exceptional customer service is provided by this formal shoes brand in India.
3. Prada
Prada has created and sold finely produced and unique footwear, handbags, apparel, and accessories for men, women, and even kids. Prada is among the top 10 formal shoes brands. It is a huge Italian brand with incredibly remarkable shoe designs and textures. It was founded in 1913 and has its headquarters in Milan, Italy, with 618 locations worldwide. Shoe styles like oxfords, loafers, and cordovan cap-toe formal shoes are all available. The Prada formal shoe sole is made from a single piece of leather, making it lightweight and comfortable for those long days at the office. the best leather shoes for men. You may get the best leather shoes for men in a variety of colours including black, brown, and grey.
4. Amedeo Testoni
A popular shoe brand, Amedeo Testoni, was founded in 1929. The brand headquarters are located in Italy. Italian style and craftsmanship are personified by Amedeo Testoni, a well-known luxury formal shoes brand. It has become a preferred option for individuals looking for style and elegance due to its stunning designs and careful attention to detail. After examining the fundamental method used by the Bolognese artisans, the founder of the Amedeo Testoni brand began creating Bolognese shoes. It takes more than 200 individual human actions to make a single shoe. Its shoes are unique and stylish. Amedeo Testoni's shoes offer luxury by providing demanding consumers with the ideal fusion of comfort and style.
5. Crockett & Jones
A British shoemaker brand Crockett & Jones was established in 1879. It is well known for making the finest formal shoes. One of the most popular shoemakers in the world, its shoes are worn by royalty, celebs, and business executives. It is one of the best formal shoes brands that offers formal footwear for both men and women. The brand offers customers the ability to buy shoes with different textures in addition to having them made to order in a custom environment. Due to the exceptional quality of the formal shoes, Crockett and Jones offer various prices.
6. Gucci
Famous all over the world, Gucci shoes are a stylish icon. Founded by Guccio Gucci in 1921, Gucci is an Italian luxury company best known for its high-quality leather items. One of the best shoes brands for men's formal shoes is Gucci. They are exceptionally thin, flexible, and supple because they are constructed of exquisite, soft leather. Men's formal shoes from Gucci's collection are popular in business. Gucci's footwear is durable and won't break down after being used for a decade or longer. Gucci is famous for its range of accessories, fragrances, and bags. And when it comes to the original leather shoes brands, Gucci is the one. It operates 487 stores worldwide.
7. Berluti
The brand Berluti is well-known for its luxurious leather shoes. Established in 1895, Berluti is an Italian fashion house. Berluti is one of the leather shoes brands and is also known for bespoke shoes. It makes leather belts, bags, wallets, and ready-to-wear clothing in addition to these items. According to the brand, high-quality footwear is necessary for a fashionable appearance. The quality and style of Berluti shoes are well-known. The brand uses premium materials like suede and calfskin to make its shoes. Around the world, Berluti operates 60 outlets in different countries.
8. Timberland
Famous for its leather shoes, Timberland also produces styles in nubuck and textured leather. Although the price of Timberland's shoes may differ, it often isn't more than a few hundred dollars. The footwear from Timberland never goes out of style because of its classic style. There are 34 Timberland stores in the United Kingdom, 85 in the United States, and more than 90 in other countries worldwide. Additionally, the brand offers a variety of accessories, like leather goods, watches, and eyewear.
9. Woodland
A well-known footwear manufacturer, Woodland was established in 1992 and is managed by Aero Group. One of the best leather shoe brands, Woodland is famous in India for its unique and edgy leather shoes, and it is still a top pick here. Woodland also makes a wide variety of apparel and accessories that can be purchased from any of their stores or online. The leather on the top of these slip-on shoes gives them a stylish touch. The thermoplastic elastomer soles will keep your feet feeling great over a variety of surfaces.
10. Fendi
In the list of formal shoes brand names, Fendi was Founded in 1925 and is popular for its shoes. Fendi is an Italian high-end fashion company that produces eyewear, ready-to-wear clothing, leather goods, shoes, and accessories. The stylish and unique shoes from the Fendi brand are a representation of Italian design and craftsmanship. In different nations all over the world, Fendi has 215 stores. You can wear a pair of Fendi leather shoes for up to 10 hours without feeling any discomfort.
When a shoe is comfortable and durable, it can be deemed to be a high-quality shoe. We've listed above the Top 10 Best Formal Shoe Brands in India, which will satisfy all your needs. A comfortable pair of formal shoes could make a long day at the office much more enjoyable. When you dress formally, you become more elegant and confident. This enhances your entire style.