Birthdays are always special as you celebrate your existence. Indeed it should be special and celebrated in a way you like. When it is about celebrating birthdays the first thing that appears on the top of the list is the birthday outfits. Women are always excited about their birthday dresses and the way they look on their day. Are you confused about outfits that will make you appear special on your birthday? This blog at Hiscraves will guide you through some of the best birthday outfits for women. Pick a stunning outfit and style it rockingly for your birthday!
15 Ideas for Birthday Outfits For Women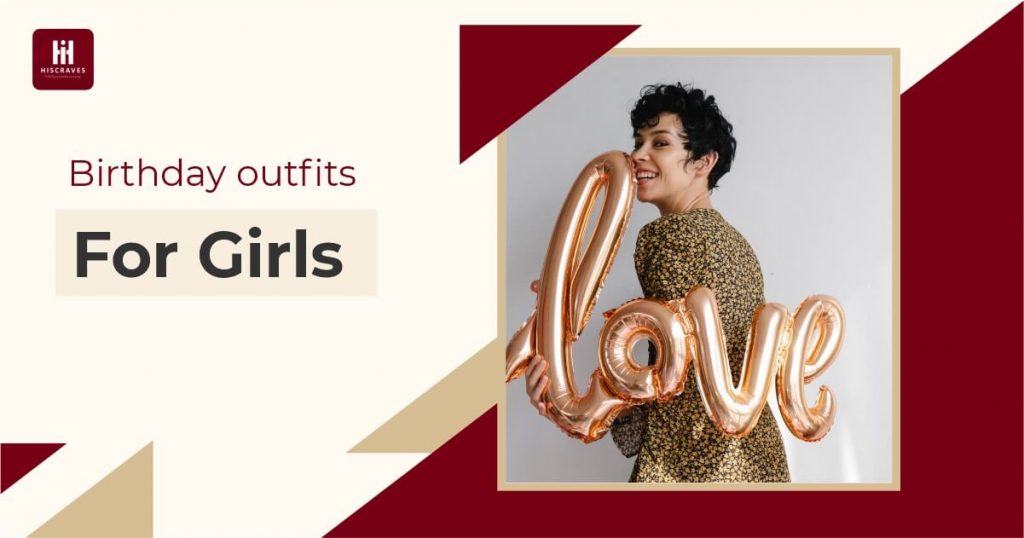 The birthday outfit should be according to your celebration. If you have plans to celebrate with your family then the outfit will surely differ from the nightclub celebration with friends. Below mentioned are a few ideas for birthday outfits for women considering different situations:
1. Summer Birthday Outfits
A birthday in summer is like no other. You may have plans for a beach party or a brunch in your favourite restaurant or any other plans, all you need is a good summer birthday outfit. There are plenty of birthday women's dresses for parties in summer weather. You can opt for solid shades of dresses such as gold, pink, green, etc. In the case of fabric although cotton is the best pick for summer but for birthday parties satin or silk fabrics will be the best. Linen is also an excellent choice as they are breathable fabric and are perfect for day celebrations.
If you have your birthday in the summer months then you can try a mini dress and matching shirt or a crop top. These types of birthday outfits for women will make you appear stylish and at the same time, you will stay cool and fresh.
2. Winter Birthday Outfits 
Often you may run out of outfit ideas when your birthday is in mid-winter. However, there are a number of rocking options of outfits that you can opt for an amazing birthday celebration. Whenever it is about winter birthday outfits, layering is the first option that comes to mind. Throughout the day you can shed the layerings as you move in or out of places. If you want to organise parties in the evenings then you can try a mini dress with stockings and platform heels. This will add some fun textures to your outfit. You can also try suits, trousers, and tailored pieces and try out various silhouettes to find which is best for you.
3. Monochrome suit with ankle boots
This birthday you will be entering adulthood as you will cross 30. You can dress up in a killer look with a monochromatic suit with ankle boots. Add on different matching accessories for an edgy look. Such a birthday outfit for women will define their personality and age completely. You may also opt for stone jewellery like emeralds or diamonds or statement metals for a finishing touch to your look. These days chunky necklaces are highly in trend.
4. Night Out Birthday Outfits
Celebrating birthdays at night out parties have become quite common. Your birthday is a special event and you will surely want to look your best. Lots of birthday outfits for women are available that impart a laid-back edginess yet sophisticated look. If you are someone who feels comfortable in pants then you can choose a pair from a wide range of trousers. These will be versatile picks that will provide comfort while you are partying all night.
A crop top, a feathered blouse, or a cut-out bodysuit blends perfectly with any type of trousers. Mini dress with the asymmetrical silhouette is among one the best casual birthday outfits for night-out parties.
5. Crop tops with low-rise trousers
Fashion today is highly influenced by social media. This has proved to be a game changer in the field of fashion bringing in multiple aesthetics and trends. If you want to follow the trend and pick one of the latest trending outfits for your birthday celebration then opt for crop tops with low-rise trousers. Platform shoes blend well with this outfit for birthdays and provide a modern look. You can add sparkly embellishments for a perfect finishing touch to your look.
6. Evening dress Birthday Outfits
Your birthday celebration is all about your liking. You want to look your best in the outfit that you will wear so that you're the centre of attention in an eye-catching look. If you're wearing a strapless or off-shoulder evening dress then wear your hair up to showcase your shoulders. Whereas if you like to experiment with your looks and want to go for night outs on your birthdays then you can opt for puffy sleeves with a cinched waist. These types of birthday party dresses for women are great for photos and dancing.
7. Mini Dress Birthday Outfits
Enjoy your birthday in style with cute mini dresses. Irrespective of the season you can dress up in mini-dresses and use accessories accordingly. Likewise, if your birthday is in winter then you can wear it with patterned stockings. Similarly, in warmer months, showcase your legs with nude heels. Swap the heels for boots and add on a leather jacket for a funky birthday look. Mini dresses are always on the list of birthday outfits for girls.
8. Maxi Dress Birthday Outfits
Maxi dresses are never out of fashion because of their comfort and warmth. This birthday you can sweep into your favourite maxi dress. It is a timeless piece that makes up one of the perfect birthday outfits for women. To make yourself appear different and special from others you can choose a slim fit asymmetrical design maxi dress. A sweet neckline will be appropriate for any season and occasion. Even if you are going out for cocktail parties you can celebrate in style in the maxi dress outfit.
9. Jumpsuit Outfits
A sleek jumpsuit will take your birthday look to another level. With a beautiful piece of a jumpsuit, you can create a streamlined effect which makes it one of the best birthday dress ideas. There are various jumpsuit options to choose from like cotton, leather, denim, etc. During any time of the year, you can wear this cute outfit and pair it with stunning heels. Add a belt bag to cinch your waist. If you want a classic look then opt for charcoal, black or blue options. Whereas for a rocking look go with pink, red, or gold options.
10. Suit Outfits
For a serious statement look on your birthday choose a bold suit. Bright colours like pink, red, or blue look attractive and enable you to stand out from others. You can also play with the texture of the suits. Unlike regular outfits, this birthday look for girls will make them look different and best from all others. Further, if you want to add more charm to your look, you can button the blazer and wear a shirt underneath. Complete the birthday look with a delicate necklace and a fun clutch.
11. Trousers and shirt outfits
If you want to have a casual celebration like a lunch date then opt for a cute pair of trousers and shirts. This is one of the best birthday outfits for women that can be worn in any type of casual celebration. With classic pants of leather or metallic patterns, you can easily create a fashion statement. Moreover, to appear elongated you can opt for a slimline top and pair them with loose bottoms. Define your waist with a statement belt.
However, if you have plans to go more informal, try out a fancy blouse and tuck it into your waistband. You can complete the look with heels or chunky sneakers for an effortless look on your birthday.
12. Skirt Outfits
Dress up in one of the gorgeous skirt outfits for the birthday celebration. In stunning skirt outfits, you can look marvellous and knock everyone out there at the party. If you are someone looking for dress ideas for birthdays then try this out. On the basis of the weather, you can coordinate the skirt and complete the look with an overcoat. This is perfect for a winter birthday party. However, if you are dressing up for summer then try a white t-shirt with a black mini skirt and boots.
After all, it's your birthday, so you can experiment with your look and play with different colours and textures of skirts. Some of the popular textures of skirts are mesh, satin, and metal finish.
13. Classy Birthday Outfits
Are you someone who wants to go all out this birthday? Dress up in a classy birthday outfit to appear elegant and maintain a style statement. For a classy birthday outfit for women add some fashion elements and you are good to go. These days ostrich feather crop tops are highly in trend. You can opt for such crop tops and combine them with trousers and a pair of matching gloves. Another woman's birthday dress that provides a classy look is a skin-tight fit and flare dress.
This dress can be combined with a matching coat for a trending classy and elegant look. A little black dress is a classic piece that also adds a glamorous look to the women wearing it.
14. Cocktail Birthday Party Outfits
A cocktail dress is among the most beautiful birthday dresses for ladies. There is no confusion when you have to dress up for a cocktail birthday party. A cocktail dress clears off all the confusion. Classic and timeless in design, these dresses hit at the knee or below and easily provide a feminine feel. To make it appear more trending you can choose a strapless neckline or long sleeves. Also, play with the colour and texture of the dress. Platform heels compliment a cocktail dress look very well.
15. Casual Birthday Outfits
Of course, your birthday celebration will be a casual gathering but often girls want a comfortable, laid-back birthday look. For such girls, casual dress ideas for birthdays would be highly beneficial. You can try out staple pieces like pairing a classy t-shirt with your favourite regular jeans. In the case of winter birthday celebrations, you can add a sweater with embellishments or a cardigan. However, if you are looking for such birthday outfits for women that can enhance the look a little more then go for a strapless top instead of casual t-shirts with regular jeans.
You may like: 10 Aesthetic Oversized T Shirt and Jeans Outfits for Girls
Tips to choose Birthday outfits for women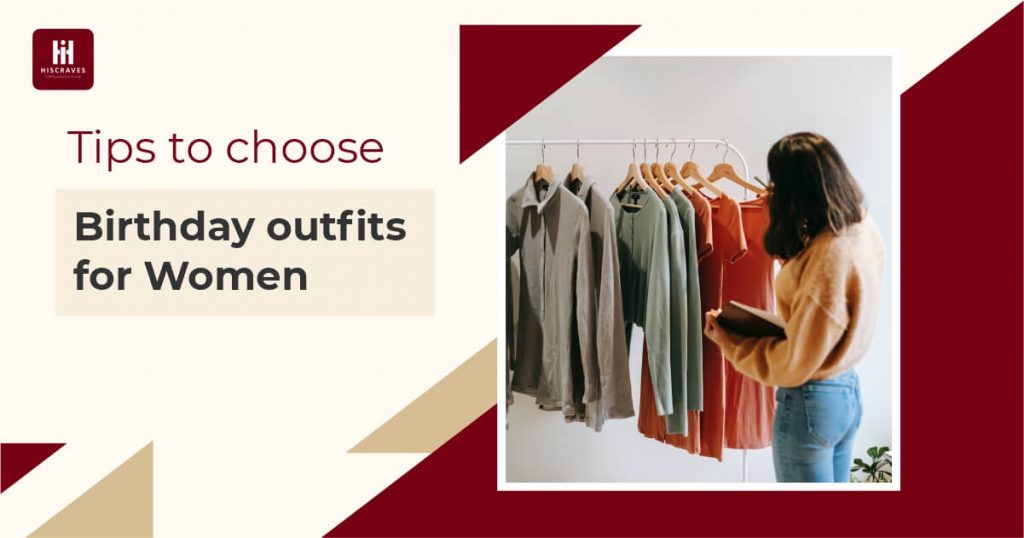 Birthday is all here! Deciding your birthday outfits can be a difficult task. But no more! The above-mentioned outfits will surely help you to choose the best outfit for your birthday. Before you finalise a birthday outfit there are lots of questions that run across your mind. Below mentioned are a few tips that will find answers to all your worries and enable you to make the right selection of outfit with ease:
Sequins and glitters are in fashion and also ensure that you appear different from others. So, wear sparkling, gaudy dresses. If you prefer a detailed look then choose from cream, pastel shades, or a simple black sparkling dress. For winters, combine this dress with stockings and a coat to keep yourself heated.
If you don't have much time to decide then pick a classy black dress. This piece of fashion is timeless and will deliver a desirable look easily. Make sure to combine it with statement accessories for a flawless look. Keds and choker jewellery would look great with a classic black dress. Add a multicoloured bag and a dangly set of earrings to stand out with this look.
To choose the best birthday outfits for women, you should try to mix and match patterns. For example, You can combine a sparkly black top with an animal print kilt or pair leather jeans with a velvet jacket. There are lots of such combinations that can provide an entirely different statement look.
Often women want to get into something very simple yet stand out from others. One of the simple dresses for a birthday party is a printed t-shirt with a denim jacket. Although you can play with the t-shirts and try some sort of sequence to look fashionable and yet remain comfortable. At times leggings are also the best pick as they will provide all the required comfort to enjoy your birthday party freely.
Whatever outfits you choose to wear on your birthdays, make sure it is neat and clean. Prepare beforehand and rinse your clothes so that they are clean and fresh and further iron them for a crispy look in simple elegant attire. Don't forget to clean your footwear as well.
How do Hiscraves help to choose the right birthday outfits for women?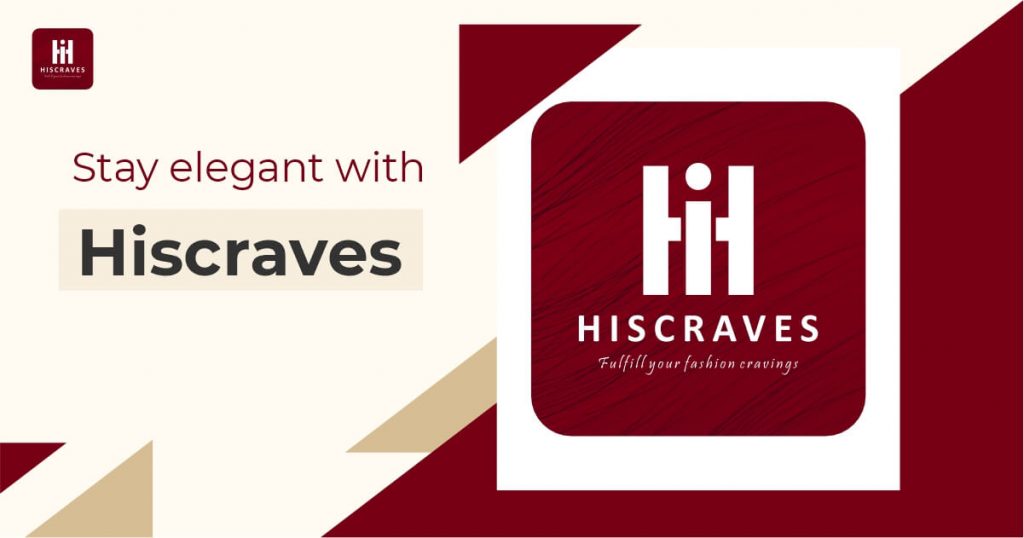 Dressing up for birthdays greatly depends on the place, climate, and way you want to celebrate. Hiscraves brings you a wide range of collections that are minutely curated by fashionistas. That makes deciding the right birthday outfits for women quite easy. Suppose it is the winter season and you're going out for dinner then the suggestion would be to carry an overcoat. Besides that, you can opt for full sleeves dresses or tops with some statement jewelry. Similarly, for summer you can style in a classic black dress. Hiscraves always keep customers' tastes and likings in mind while curating the collection. While providing the latest trendy collection, the quality and texture of the dresses are always maintained.
Birthdays are always special and so are their outfits. It's a day or night, winter or summer you would always want to pick the best birthday outfits. This blog provides insight that will enable you to easily pick the best one. Moreover, the birthday outfits for women mentioned here can be mixed and matched to create something new and get an entirely different look.
Frequently Asked Questions
1. What should I wear for my birthday in the summer?
A small dress or skirt with heels or a pair of jeans with a smart blouse would be the best pick as your birthday outfit. You can also choose warmer colour palettes and girly prints for summer outfits.
2. What should I wear for my birthday in winter? 
For winter, you should opt for trousers and a warm top combination. Add your favourite sweater, blazer, or jacket to it. If you wish to wear your favourite dress then pair it with knee-high boots and a jacket. 
3. What should I wear for my friend's birthday party?
You should pick your outfit depending on the type of birthday celebration your friend has organised. A mini dress with stockings, a maxi dress with an interesting neckline, a timelessly classic black dress, or a combination of a printed t-shirt or crop top with jeans looks great. 
4. What is the best pick for a cocktail party?
A slim-fit cocktail dress is always the best pick for a cocktail party. 
5. What should I wear for a beach birthday party?
The outfit that you choose for a beach party should be relaxed and comfortable. Floral-printed mini dresses or shorts with crop tops are the best picks.