Chinos are the most preferred bottoms worn by boys in recent times. In fact, chinos are the most versatile trouser that men prefer to pair with t-shirts, shirts, blazers, and so on. Moreover, these are available at a much cheaper cost than other types of trousers. Are you someone who loves chinos? Want to find the best chinos and shirt combinations? You're at the right place! This blog will take you through various options of chinos and shirt combinations that boys can choose and maintain their style statement.
What are Chinos?
The bottom wear made of soft comfortable fabric is termed 'Chinos'. Lightweight cotton twill fabric is used, and that's the reason it is the most preferred pick for everyday use. Millions of men across the world opt for chinos as their everyday wear. It blends seamlessly into a formal dress code that has made it staple bottom for men. These days Chinos are available in a variety of styles, cuts, and colours. You can pick the one that is suitable for your body type. Besides that, you should know the Chinos and shirt combinations that you should choose for an elegant look.
Types of Chinos
Styling is largely influenced by personal taste and choices. When it's about styling chinos then the quality, appearance, and colour dictate the look. Before you opt for chinos make sure you are aware of the various types that are available. Below mentioned are some common types of Chinos:
Fast Fashion Chinos: These Chinos are more casual with stitchings on the leg, hem, and pockets. The quality of the cotton used in it is lower hence it feels much lighter and offers a more worn-in look. Therefore, these casual pants can be paired with a tee or polo and boat shoes or sneakers.
Workwear Chinos: The fabrics used in making these chinos are thicker and hence they are more durable. One can compare these types to denim jeans. That's the reason they are recognised for a more relaxed fit and are suitable as workwear. These types of chinos and shirt combinations are the best for formal occasions.
High-End Chinos: Often people confuse high-end chinos for trousers. They come clean and sharp with all the detailings like stitching, buttons, and zips that provide a more streamlined and professional look. It is made out of high-quality cotton in a mid-weight weave.
Difference between Chinos and Trousers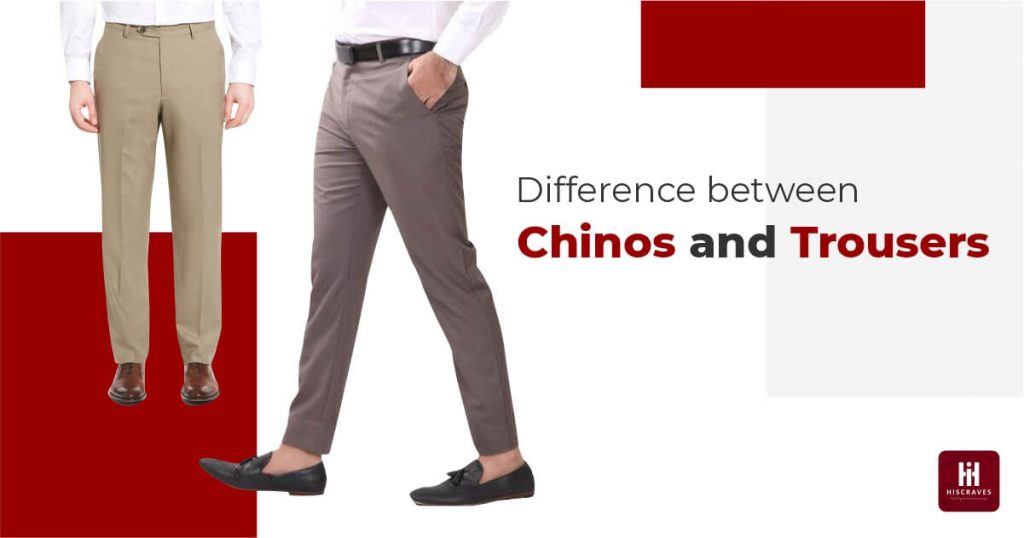 Whenever it's about men's bottom wear the two names that instantly pop up in our minds are Chinos and Trousers. Both of these bottoms can be styled for formal as well as casual outfits. Are they the same? Many people get confused and consider them the same men's pants. If you are looking ahead to style your outfits and select the chinos and shirt combinations then you must remain aware of the differences between chinos and trousers. Below mentioned are a few pointers that will clearly describe the differences between the two:
Chinos don't have more than 2 or 3 pockets whereas trousers have many.
Usually, Chinos are made out of 100% cotton material. At times they are made out of both cotton and synthetic materials that provide a unique texture. Trousers are made of varieties of fabrics like Khadi, Linen, Silk, and Cotton.
Chinos pants are available either in a slim or straight fit. Trousers are mostly available in a straight fit.
Nearly every shade of chinos pants is available. Trousers are also available in various shades but men prefer black, white, grey and brown colour trousers the most.
Chinos can be styled both for formal and casual occasions. Usually, trousers are preferred for formal occasions.
You may like: Best formal dress combination for Males 2023
The Best Chinos and Shirt Combinations for Boys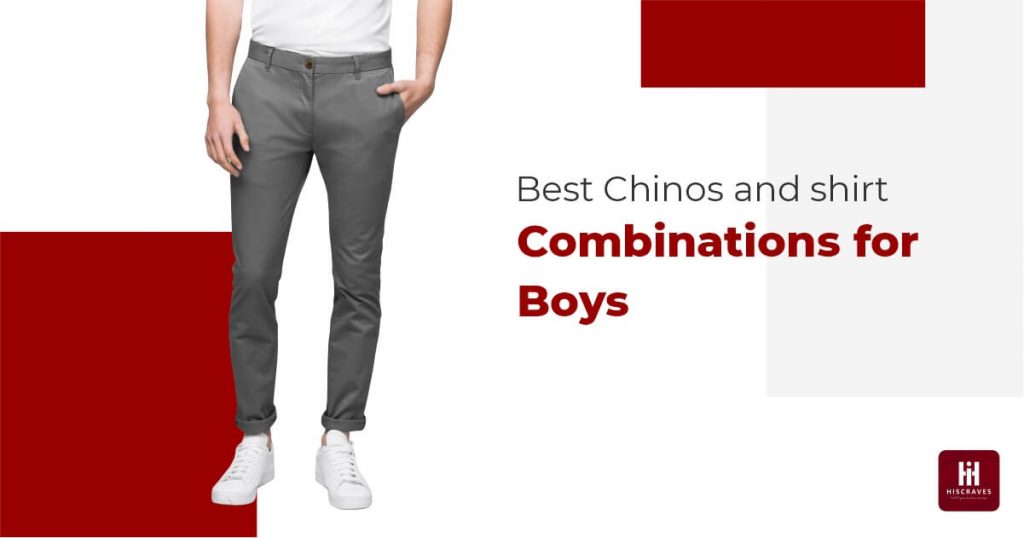 Without a perfect pair of chinos and shirt combo, a man's closet is incomplete. Summer and Spring days demand comfortable clothes, so chinos serve the purpose very well. The best chinos will allow you to feel comfortable yet look stylish. Being one of the most versatile options, Chino Pants and Shirts combinations can be used as formal wear. Today, they have become essential for every men's wardrobe. Do you want to buy a combination? Wondering which combinations will be best? Check out the list of best chinos and shirt combinations :
1. Blue Chinos with matching shirts
If you are looking for such an option that offers a formal look but still can be paired for casual or weekends, then opt for a blue or navy blue chinos combination. White or any neutral colour shirt goes well in this combination. It will add texture and detail to the entire look. Complete the look with white leather low-top sneakers. You're good to go!
2. Green Chinos combination with Striped Shirts
Navy Blue Chinos with matching shirts have become common office wear for almost all men. But if you desire to get into an entirely different look yet look formal and together then opt for green chinos. They are not that common and hence they can render you a different look easily. To look great in the green chinos combine them with striped shirts of neutral colours. This combination is a blend of contemporary and classic styles.
3. Brown Chinos Combination with Denim shirts
Whenever there is a lack of ideas for the Chino-Pant Style then go for the combination of Brown Chinos with Denim Shirts. It is such a combination that is unique and will never disappoint you. Brown Chinos with denim shirts is a classy combination that will enable you to look elegant and fashionable. Although it is different from the evergreen styles yet it is one of the best chinos and shirt combinations. Navy blue denim will make you look even more appealing.
4. Olive Green Chinos with White Shirts
White shirts are present in almost every man's wardrobe. Are white shirts meant for only weekdays? No, not at all! White shirts can be combined with olive green chinos for a modern casual look. Olive green bottoms wear are quite different from normal colours of chinos but this chino shirt combination will surely enable you to leave an everlasting impression.
5. Grey Chinos with matching Shirts
Do you want to style chinos as formal wear? There can't be anything better than grey chinos. While pairing with dark grey chinos, make sure to opt for light hue shirts. Whereas if you are opting for light grey chinos then you can pair them with black shirts and obtain a classic look. Men of all skin tones can go for this combination and style chinos smartly.
6. Tan Chinos with Blue Shirts
A tanned pair of Chinos should be in your wardrobe if you like to experiment with your look. Those who have already tried different Chino's colours can opt for Tan Chinos and easily look glam. Combine blue shirts with tanned Chinos and you'll be amazed by the results. This chinos and shirt combination enables you to look even more alluring.
7. Black Chinos Combination with a matching Shirt
Black shirts and pants are always popular among men across the world. Black Shirts with Chinos look equally great as Black Chinos with shirts. Combine Black Chinos with Flannel Shirts and that will render you a professional, elegant look. Although black is a versatile colour, if you are someone who desires to experiment with colours then opt for light colour shirts with black chinos. For example, you can pair a red checked shirt with black chinos. It can be considered the best chinos and shirt combination for an alluring look. A pair of monk or loafer shoes with elevate your look to another level.
8. Beige Chinos with Black Shirts
The beige and Black combination are universal and almost every man's favourite. There can't be anything better than combining Beige Chinos with Black shirts. This is one of those combinations that you might have already tried even if you are someone who doesn't have any ideas about fashion and style. Black shirts will never disappoint you but the beige Chinos make the perfect balance of colours. Try this Beige Chinos Outfit and leave an everlasting impression!
9. Grey Chinos with Long Sleeve Shirt
If you are looking for a relaxed casual outfit then try Grey Chinos with a long sleeve Shirt. This chinos and shirt combination are like made for each other and hence look perfect together. The shirt can be of white colour or any other neutral colour. Some men even pair up dark colour shirts with Grey Chinos. However, light hue shirts blend well with Grey Chinos. With the Men's grey Chinos, leather low-top sneakers completes the entire look.
10. Camel Colour Chinos with matching shirt
Camel colour Chinos are quite unique and belong to a brown colour family. A camel colour pant with a matching shirt is a great combination for any formal event. If you are bored with the typical colours of formal bottom wear like black, brown, or grey then try the camel colour chinos. It will not only render a formal look to your outfit but you can style it for casual dressing as well.
11. Cream Colour Chinos with matching shirt
Cream colour Chinos are another classic and stylish formal Chino shirt combination. Deciding the colours of chinos for everyday formal wear can be a challenging task. Whenever you don't have many ideas about combinations, simply pair a matching shirt with cream chinos and you are all set to go. Irrespective of size and age, this chinos and shirt combination is suitable for all men. You can keep it simple and elegant by pairing it with light-coloured shirts.
12. Navy Blue Chinos with Light Blue Shirts
Another versatile chinos and shirt combination is Navy blue chinos with light blue shirts. Usually, Navy blue Chinos are paired with light-coloured shirts. What if you pair it with a light blue shirt? It looks amazing! Although both the colours are from the same family yet it is a classic combination of shirt and pant outfits. This is one of the must-haves in men's closets.
Chino's styling tips for men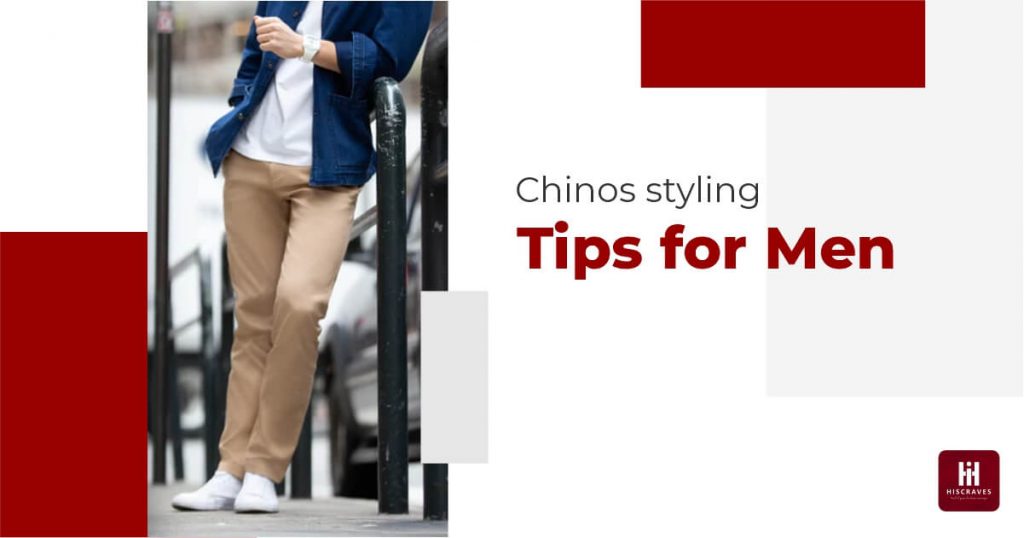 Chinos are the most versatile trousers that are a must in men's closets. Here, we've already discussed lots of Chinos and Shirt combinations that men can try and have a smarter look. However, if you are looking ahead to invest in Chinos then these chinos styling tips will be really helpful.
Just like jeans, Chinos can also be dressed for various types of occasions. If you carry them in the right way, they will render an appropriate and cool vibe. At times, you may need ideas to pair Chinos with t-shirts, shirts or any other top wear. The best Chinos and shirt combinations are already mentioned. You can try those ideas if you want to combine chinos with shirts. However, at times you can also try out these styling ideas too.
Style Chinos with T-shirts
Chinos are available in varieties of shades. Almost all types of Chinos can be paired with T-shirts. These days t-shirts have become a staple for all ages. While styling T-shirts with Chinos, you can use some classic colours like Beige Chinos are suitable for almost all types of t-shirts. Grey Chinos can be paired with white or neutral colour t-shirts. Moreover, make sure you choose a good fit as slim-fitting chinos offer a more flattering Silhouette. Add a bomber jacket to your look and nail the casual look of the season.
2. Style Chinos with Shirts
A Chino and shirt combination can be a great option as office wear. You can easily combine appropriate colour combinations of Chinos and Shirts for formal settings. Hence, chinos with a shirt are a comfortable way to style for work. In this attire, you look casual yet approachable for working environments.
Navy blue Chinos or Khaki Coloured Chinos with a matching shirt especially if it is white imparts a crisp look that can't be underestimated. You can check out cool collections of shirts and pick the one that blends well with your Chino. You can choose neutral couloured shirts and if you desire to have a semi-formal look fold up the sleeves of the shirt. Whereas for a peppy look, you can button your shirt all the way up and combine a pullover for a completely elegant look.
3. Style Chinos with Blazers
For decades, men have been dressing up in a suit for all types of formal occasions. The suit is still in fashion but if you are someone who wants to stay relaxed during the event and at the same time get into a formal look then pair up chinos with Blazers. A blazer with Chinos is an ideal combination. All you need to do is treat the chinos as dress trousers. You can further add a peppy element to the look by combining chinos and blazers with a decent shirt, silk knit tie, and leather loafers.
4. Style Chinos with Bomber Jacket
If you are someone who is residing in a cold location or the temperature of that place drops down to a sustainable level then a jacket is a must in your wardrobe. A casual bomber jacket can be paired with Chinos and that will compliment your entire look. Just wear a light knit underneath or you can simply opt for casual t-shirts. While pairing with t-shirts stick to basic coloured t-shirts or casual shirts for a perfect smart casual look.
How to remain updated with Hiscraves?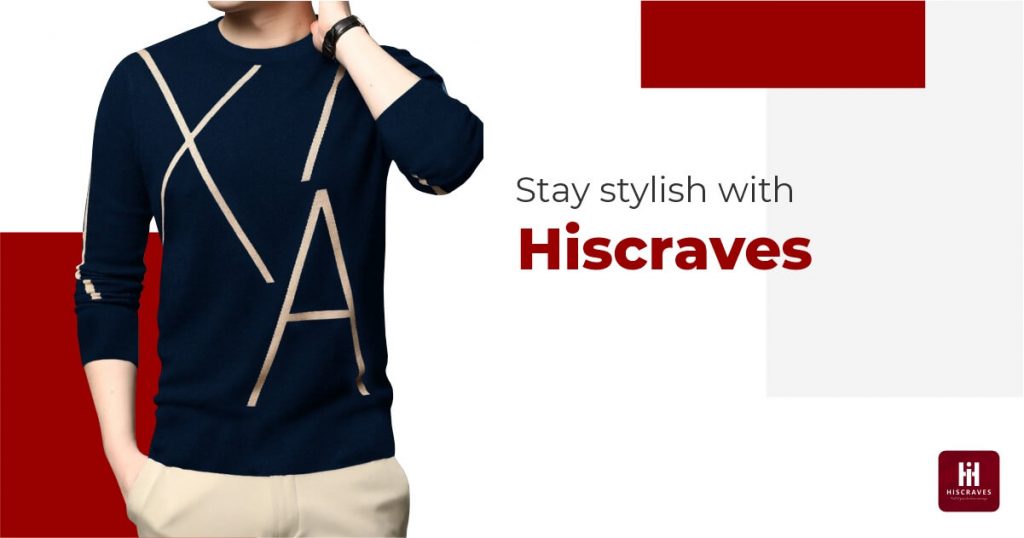 A lot of men out there are always in search of the best chinos and shirt combinations. You will always want to pick those combinations that are currently in trend. Hiscraves assure you that! Hiscraves is an online e-commerce platform from where you can purchase desirable men's wear. What makes Hiscraves different from all other ecommerce platforms is its collection. Here, you get collections of shirts, t-shirts, trousers, Chinos, and a lot more. All the collections are specifically selected by experts by considering the latest ongoing trends. You can check out the collections of shirts for Chinos and pick the best combination.
Now, you are aware of different Chinos and shirt combinations that are in trend. Hope, you can choose the best one for a formal or casual look. Chinos have always been versatile yet they can be styled in a variety of ways. Moreover, these pieces of trousers grant you the comfort that you have been searching for so long. What are you waiting for? Go ahead, pair up chinos with shirts and nail your look!
Frequently Asked Questions
What shoes to wear with Chinos? 
Leather sneakers, loafers, etc. go well with Chinos. 
What colour shirt to wear with Olive green Chinos?
White, off-white, or any neutral colour shirt looks great with olive green Chinos.
Can I create a complete formal look with Chinos?
Yes, Chinos can be used just as trousers and can be combined with a formal shirt, tie, anazers for a complete formal look. 
What can I wear with beige Chinos?
Beige Chinos are quite common and they can be combined with almost all types of shirts and even t-shirts. 
How to use a chino and shirt combination for a casual look?
Shirts and fold up the sleeves of the shirt to create a peppy look.