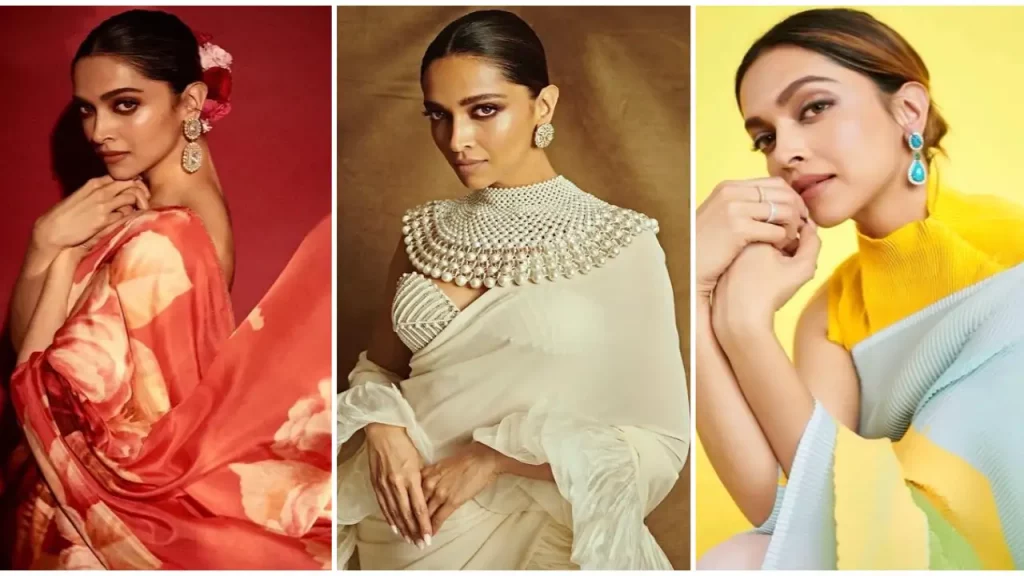 Deepika Padukone is one of the popular actresses of Bollywood who has won millions of hearts over the years. She began her career with the movie 'Om Shanti Om' and since then there has been no looking back. Back to back she gave astonishing performances and created a sensation in the industry. Her athletic body, amazing dressing skills, and flawless skin always highlight her. Even off-screen, cameras love to capture her. Often she is spotted in different outfits but the best looks are always in her sensational sarees. Kanjeevaram to Chiffons, her body is perfect for all of them. If you are also a big fan of Deepika Padukone, then you will love browsing through Deepika Padukone's saree looks.
Deepika Padukone Saree Looks with Photo
1. Deepika Padukone Wedding Saree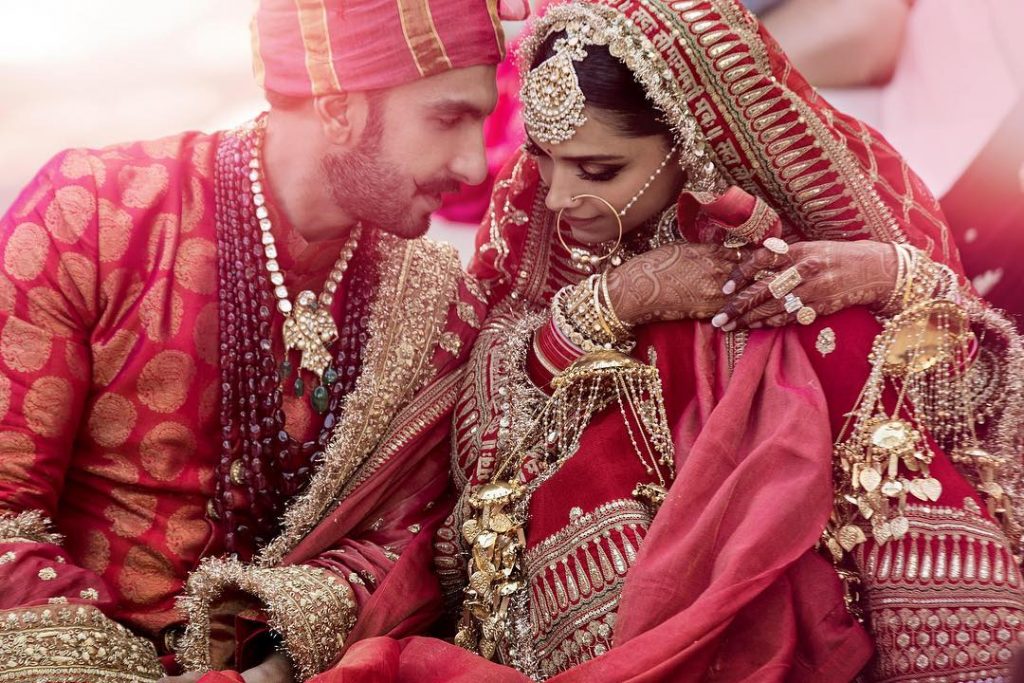 Let's start the list of beautiful Deepika Padukone saree looks with the one that is so special for her too. Yes, it's her wedding saree. When she appeared in this, the whole internet was stalled with that. She wore it on her wedding day and it is considered among the finest sarees ever. After all, she deserved the best and this finest golden silk saree appeared even more beautiful when she wore it. This saree was for her reception look so with it she added emerald soccer and matching studs. Her royal bride look is every bride's dream and she carried this exquisite piece quite elegantly on her wedding day.
2. Deepika Padukone in Yellow Pleated Saree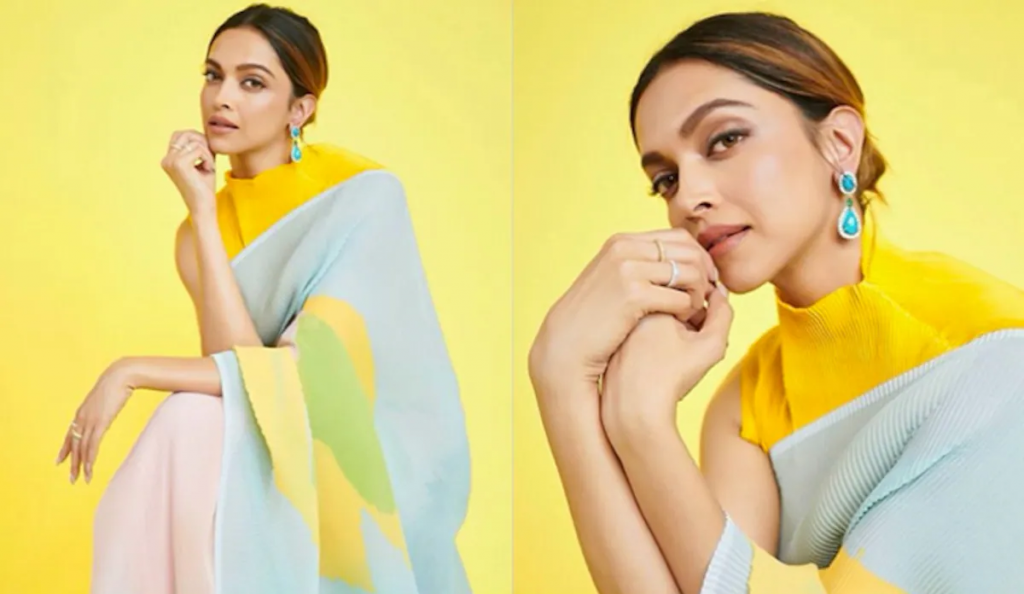 In a special episode of kaun Banega Crorepati 13, Deepika went to shoot along with Amitabh Bachchan and Farah Khan. For this show, she wore a yellow pleated blouse with a multi colour saree in which she appeared gorgeous. Blue, pink, and yellow shades were prominent in her multi-coloured saree. The yellow blouse that she combined with this saree added to her overall charm. Contrasting blue earrings enhanced her appearance in the saree look manifold.
3. Deepika Padukone in Pastel Green Floral Saree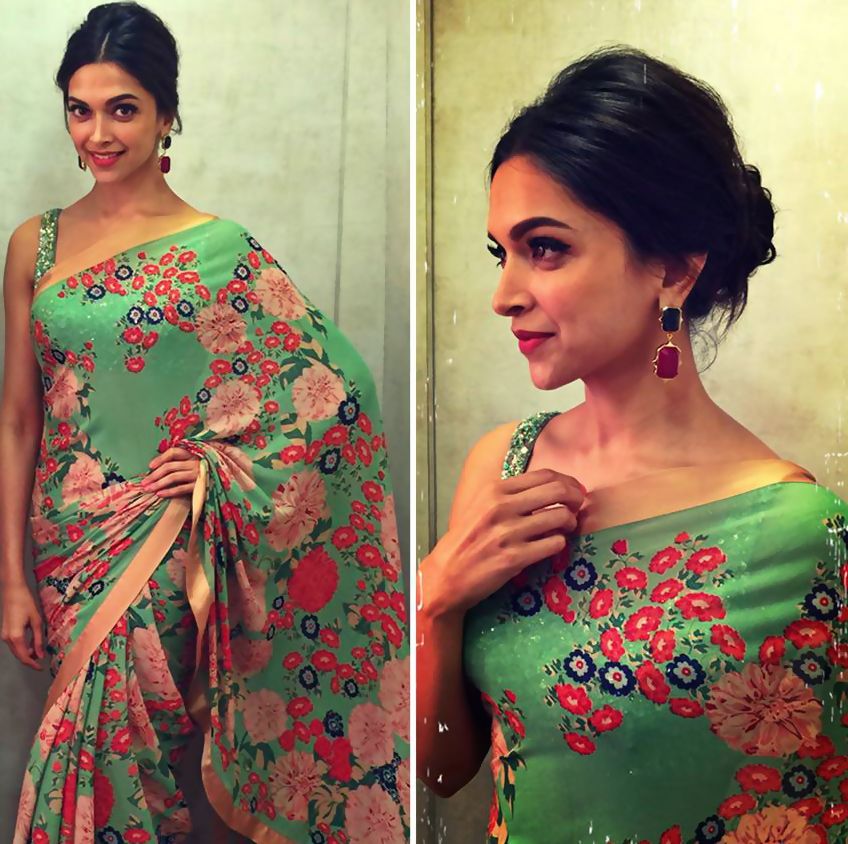 This sea green floral printed saree makes Deepika look like a dream girl. The red and pink on the pastel green background is the best combination of colours that highlights the features of this chiffon saree. Along with this unique colour combination, the golden border of this saree enhances the beauty of the saree as well as makes Deepika look stunning in it. The pastel green sequin blouse that she paired with this saree has aced her look.
4. Deepika Padukone in Red Saree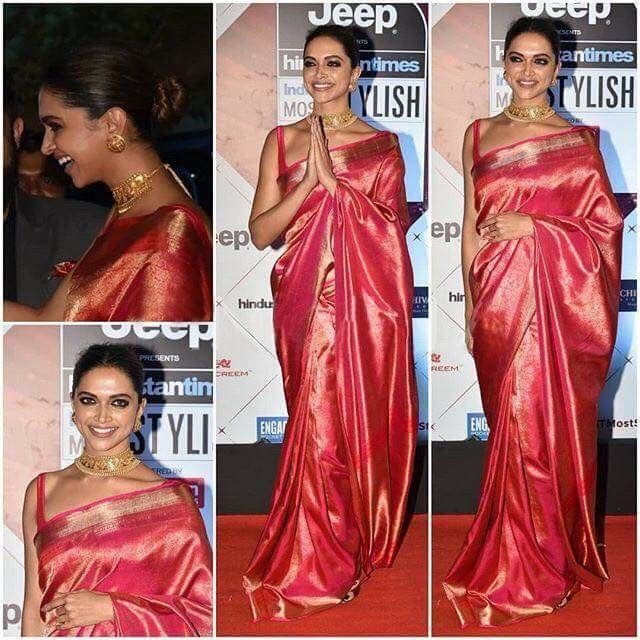 No doubt there's no one out there who won't stop at this gorgeous look of Deepika in this red saree. This is one of the recent pics of Deepika Padukone in a saree in which she is looking absolutely gorgeous. The bright red saree highlights her features. For accentuating her broad shoulders, she paired it with a high-neck, sleeveless blouse. The nude makeup with her winged eyeliner look is the perfect match for this vibrant red saree look. Adding accessories of a multi-layered polki and pearl necklace with this attire highlights her overall appearance.
5. Deepika Padukone in Glittering Saree: Glitter Mania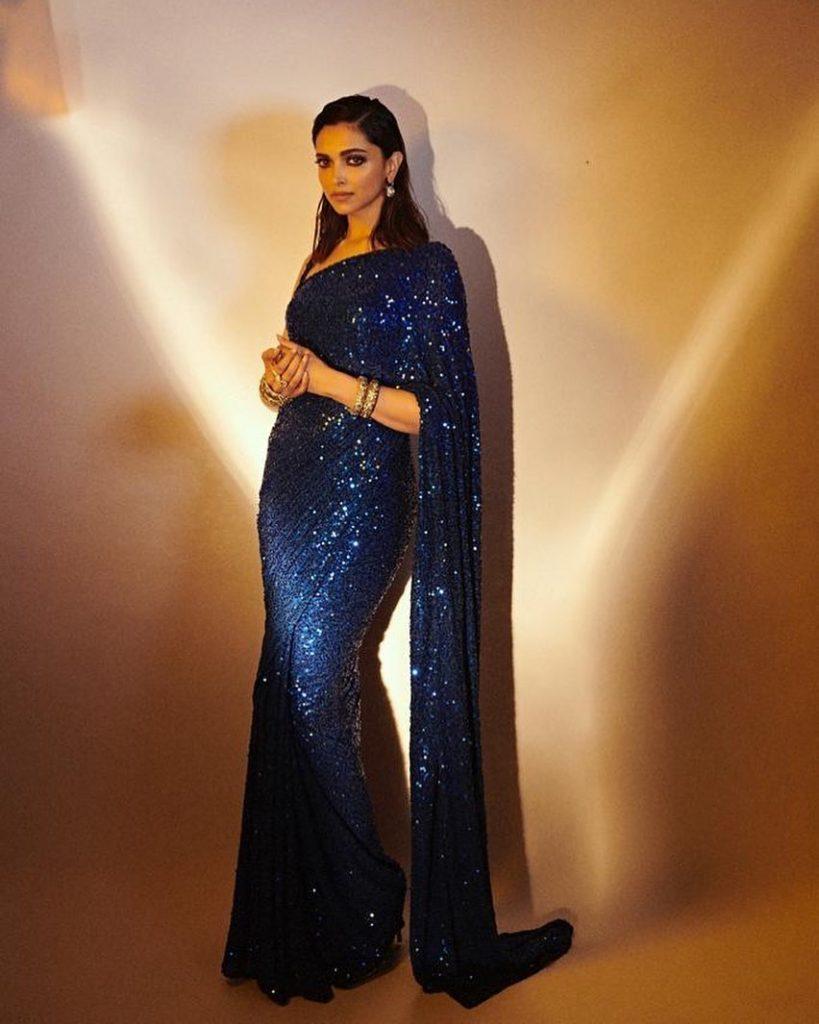 Creating the wow effect, Deepika Padukone in a saree blouse combo looks dashing. The glimmering attire with this ravishing beautiful saree makes her appear as a pretty package. This coral-orange sequined saree sparkles all the way and makes her glimmer throughout. The rectangular patterns of mirror placed on the outer line of the saree add to the sparkle and rightly said it's like a glittery mania. Indeed Deepika shines like glitter in this amazing glittering saree.
6. Deepika Padukone in Plain Black Saree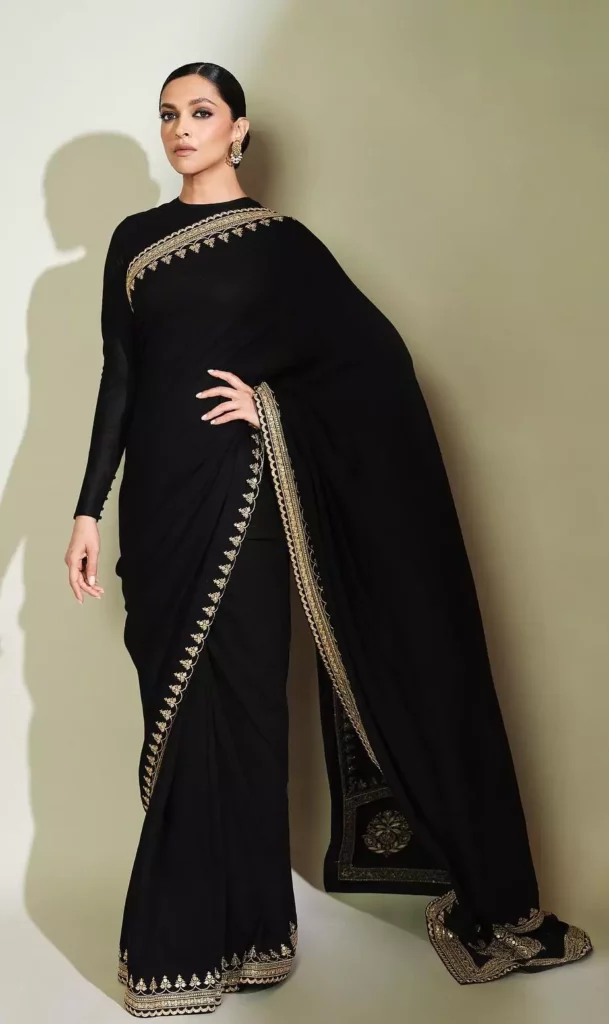 Black sarees are a favourite of every woman. It instantly makes you appear dashing. This Deepika Padukone in Black saree look is one of the best ones. She wore this plain black organza saree designed by Sabyasachi Mukherjee to an event. With the matching black long-sleeve blouse and black Sabyasachi belt, she is not only looking stunning but this attire is defining her personality too.
7. Deepika Padukone in Black saree at Cannes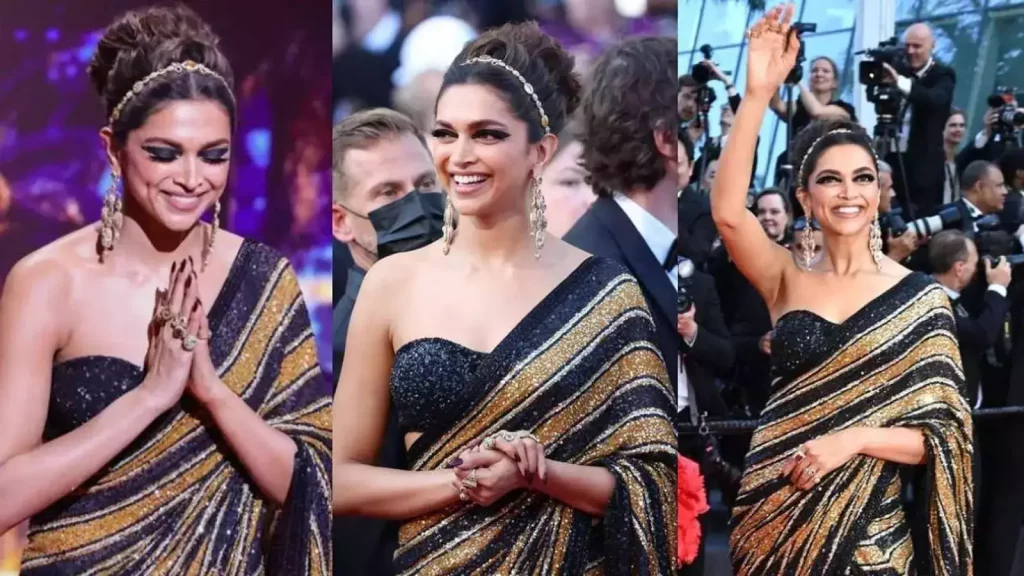 Whenever Deepika Padukone wears a black saree she will no doubt look dreamy. Just like the above one she wore yet another black saree to the Cannes festival. Deepika Padukone in a Black saree look was again loved by people. This saree was also designed by popular designer Sabyasachi. She wore an off-shoulder black shimmery blouse with this striped gold and black saree. The dramatic eye makeup that she opted for this look was enough to attract their fans and win their hearts million times.
8. Deepika Padukone in Red Floral Saree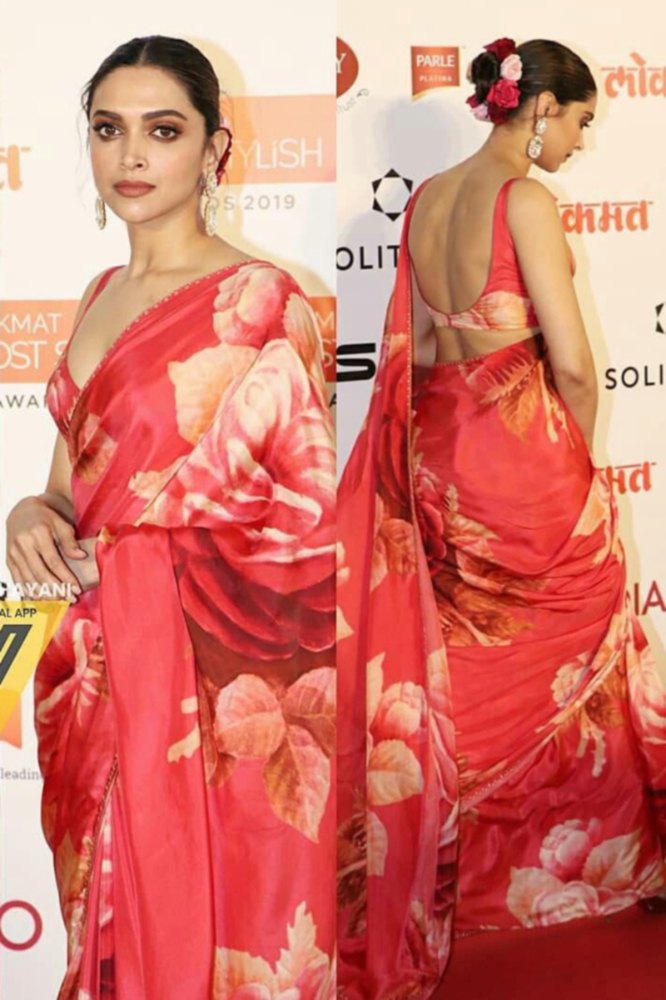 In Lokmat's most stylish award function, Deepika Padukone in a saree blouse looked stunning. The red floral saree by Sabyasachi added to her charming features. She appeared tremendously beautiful in this floral saree. The matching sleeve blouse was the perfect match with the red digital printed saree. The simple makeup and her overall personality blended well with her look.
9. Deepika Padukone in white saree at Cannes
Whenever Deepika Padukone is in Cannes, she will surely charm everyone out there with her beautiful look. Again in Cannes, Deepika Padukone in a white saree looked amazed by everyone. Fashion designer duo Abu Jani-Sandeep Khosla designed this stunning white saree. She wore this saree on the closing day of Cannes and that offered her a traditional look with a modern twist. The draping style that she opted for was modern and balanced the modern-traditional outfit look. With the off-shoulder blouse with pearl work on it, Deepika looked royal and glamorous.
10. Deepika Padukone in Saree Gown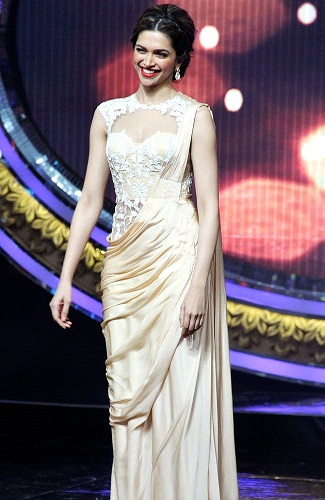 Saree gowns are the latest trending saree style and they can carry it more beautifully than Deepika Padukone. This beige and white saree gown is an elegant piece that instantly makes you charming. This is a perfect choice for evening parties and the best thing is that the saree gown can be styled in such a way that it combines the simplicity of both types of dresses. The saree gown that Deepika is wearing has a lace bodice attached to a satin drape which catches the eyeballs of everyone even while watching it in this pic.
11. Deepika Padukone in Silk Saree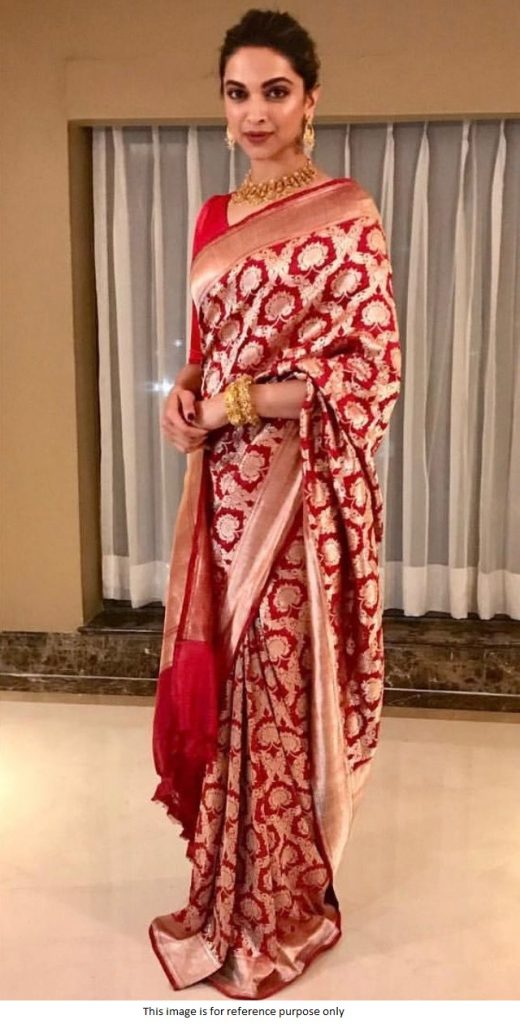 Deepika Padukone in Saree look will remain incomplete without this heavy Banarasi Silk saree look. The red and gold silk saree is the head turner look of Deepika. Anyone wearing this saree will stand out at the party. The complex geometric weaves all over the body of the saree offer it a rich appearance. While the palla of the saree is kept simple in golden zari and thus this combination highlights the personality when combined together. The plain red blouse has created a balance between the richness and the textures of the saree.
12. Deepika Padukone in Sabyasachi Saree
In the fashion world, one of the reasons for Deepika's success is believed to be Sabyasachi. He is a legendary designer who created beautiful masterpiece sarees for Deepika Padukone. The white floral saree that he designed is one of the best and she appeared stunning in that. This saree is a perfect blend of the romance of classic English design with an Indian feel. Overnight, this saree made her a sensation and she became one of the most popular fashionistas in the country.
13. Deepika Padukone in Chennai Express Saree
The character of Meenalochani that Deepika played in Chennai Express is one of the iconic characters. She played the role of a bubbly, free-spirited South Indian girl and she became an example of Indian beauty. The movie was a hit and with that, her character was also loved all over. The sarees that she wore in this movie became so popular that they were sold in the name of Chennai Express saree. Among many sarees that she wore in this movie this orange and blue saree made her stand out as a heart winner. It is a lightweight silk saree that offers a stunning appearance.
14. Deepika Padukone in Milk White Saree
Deepika Padukone in a White and gold saree looks divinely stunning. She sizzles in a way just like the actresses from the 70's movies. This delicate chiffon saree is completely embellished in golden thread work that highlights her overall appearance. This Deepika Padukone in saree blouse look was chosen for her red carpet moment at Cannes. She stole a million hearts in this saree with her sensational smile. A golden clutch and a leather watch were perfect picks with this saree.
15. Deepika Padukone in designer Patterned Saree: Million Dollar Look
Deepika Padukone always looks best when she wears a saree. This designer patterned saree in olive and yellow combination rest assured that she appeared even more vibrant and beautiful. This leggy beauty always shines like a million stars whenever she chooses a saree as her attire. The smooth silver borderline with the black outline of the saree defines the classiness of this saree.
16. Deepika Padukone in Net Saree
Always Deepika in a net saree looks astounding. With her curvy waistline, all types of sarees look perfect on her but with a net saree, she appears divine. This beige saree looks classy on her and the floral work embellished with pastel-coloured threads adds to the overall look of Deepika Padukone in her saree blouse look. Even the blouse that she has combined with this saree has all-over thread-work with a metallic neckline.
17. Deepika padukone in Half Saree
Deepika Padukone in a half saree appeared for an awards function. This saree is a unique piece that is actually a skirt-style lehenga that is beautifully transformed into a half saree with the use of a Net dupatta. This long-neck beauty appears even more beautiful in this attire as the black high-neck blouse offers the right silhouette. For many young girls, this half-saree look of Deepika has become an instant love and many have already tried copying this look.
18. Deepika Padukone in Royal Blue Saree
The beautiful royal blue saree that Deepika wore for a movie scene during her best friend's wedding is one of the best looks ever. Her tall statuesque and elegant appearance in this royal saree is a true example of self-singing and merry-making. Even though that was a movie scene, Deepika looked so stunning in that look that still people find it one of her stunning appearances.
19. Deepika in Nude Gold Colour Saree: The Starter look
Definitely, Deepika Padukone's saree look is incomplete with colour-filled sarees. But the starter saree in nude colours makes her look absolutely gorgeous. She appeared classy and divine in this gold colour saree that she wore during her promotions for her popular movie Chennai Express. All her saree looks for Chennai Express were highly appreciated. But this was the one that she wore for the promotions. The wide matte gold border line makes the saree sober and soft.
20. Deepika Padukone in a Black saree at Red carpet
Black is the safest colour whenever you are confused about the colour options. And it applies even to Deepika Padukone when she plans to walk on the red carpet. A beautiful black saree with extensive beautiful white floral designs embraces her look completely. The sun-flared golden spots that are strategically arranged towards the end of the saree make it the perfect piece that any girl would love to wear.
21. Deepika Padukone in Mirror work Saree
In this pic of Deepika Padukone in Saree, she looks like a shining star. This saree on her makes her look like a star in the sky. Deepika Padukone in a white saree always appears classy but this white mirror work saree with a shiny sequin blouse makes her look impeccable. The illusion of stars in the form of mirrors offers a hint of light on this white saree making it one of the gorgeous pieces.
22. Deepika Padukone in a Nude flower saree
This nude beige colour saree in chiffon with a net texture is one of the best Deepika Padukone saree blouse looks. A slightly lighter faded and solid shade of floral antics present toward the end of the saree makes it amazingly beautiful. These floral antics slowly dispense the density throughout the saree. This saree look Deepika is sensuous looking yet offers a minimal vibe. She gets an angelic look in this gorgeous nude flower chiffon saree.
23. Deepika Padukone in Angelic White Saree
Just like black, white is also considered a versatile colour and the safest colour option, especially in sarees. But when it is about red carpets then white is considered the most dangerous one to flaunt. Deepika Padukone in a white saree pulled it off so well that she looked perfectly heavenly. Along with her looks her saree appeared awesome. The illustrated lacework around the borders made the saree appear dashing.
24. Deepika Padukone in a Nude Gold Saree look
Once again Deepika is in a gold saree and that also in a more shimmering effect. The matte gold saree embraces Deepika in such a way that she seems to appear divinely beautiful. The deep lustre and heavily ornamented zari outer line of the saree looked perfect when Deepika complemented it with a halter-style neck blouse. In this, the sensuous curves of the waistline appeared stunning.
25. Deepika Padukone in Satin Pink Saree
This orange and coral silk satin saree looks amazing on Deepika Padukone. Once again this Deepika Padukone's saree blouse look got popular on social media. In this overall attire, the best part was her simple blouse and minimum artwork saree. Even though the saree has simple artwork yet the satin texture offers amazing appeal. The embellished and ornamented borderline adds classiness to this simple saree look.
Well! Which Deepika Padukone's saree look did you like the most? Yes, we know each one is special and in all these saree looks she emerges a divinely beautiful personality. No matter what occasion she is dressing for, she appears perfect and amazingly beautiful everywhere. Be it a simple airport look or a Red carpet, she stands out in all types of dresses. But Deepika Padukone in a saree look is special and will remain iconic always!