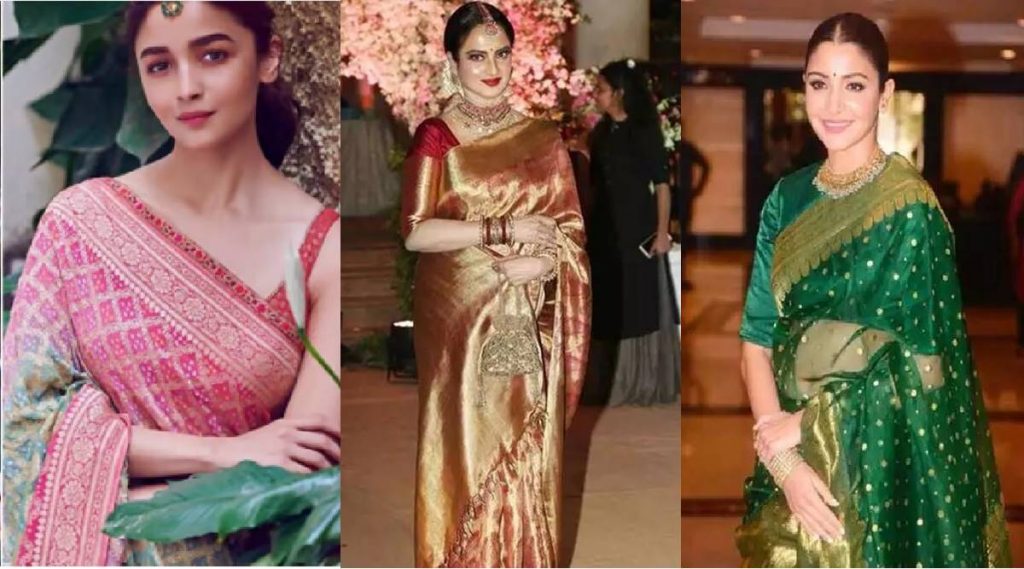 Saree is the attire that reflects an Indian woman's personality. It expresses Indian culture and celebrates our traditions. As India is a vast country with states with diverse cultures so there are different types of Silk sarees from different parts of India. Among all other categories of sarees, silk sarees are favourite of all age groups of women from elderly women to young girls.
Do you love wearing sarees? Are you curious to know about different Silk Sarees popular in India? This blog is for you! Here, we've covered 25 different types of Indian Silk Sarees. Browse through to find your favourite one and explore the unmatched elegance of sarees.
Types of Silk Sarees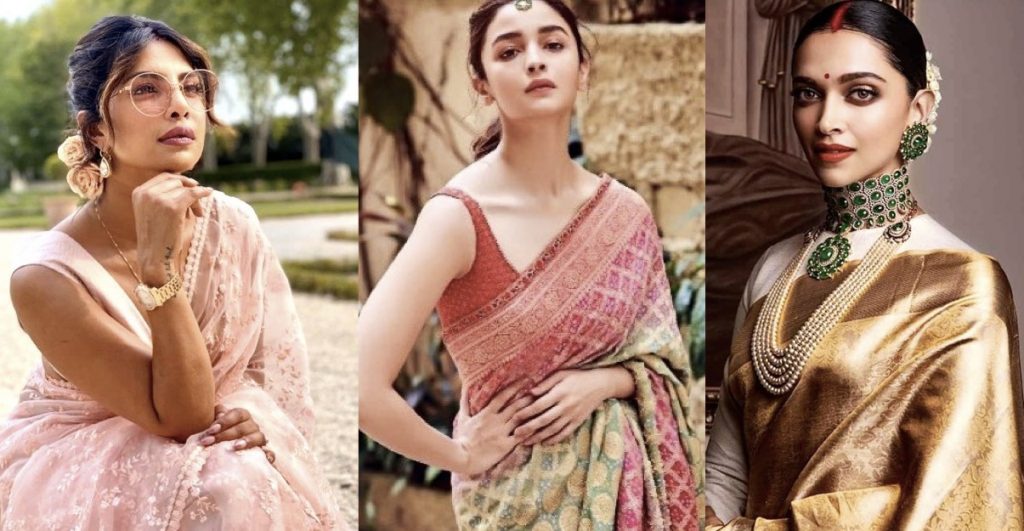 Silk Sarees are a timeless ethnic piece of clothing. The standard nine yards of drape can be styled in varied ways depending on the occasion. Below mentioned are popular silk sarees that will take you on a tour of the country as well.
1. Banarasi Silk Saree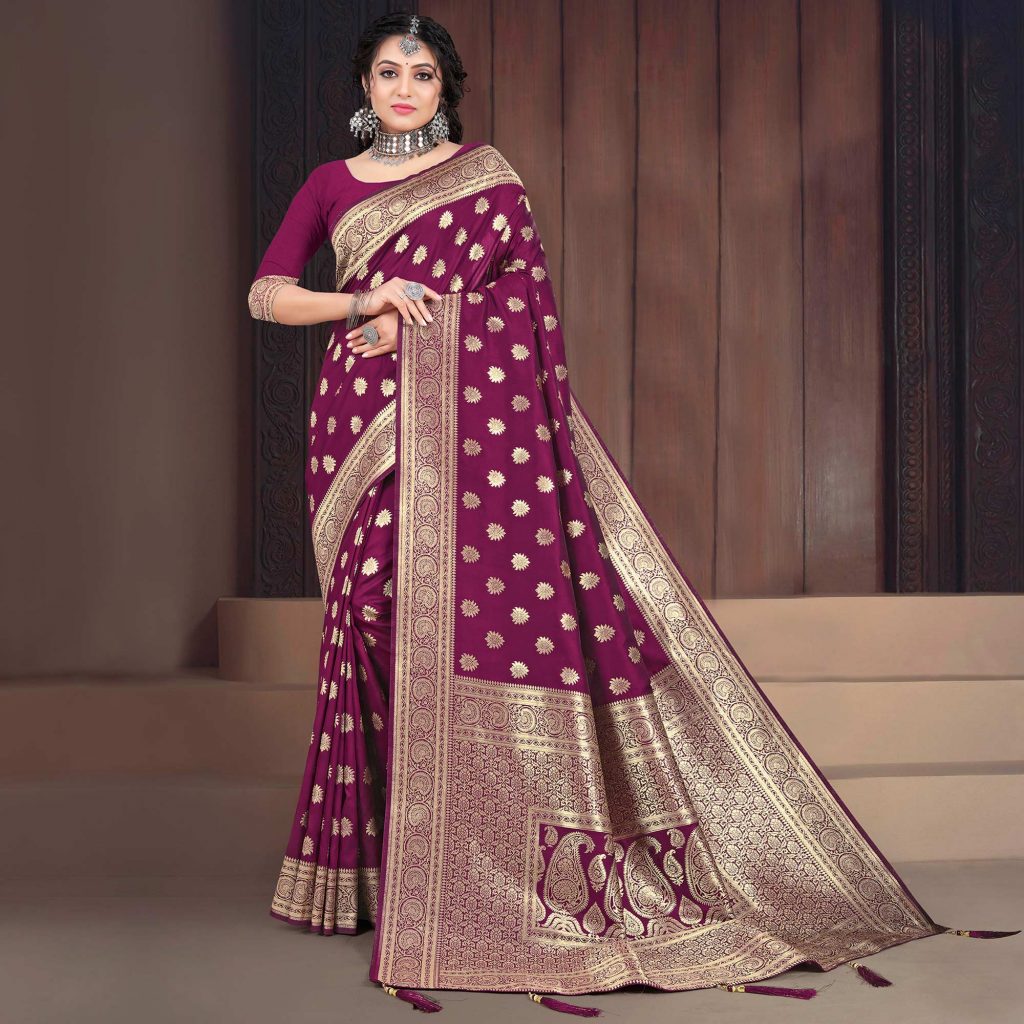 Let's begin the list of types of silk sarees with the most popular 'Banarasi Silk Saree'. Often Indian brides are spotted in this type of sarees. The Banarasi Silk Saree features pallus, jal, and mina works. Along with that, they have compact weaving, metallic visual effects, and minute detailing. Hailing from Varanasi, the Banarasi Silk Sarees are in great demand for Indian weddings. Gold and silver brocade or zari designs on these sarees are woven by skillful weavers. They are available mainly in four varieties which include pure silk, organza with zari and silk, Georgette and Shattir.
2. Baluchari Silk Sarees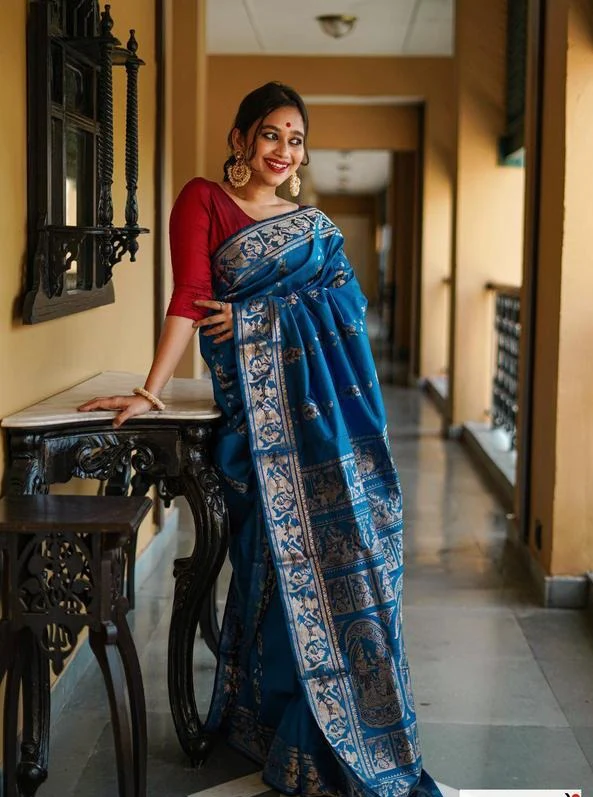 The National award-winning silk saree, the Baluchari Silk Sari originated from the small village of Baluchar in Murshidabad, West Bengal. These sarees are one of the popular types of sarees in India. The design of these sarees includes mythological scenes on the Pallu of the Saree which are common scenes of Mahabharat and Ramayana. The best feature of this type is that it is polished after weaving. Even during the time of Nawabs and Britishers. the square design of paisley motifs was used on them. One such saree is completed by weavers in approximately one week.
3. Assam Silk Sarees
Because of its delicate and lightweight features, every woman dreams to have at least one Assam Silk Saree in their wardrobe. Since ancient times, these sarees are popular and come in the list of traditional silk sarees names. Mostly three major types of wild silks are used in producing Assam Silk sarees. It includes golden Muga, White Pat, and warm Eri Silk. The traditional Assam silk sarees are hand woven and take almost a month to complete. In fact, they are as costly as Patola and Kanjivaram Silk sarees.
4. Bomkai Silk Sarees
Derived from the Bomakai, Ganjam district of Odisha, Bomakai Silk Sarees are one of the popular silk saree names. It is also commonly known as Sonepuri Sari and recently has been adapted in several fashion shows. This handloom silk saree has designs in captivating colours with fish motifs. Fish motifs are considered a sign of success and affluence by the people. Nowadays, Bomkai Silk Sarees are available in modern designs with a traditional touch on the border and pallu section.
5. Art Silk Sarees
Synthetic fibres that resemble silk are used to produce artificial silk or Art Silk sarees. In some places, it is also known as Bamboo Silk. It is similar to nylon, polyester, rayon, etc. In a short time frame, Art silk sarees have become a prominent name in the types of silk sarees. All groups of people are able to purchase the latest art silk designer sarees as they have comparatively less cost than other silk sarees. Hand weaving them is not possible so they are manufactured in a machine.
6. Tussar/Bhagalpuri Silk Sarees
During the industrial revolution, one variety of silk saree that came into existence was the Tussar Silk sarees. It is much cheaper than silk and has a cooler nature so people living in hotter parts consider wearing these types of silk sarees. Also known as Bhagalpuri silk sarees, they originated from Bhagalpur more than a century ago. It is more popular among the tribes as the silk used in them is obtained from Silkworms found in tribal areas.
7. Chanderi Silk Saree
Handwoven Chanderi Silk Saree is a lightweight, smooth, soft saree with a transparent sheer texture. The designs of these types of silk sarees have unique motifs inspired by nature. Most women love to wear Chanderi Silk sarees because of their texture. They have their origin in Chanderi, Madhya Pradesh where the finest types of silk sarees are produced. Since the Mughal era, the production of these sarees was at its peak and mostly divided into three types i.e. Chanderi cotton, pure silk, and silk cotton.
8. Banglori Silk Sarees
Basavanagudi, the southern part of Bangalore, Karnataka is the place from where Banglore silk sarees originated. It is known for its simplicity and purity of silk appearance. In ancient time, the Banglori Silk Sarees were produced only in dark hues with gold threads woven at the pallu. However, these days Bangalore silk sarees are available in double-colour printed crepe silk saris, reversible silk sarees, and printed sarees which are popular mostly among young ladies.
9. Gadwal Silk Sarees
Originating from Gadwal, Andhra Pradesh, the Gadwal Silk Sarees are famous for their unique mixture of fabric and designs. The best feature of this type of silk sarees is that the whole saree is in cotton fabric but the border is in silk. Traditional techniques are used to make them which is termed Kupadam and the style of weaving the borders is known as Kumbam. However, in recent times they are interwoven with the weft technique. 
10. Dharmavaram Silk Sarees
Anantapur district in Andhra Pradesh is known as the origin of Dharmavaram silk sarees. Majorly these sarees are considered as bride's saree in the southern area of India. It has its roots in the tradition not just because it adds to the beauty of ethnic fashion but because it suits all age groups and all body shapes and sizes. In fact, they are among the top 10 silk sarees in India. The gold-plated borders and the artwork printed on the Dharmavaram sarees make them unique and magnificent.
11. Sournachuri Silk Sarees
Usually, Sournachuri silk sarees have designs and patterns that are from Indian mythological stories like Mahabharata, Bhagavad Gita, and Ramayana. In fact, these types of silk sarees are considered similar to Baluchari Silk sari and hail from West Bengal itself. The main difference between the two is the borders that are very ornamental in the later type. Kalka motifs, classic Bengali motifs of flowers, circles, and fish are intricately designed on it. Commonly, they are available in dark hues and it takes around a week for the weaver to create a single saree.
12. Kanjivaram Silk Saree
Among all types of Silk sarees in India, the Kanjivaram Silk saree is considered a royal and wealthy saree. Mostly, it is preferred as a bridal saree for South Indian weddings or on special occasions. The specialty of this saree can be explained by the fact that it was worn by Kangna Ranaut at Cannes 2019. The Kanjeevaram sarees originated from the Kanchipuram region in Tamil Nadu. The lustrous silk fabric of the saree woven from pure mulberry silk from Kanchipuram and Zari from Gujarat is what makes it stand out from other silk sarees.
13. Mysore Silk Sarees
Another occasion-oriented saree famous in South India is Mysore Silk Sarees. Most women prefer to wear these sarees during Indian festivals or weddings. The royal vibe of this type of silk saree makes it suitable for ceremonial occasions. Even in Karnataka brides prefer to wear Mysore Silk Saree on their wedding day. As the name indicates, these sarees' origin is in the city of Mysore, Karnataka. Made from pure silk with gold zari, the designs are inspired mainly by the natural ambiance and customs of the time.
14. Kota Silk Saree
Kota-Masuria is among the different types of silk sarees and names that were popular in the 17th and 18th centuries. Being lightweight and easy to handle, these sarees are comfortable to wear. In fact, the fabric of Kotal silk is used in Lehengas, salwar kameez, and other home furnishings. Kota Doria is a mixture of pure cotton and silk with square check patterns which are popularly known as Chowdi. Onion juice and rice paste is smudged together into the yarn for producing this silk.
15. Konrad Silk Sarees
Having originated from Konrad, Tamil Nadu, the Konrad Silk Sarees are considered one of the popular types of silk sarees in India, especially in South India. These sarees have unique borders embellished with different designs. The width of the borders ranges from 10 to 14 cm wide. Usually, they are weaved in plain colour with narrow bands of supplementary warp patterns. The intricate designs and motifs of natural elements on the borders of these sarees make them different from other silk sarees. 
16. Korial Silk Saree
Bengali women prefer to wear traditional Korial sarees in Poojas, festivals, and other traditional occasions. In the Murshidabad district of West Bengal Korial sarees are manufactured. They have a similar texture as tissue and hence it is lightweight and quite easy to drape and handle. The word "korial ' means solid or blank and it successfully keeps up to its name. Somewhat similar to the Garad silk saree, the only difference is the border which is more intense in design and has rich red colour in Korial sarees.
17. Organza Silk Saree
Organza is a type of fabric that is obtained from silk and sometimes manufactured using nylon or polyester. That's the reason the saree made from Organza fabric is soft, thin, and lustrous with a graceful finish. Although it may appear thin, it is quite lustrous. The traditional pure organza silk sarees are still made from pure silk fabric only. These days Organza tissue silk sarees are quite popular among young girls. These types of silk sarees are made from sheer fabric which is very thin and light in weight and assembled in a plain weave.
18. Matka Silk Sarees
Matka Silk sarees are a unique type of silk sarees that are made from the waste Mulberry silk which is actually the Bombyx Mori without removing its sericin part. Mainly it is produced in Karnataka and Kashmir but the spinning process is conducted in districts of West Bengal, Malda, and Murshidabad. As Matka silk is obtained from a thick yarn so it contains a rough texture. Even though it has a rough texture it is considered unique and has been adorned by many Bollywood actresses like Vidya Balan, Tisca Chopra, and Kiron Kher.
19. Narayanpet Silk Sarees
Among different types of silk sarees and names, the Narayanpet Silk saree is one of the most popular ones. The unique check designs and embroidery makes it different from other silk sarees in the market. The intricate and ethnic temple design on the borders and pallu provide it with an elegant look. Usually, a contrasting look is created with small zari weaves in the borders and pallu. Weavers complete a Narayanpet silk saree in just 4-5 days. The style and designs of these silk sarees are influenced by two regions that are Maharashtra and Telangana. Mostly dark earthy shades are used in these sarees and they don't have any motifs as women prefer to wear these sarees as daily wear.
20. Tanchoi Silk Saree
Tanchoi silk saree obtains its name from the weaving process of Tanchoi. In this process, a single or double warp and two to five colours of the same shade are weaved with silk fabric. Besides the technique used in manufacturing these types of silk sarees, the intricate designs with small weaving patterns over the fabric offer it a unique look. Generally, patterns designed on Tanchoi silk sarees include patterns of flowers, peacocks, parrot motifs, and small birds in flight. The texture of these sarees is similar to the satin fabric which makes it perfect for festivals, weddings as well as formal occasions.
21. Paithani Silk Saree
Paithani sarees originate from Maharashtra and depict its rich culture. Made from fine silk fabric this type of silk saree is the first preference of the brides for the wedding day. The name Pathaini comes from the Paithan town in Aurangabad, Maharashtra. Real silver or gold is used for the designs of these sarees which makes it one of the most expensive silk sarees of India. Usually, these sarees come in bright shades like magenta, purple, peacock blue, dark green, etc.
22. Uppada Silk Saree
The name of Uppada silk sarees comes from the little beach located in Andhra Pradesh's East Godavari district. The weavers use the traditional Jamdani method to make these sarees and also include lots of zari work which makes it one of the graceful sarees of India. Commonly the designs of this type of sarees include patterns like flowers, leaves, geometric, etc. The best feature of an Uppada Silk Saree is that it has the remarkable ability to be folded so it can be kept in a small box like a matchbox.
23. Raw Silk Saree
Different parts of India have different names for raw silk, some places it is called 'Paat', in some 'Resham', whereas in some places it is known as 'Pattu'. Whatever name it may be called but the most natural kind of fine fibre is weaved for a simple and smooth fabric. The types of sarees made with this fabric have a lustrous sight and a very soft feel with an amazing textured effect.
24. Pochampally Silk Saree
Originating from the town of Bhoodan Pochampally, situated in the Nalgonda district of Andhra Pradesh, the Pochampally is among the different types of silk sarees and names that are popular in India. The Ikat weave and designs imprinted on this fabric makes it popular among women who love the essence of cotton and silk in the same sarees. The Ikat patterns like geometrical forms make the wearer appear classy and elegant. Ikat weave resembles Patola weave and hence they are mostly preferred by South Indian brides for their wedding ceremonies.
25. Sambalpuri Silk Saree
Originating from Sambalpur, Orissa, the Sambalpuri Silk saree is one of the popular types of sarees that is handwoven in Ikat weave. It consists of traditional motifs of flora and fauna, Sankha, and other mythological events. These sarees are considered the best pick for occasions like traditional ceremonies and festivals. In the Ikat process, the threads are first tie-dyed and then the fabric is weaved. Usually, it is available in red black, and white colours which depict the tradition of Odisha.
Ranging from east to west, north to south, silk sarees originated from different parts of India and consist of diverse cultures in their folds. After reading this blog, you've got an overview of around 25 types of silk sarees available in India with their unique and astonishing features. Whether you want a traditional saree or something modern, you can find it in this list.
Irrespective of the saree you choose, it will highlight your appearance and reflect your personality!