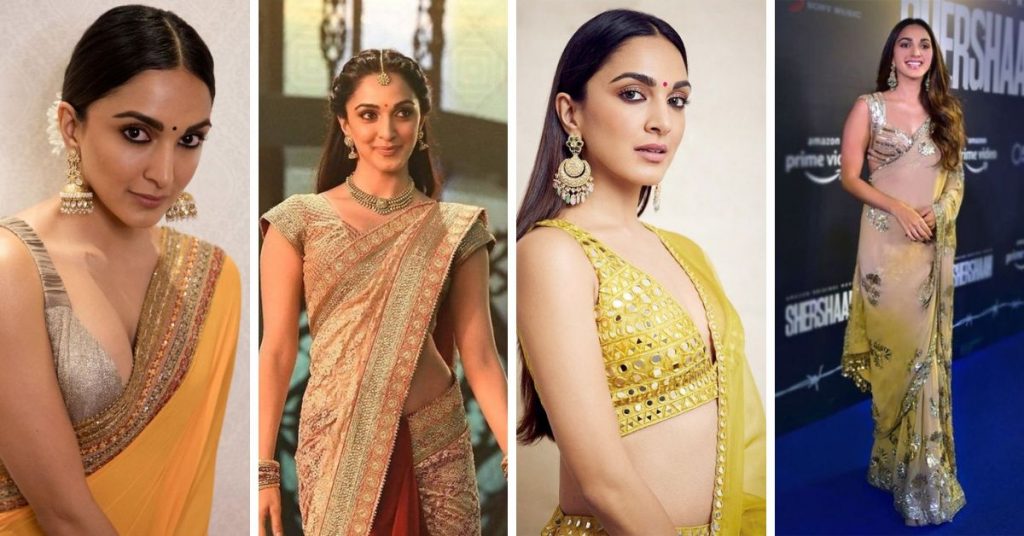 Kiara Advani became a fashion icon for her fashion sense and her flawless style to wear traditional Indian attire. It's true that she looks amazing in lehengas, but she has also shown that sarees can be chic and trendy. No matter the saree's style, Bollywood actress Kiara Advani in saree's looks beautiful. You, too, can adopt the same aura of sophistication and beauty as Kiara Advani whenever you wear one of her many gorgeous saree combinations.
When it comes to creating a stylish look, the most important thing is to know how to use the bright colours of the saree well, as the Kiara Advani saree outfit shows. In this blog, we'll show some of the top Kiara Advani saree styles.
Kiara Advani in Saree Looks
1. Kiara Advani in Black Saree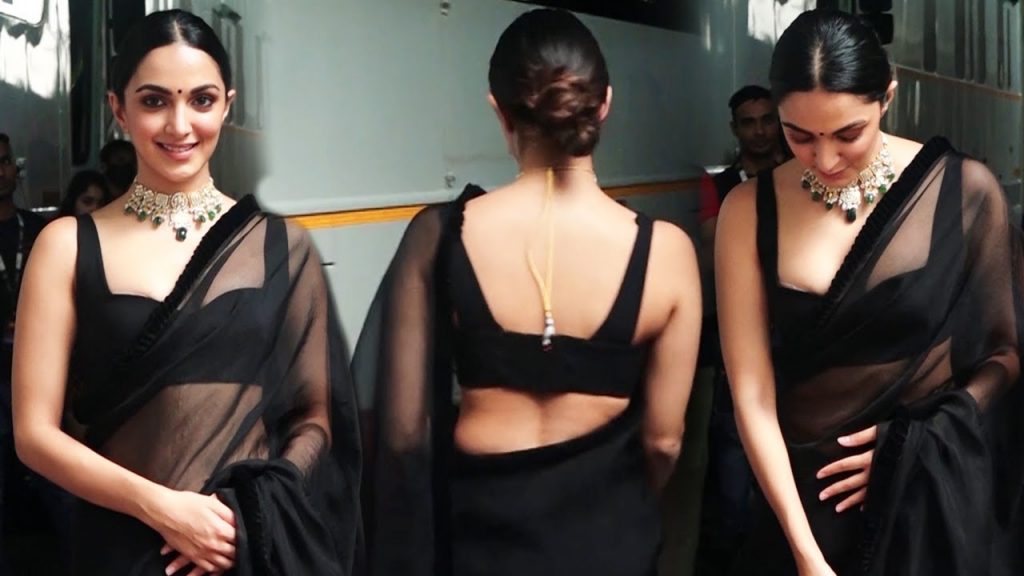 Every woman loves to wear black and when it comes to the black saree nothing can beat it. We can't stop staring at Kiara Advani in her most recent look for the Jug Jug Jeeyo promotion. She is dressed in a black chiffon saree. The stylish saree features a sheer fabric with no designs, giving it a beautiful look. The saree is worn with a silk blouse of the same colour that doesn't have any pattern or design other than the stitching. She opted not to accessorise with earrings or bracelets. She picked a Kundan necklace with emerald stones. She completes the look with a simple bun and wears a black bindi, nude lipstick, and eyeshadow.
2. Kiara Advani in Pink Saree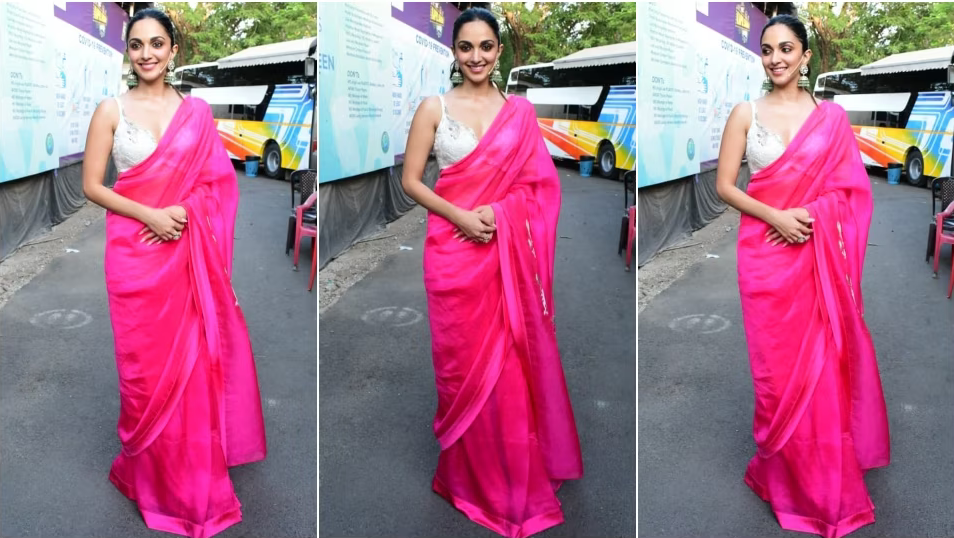 When visiting the set of The Kapil Sharma Show, Kiara Advani wore a bright pink saree with a white sleeveless bralette blouse. Kiara wore a stunning hot pink chiffon saree for the event. It's a classic aesthetic that will see you through summertime in elegance. When it comes to summer attire, nothing beats the sophistication and simplicity of a saree, regardless of how much you adore your light and airy dresses. The bright pink saree of Kiara Advani is the perfect choice if you're searching for a drape to dress up your summer outfit and see you through the heat in style.
3. Kiara Advani in Yellow Saree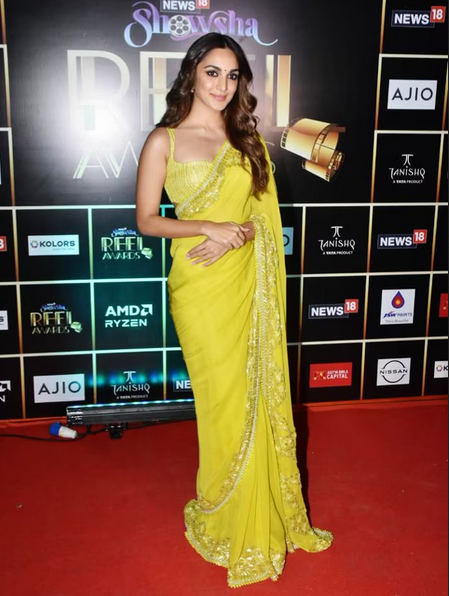 Kiara Advani looks as radiant as sunlight in her yellow saree. She wore a golden sleeveless, low-cut-neck blouse with a yellow saree having shimmering borders. She added a black bindi, some earrings, and minimal makeup to complete the look. Kiara Advani styled her hair in a simple bun for this look. Yellow is always a good choice when in doubt. A sunny yellow saree would be ideal for any casual or summer occasion. If you want to be the centre of attention, choose a bright yellow saree.
4. Kiara Advani in Golden Saree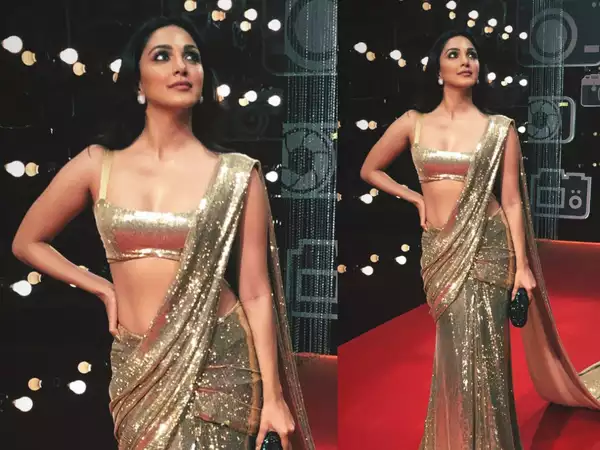 When we talk about the golden saree, it can be the focus of everyone's attention. A golden saree is perfect for formal events like weddings and cocktail parties. In the film Indoo Ki Jawani, Kiara is dressed in a golden sequined saree. It's pre-stitched and has a shimmering, glittery finish. Kiara's gold saree has an especially long pallu, which serves as the outfit's focal point and adds flair to her attire. Kiara Advani accessorised her curly hairstyle with a pair of elegant hoop earrings. If you want to wear a saree but have difficulty draping it, a pre-stitched one is the way to go. Kiara wore a sequined blouse with delicate silk straps for her on-screen role.
5. Kiara Advani in White Saree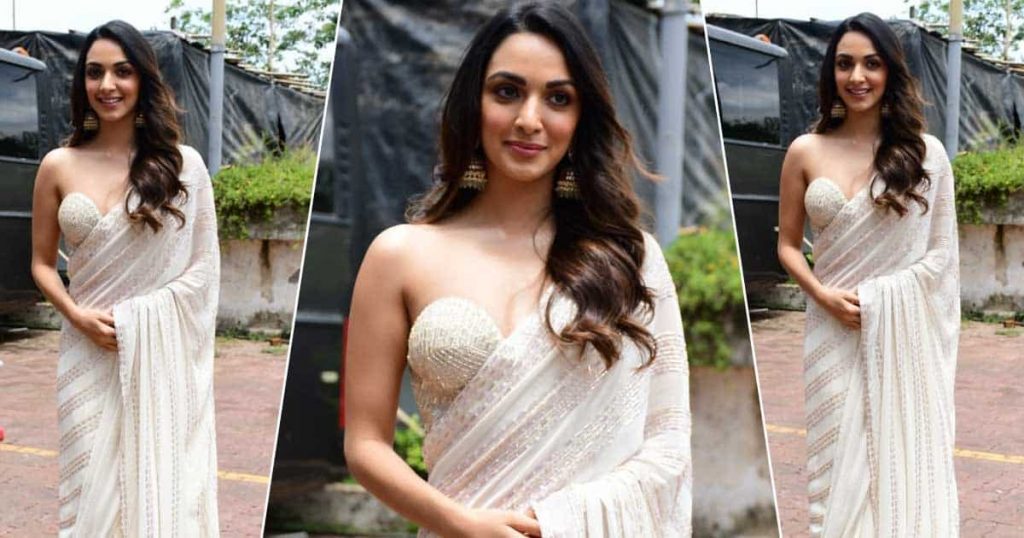 Bollywood is full of stunning women who regularly surprise fashionistas with their exquisite sense of style. Furthermore, it wouldn't be inaccurate to claim that Kiara Advani frequently takes the top spot among them. She wore a Manish Malhotra outfit that combined modernity and tradition, a sheer white saree with intricate threadwork. Beautiful thread embroidery covers the whole length of Kiara's white saree. The sequins and pearls that covered her attire gave them an elegant shine. The infinity pattern was present on the elegant blouse. She was sporting a pair of striking earrings that were coral and green in colour. To complete the look, she applied nude lipstick and left her straight hair open.
6. Kiara Advani in Red Saree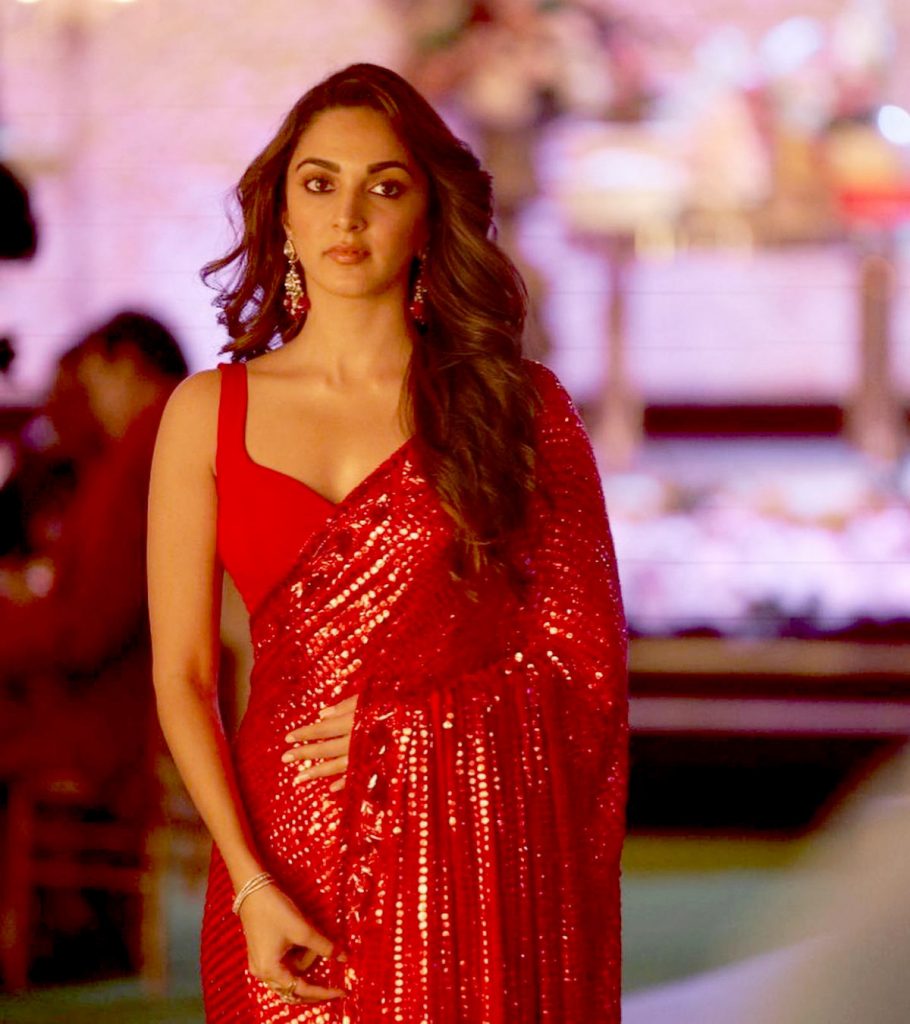 How can you get tired of wearing a red saree? A red saree is one of the best choices for every woman, and it can be worn as either modern or traditional clothing. Kiara Advani is known as a top Bollywood actress. She is always stunning when wearing a red saree. The actress never misses an opportunity to amaze fans with her flawless beauty and amazing acting skills. Kiara wore a red chiffon saree with a vertical pattern of sequins that made the fabric look glossy, shiny, and striking. Additionally, it had embroidered borders.
7. Kiara Advani in Green Saree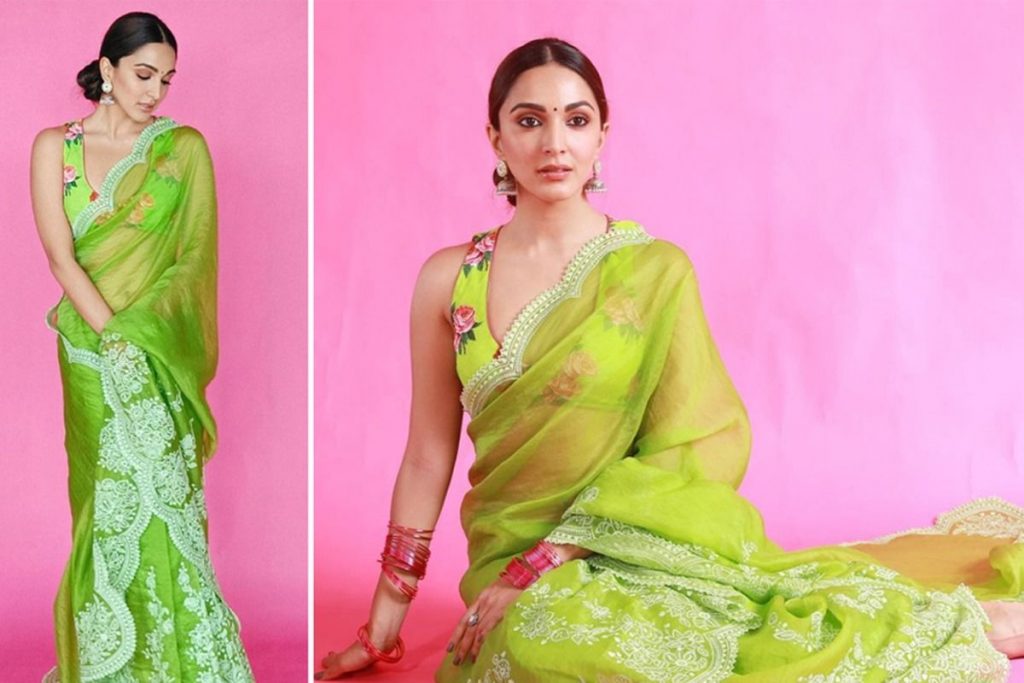 Kiara Advani looks very stunning in sarees. She made an unforgettable look in a gorgeous green saree to promote her film Shershaah, and she has worn a saree to some of her most memorable red carpet events throughout her whole career. Kiara was picture-perfect in the Torani lime green drape. She wore a sleeveless, floral-print blouse with the saree. This floral V-neck blouse with fine white embroidery on the border of the saree was a particularly striking outfit. She completes the look with a clean bun, a set of earrings, and some pink bangles to create an impression.
8. Kiara Advani in Blue Saree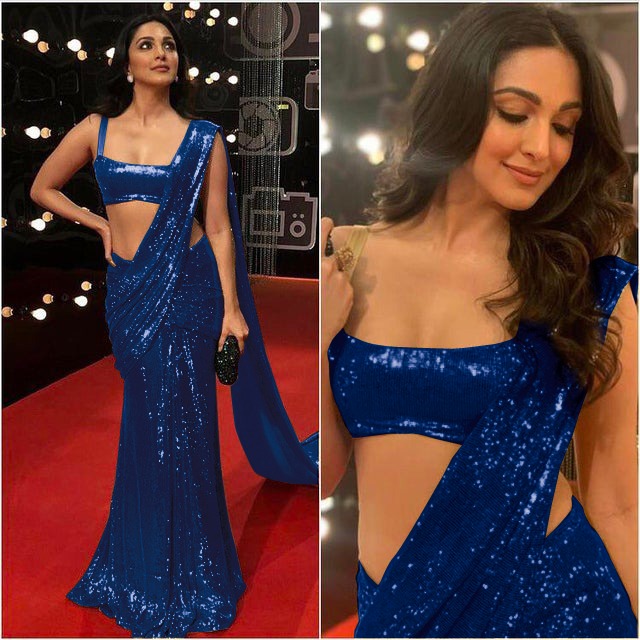 In one of the photoshoots, Kiara wore a stunning turquoise-blue saree adorned with silver sequins. The saree was custom-made by Manish Malhotra. She paired in a one shoulder spaghetti strap blouse in a crisscross pattern on the back with a saree in ruffled accents on the pallu. She is one to keep an eye on in the fashion world due to her original sense of style and her skill at carrying off a wide range of looks.
9. Kiara Advani in Polka Dot Saree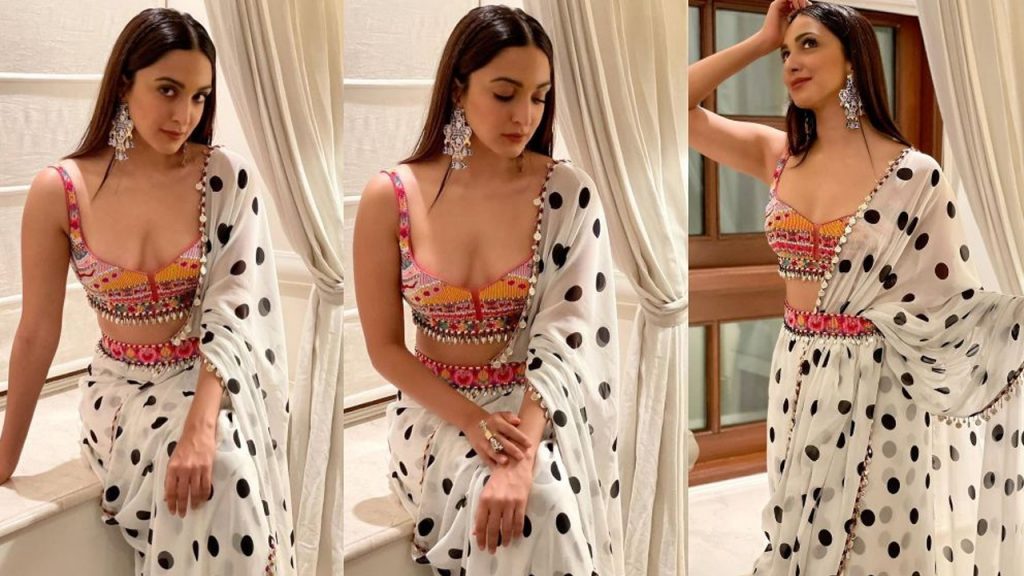 Polka dots are undoubtedly the one style trend that comes back around again and again. It seems to find a way to fit in our closet. Kiara Advani is one of the many celebrities who have successfully slayed polka dots in an ethnically inspired attire. The actress looked stunning in a polka dot saree and a sequined blouse while promoting the Laxmmi film with Akshay Kumar. The belt that she tied around her pallu was one of the things that struck a fashion obsessed in us. She complemented her outfit with a ring and earrings from Kainaat. She also opted for a natural look, wore minimal makeup, and kept her hair in a poker-straight style.
10. Kiara Advani in Orange Saree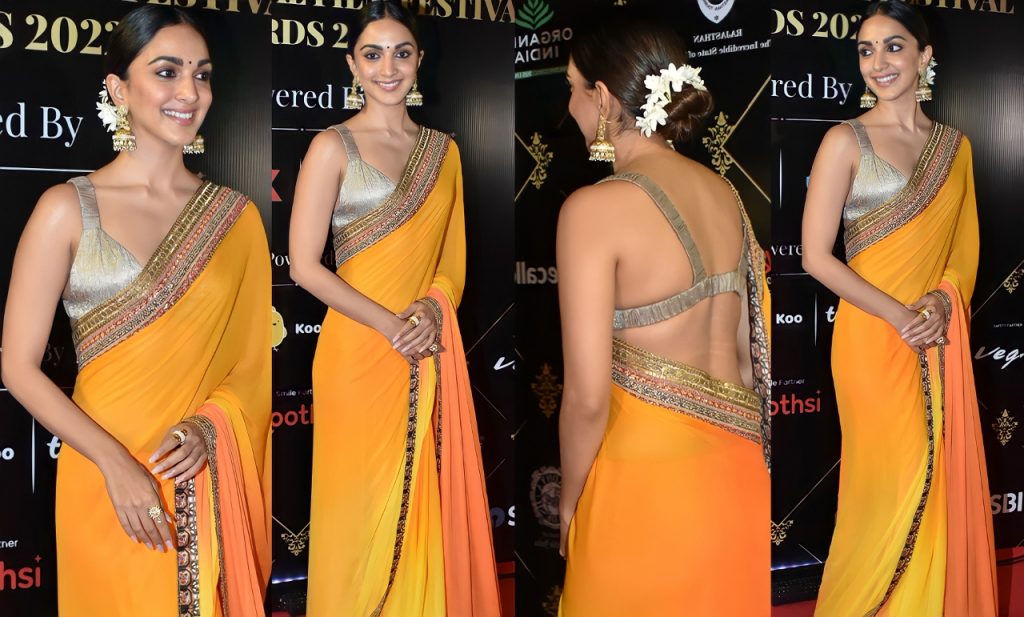 How is it possible to get sick of wearing an orange saree? The gorgeous and brilliant colour of an orange saree makes it a fantastic option for a night out. Kiara Advani wore a two-toned orange-yellow saree that is designed by Tarun Tahiliani. She looked beautiful with a glittery top with a deep V-neck and elastic straps that crossed her back. She kept the classic look with her makeup by applying a perfect base, groomed brows, and brown-toned nude lipstick. Her hair was tied back into a low, elegant bun and highlighted with some jasmine petals.
Well! These are the best Kiara Advani saree looks that we have mentioned above. Depending on your preference, each saree looks comes in a range of colours and styles. You can try a wide variety of saree designs. So why do you still have to wait? Consider trying these Kiara Advani saree outfits. Comment below and tell us which saree outfit you liked best.