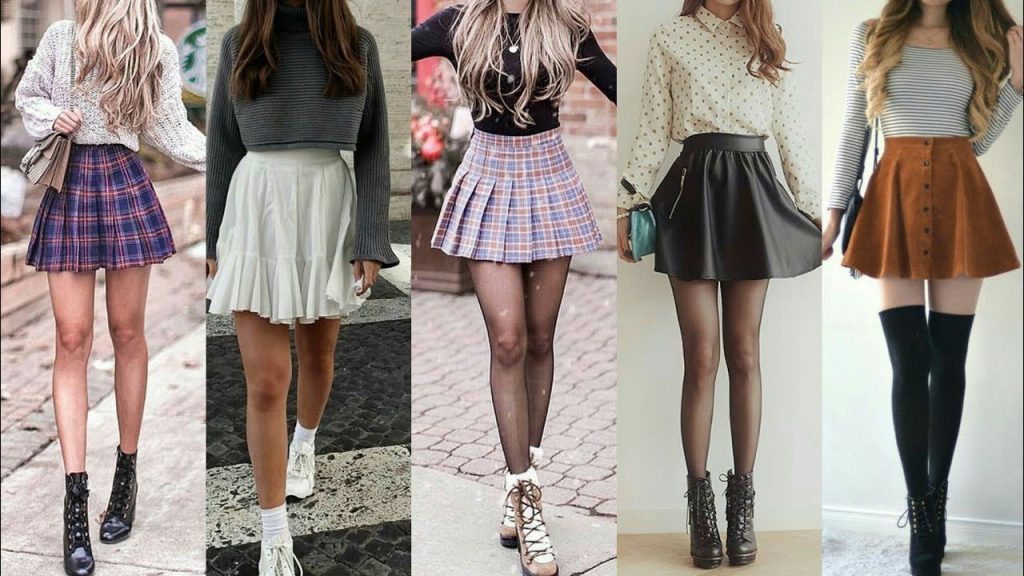 Mini Skirts have become a major fashion trend. A mini skirt can be found in a wide range of styles, prints, colours, lengths, and patterns. After all, this essential piece of clothing is very fashionable. The best mini skirt outfit ideas will make any outfit look instantly stylish and attractive or relaxed and comfortable.
Miniskirts are very versatile and can be worn with a variety of tops, bottoms, and layers. You have a lot of choices. A short skirt is a good choice as it may be worn to both casual and formal events. Looking for what to wear with a skirt? Here, we've compiled 21 mini skirt outfit ideas to help you choose your next smart, stylish outfit.
Mini Skirt Outfit Ideas
1. Combine A Mini Skirt with Tights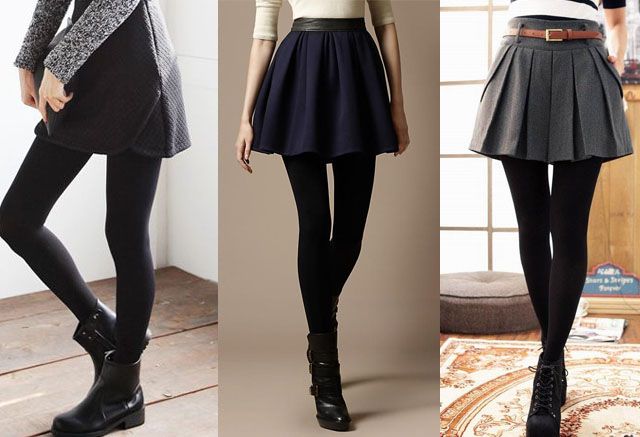 Tights are trendy and stylish, and they go well with almost any mini skirt. Choose a mini skirt made of chic suede or corduroy, and accessorise with a gold chain necklace with a variety of uses. As a result, within a moment you will get well-dressed, smart. To complete the look you can wear mules or heels. This hot skirt outfit is great for a casual dinner or event.
2. Mini Skirt with a Halter top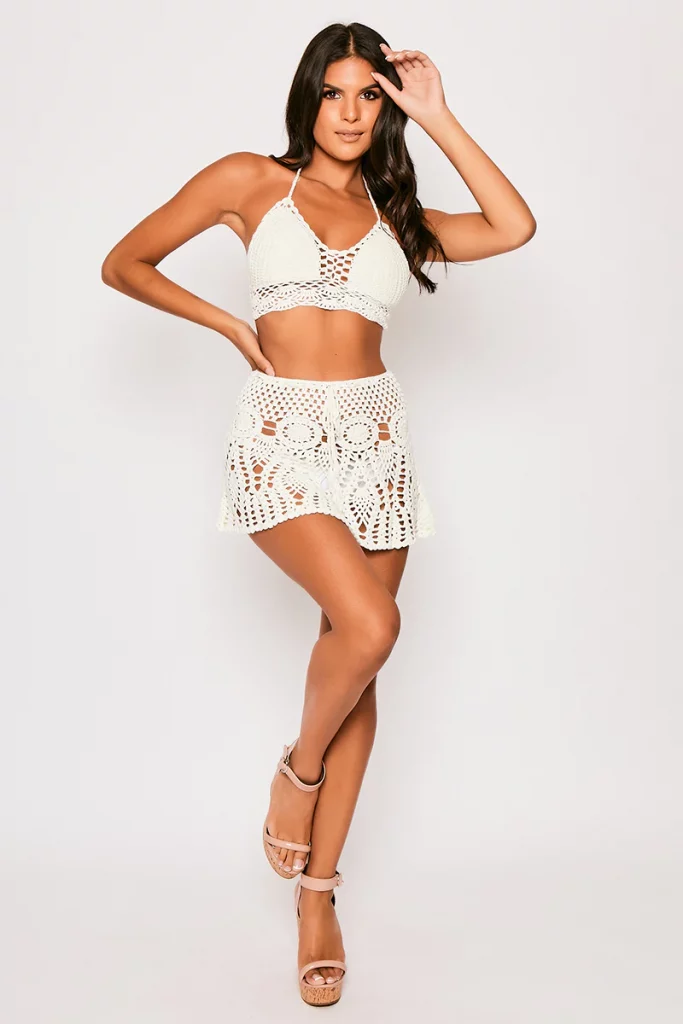 On your next date night, look extra adorable in this outfit! Any style of mini skirt is suitable, including A-line, pleated, and denim skirts to match with halter tops. Choose a miniskirt that fits you comfortably and fits your shape. To look stylish keep your hair in soft curls. Complete the mini skirt outfit with white sneakers and a handbag in a striking colour or pattern.
3. Style a Printed Mini Skirt with a Cardigan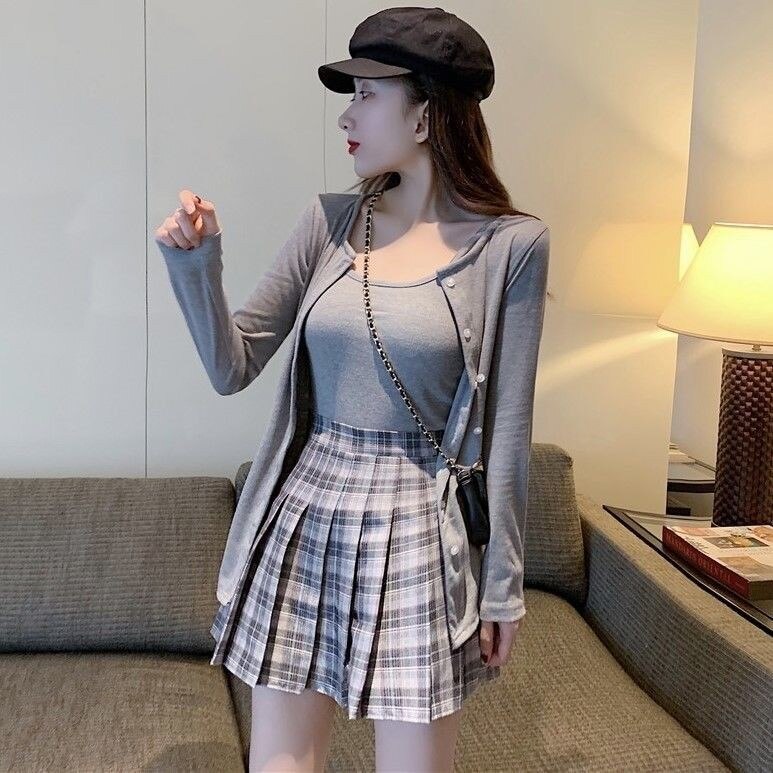 Are you looking for mini skirt outfits for winter? Try this mini skirt outfit with the cardigan. When worn as a top, a fitting cardigan can be softly attractive because it highlights the body. Try a deep neckline and leave some buttons undone to show a trace of skin. A printed mini skirt always looks trendy when worn with a cardigan. To complete the short skirt outfit add statement jewellery or a bold red lip.
4. Mini Skirt Outfit with an Oversized Button-Down Shirt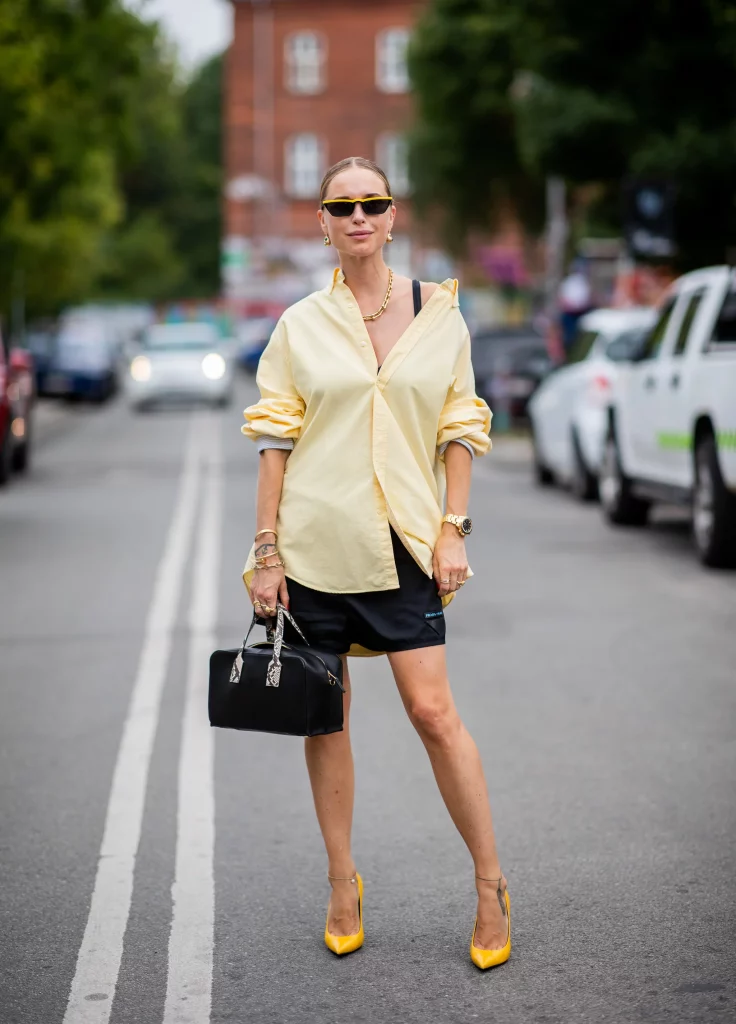 Another mini skirt outfit is with combat boots. When you looking for mini skirt outfits for winter, combat boots are a great option to wear with a short skirt. They look fantastic with short skirts, pencil skirts, and even mini leather skirts. You can easily go from day to night by pairing your combat boots with a black skirt and black tights. Wear an oversized button-down shirt to complete your mini skirt outfit for a fashionable look.
5. Mini Skirt with a White T-shirt, Blazer, and Strappy Heels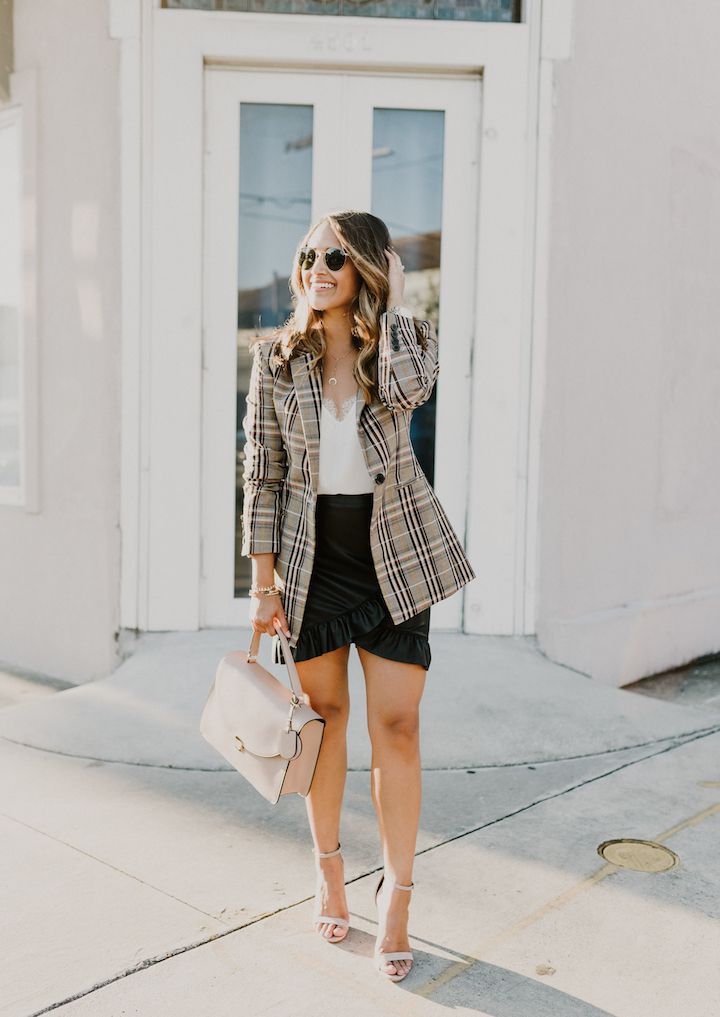 When worn with a miniskirt and an oversized blazer, a simple white t-shirt looks stylish. Add a pair of strappy heels to your outfit if you want to spice up your style for a special occasion or an outing on a date. Wear a mini skirt made of a fine material, such as silk or leather. An oversized blazer is a good choice if you are looking for mini skirt outfits for winter. So, try this mini skirt outfit idea with a white t-shirt and complete the look with strappy heels.
6. Matching Two-Piece Tweed Set Mini Skirt Outfits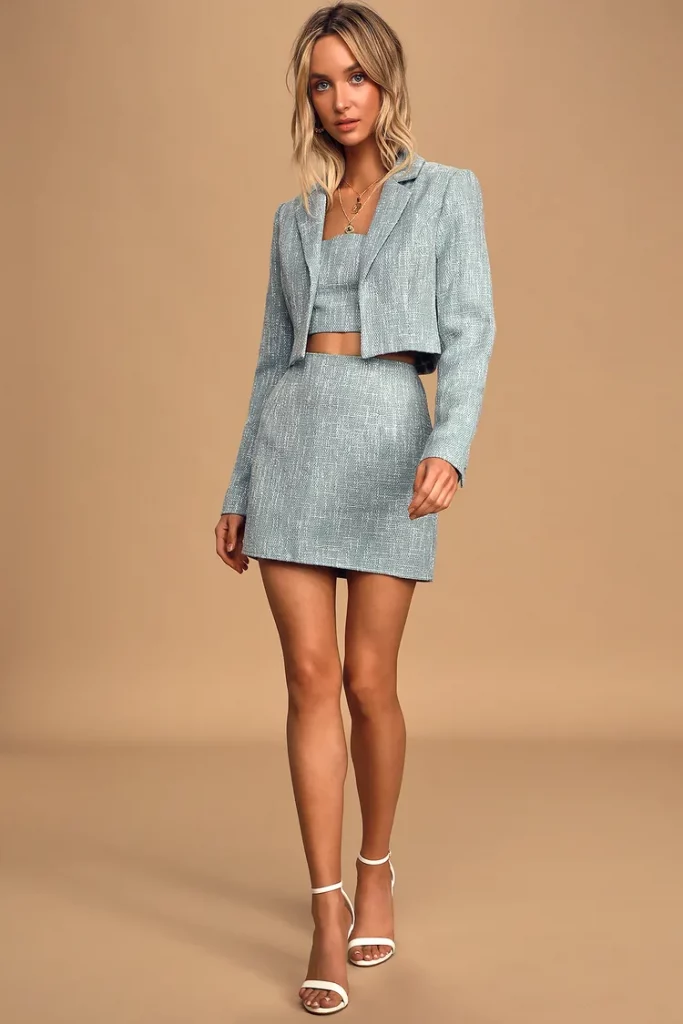 A matching two-piece tweed set mini-skirt outfit is a vintage and chic attire that can be worn to any occasion. With the matching two-piece mini skirt set, you may skip the trouble of putting together an outfit. This outfit with a mini skirt and top is an ideal instance of how tweed can be updated with a more modern style. Combine this outfit with an oversized faux leather jacket, and you'll have the perfect brunch outfit.
7. Polished and Preppy Hot Skirt Outfits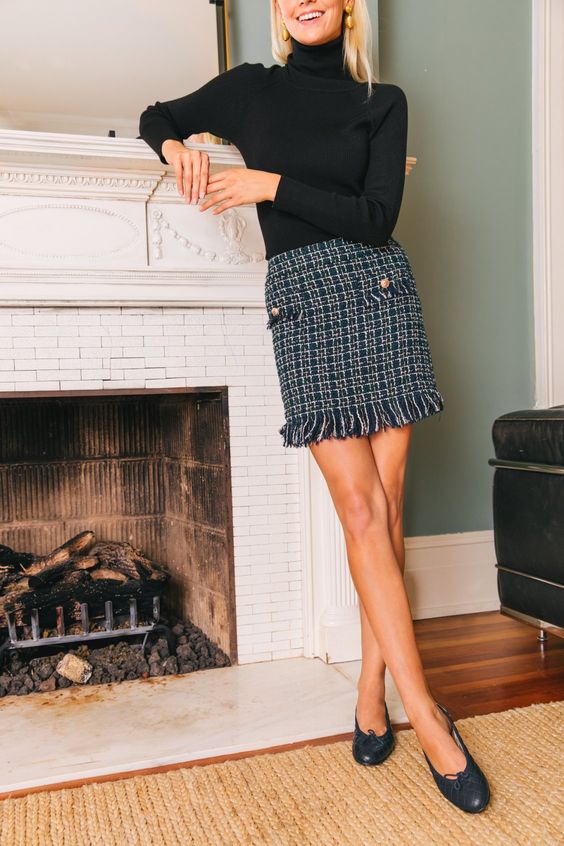 Plaid miniskirts are an essential part of any woman's wardrobe for good reason as they combine everything preppy and lively. Wear your plaid miniskirt with a flawless white top and black loafers for a more attractive look. This mini skirt outfit works equally well for a day of shopping and for a night out.
8. Mini Skirt with Tall Boots Outfits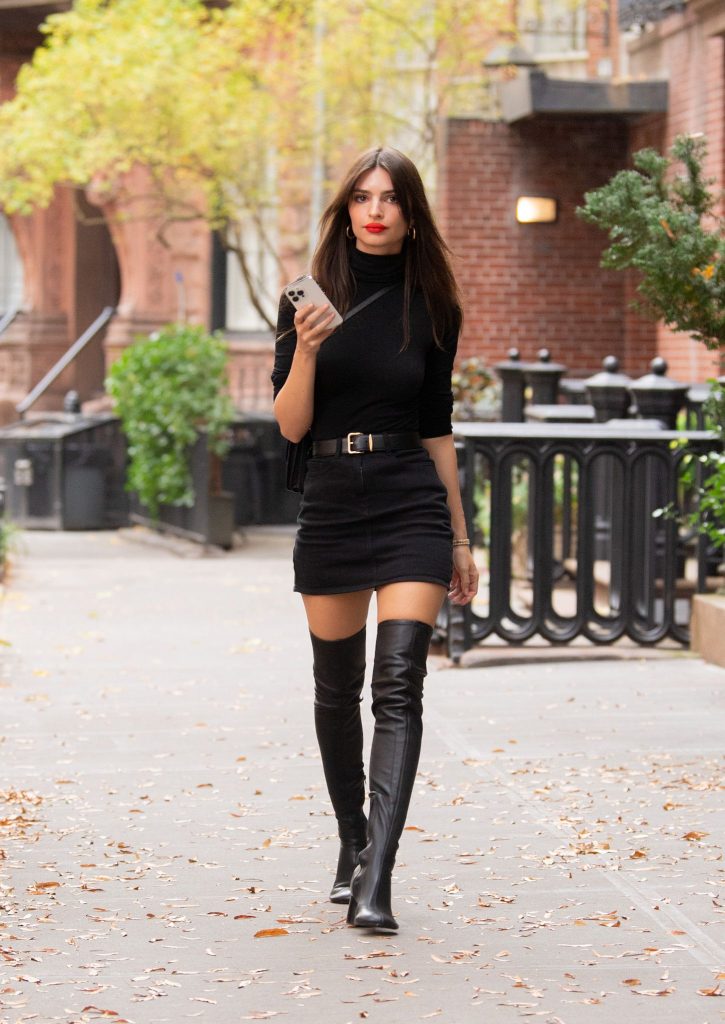 A pair of tall boots and a miniskirt is a perfect match that goes well in every season, and they should always be seen together. Wearing a miniskirt and over-the-knee boots is an easy way to look stylish and stay warm even when the weather is chilly. Additionally, you can accessorise your outfit with accessories like a belt, jewellery, or scarf. This mini skirt outfit will make you confident and more strong.
9. Crop Top and Matching Mini Skirt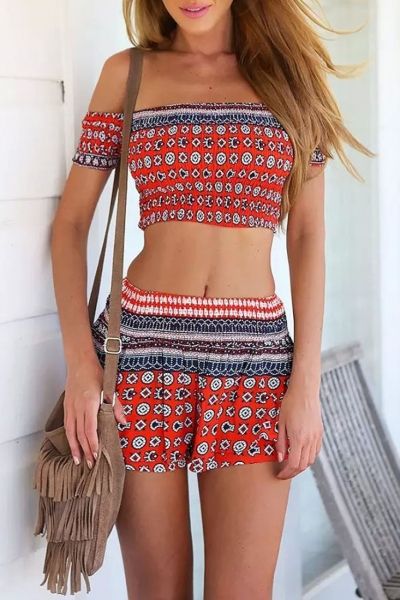 We love a fantastic little black dress, although a beautiful crop top and short skirt combo is the perfect mini skirt dress option when searching for an outfit that radiates effortless chic. Pair a beautiful faux leather matching two-piece set with some lace-up sandals and a chic shoulder bag, and you'll be ready for any party. To add a little spark and flair, consider accessorising your all-black outfit with a splash of colour, like a hot pink bag.
10. Sexy Bodycon Mini Skirt Outfit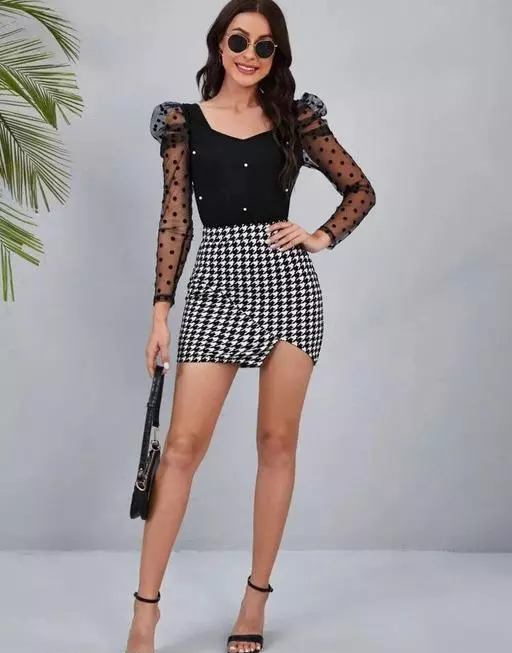 This list wouldn't be complete without an amazing mini skirt look. The waving of this short skirt's side fringe is sure to grab attention, and a dazzling cocktail top provides the finishing touch to this bold party outfit. One of the best ways to flaunt your curves is in a sexy bodycon miniskirt. Try a Bodycon miniskirt that flatters your figure and highlights your curves. Dress it up with a stunning necklace and high heels.
11. Pleated Mini Skirt Outfits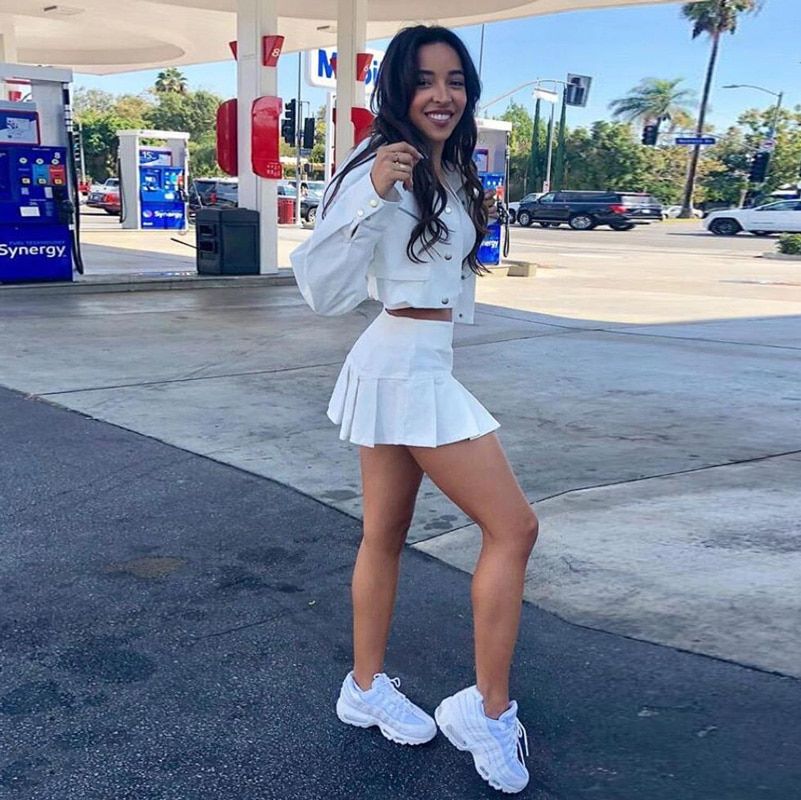 Pleated short skirts are not just for tennis players everyone can wear them. Pair a pleated mini skirt with a faux leather moto jacket and trainers for a playful and casual weekend style. This combination will give your next casual fashionable outfit a touch of sporty mood. Put on a pleated miniskirt, a t-shirt or tank top, and sandals for a summer style. To complete the mini skirt outfit add a statement necklace or some chunky jewelry.
12. Be Bold with a Patterned Mini Skirt Outfit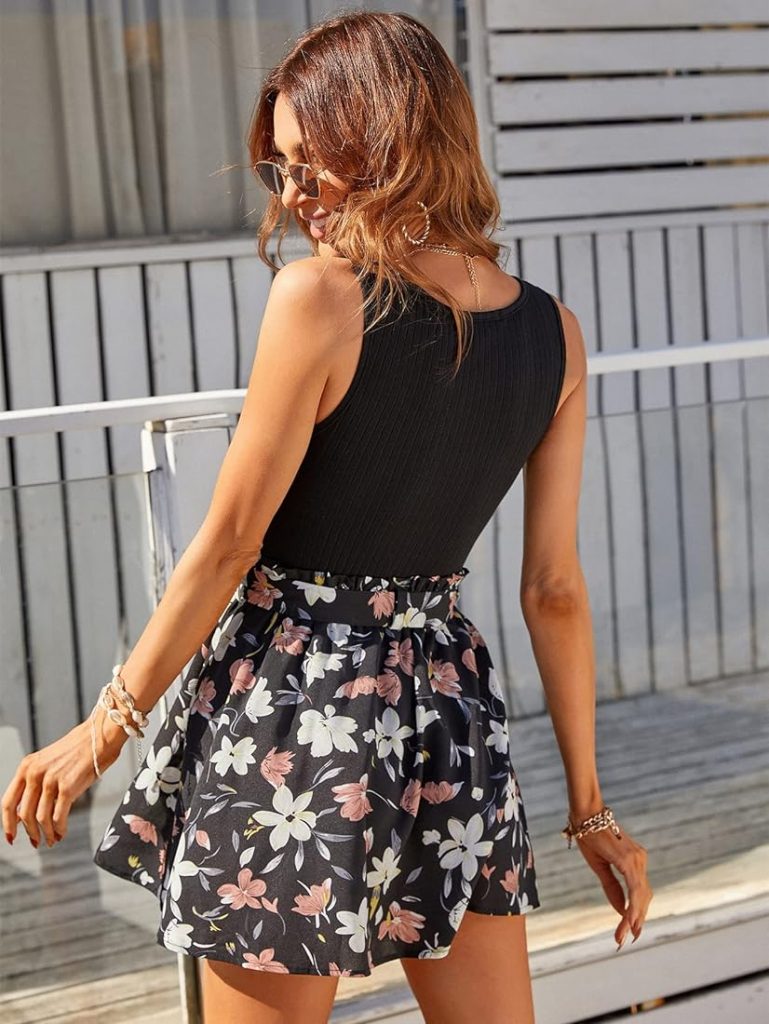 A mini pattern skirt looks great with a plain top. Choose a stretch t-shirt or one that closely fits your body, especially if your skirt flares. If you want to pair your skirt with a peasant top, look for a top with short sleeves or sleeveless. When you wear a skirt with such a bold print, your top should be simpler. Otherwise, the complete mini skirt outfit can clash. Choose tops in colours that match the colours of your skirt for an entirely complementary look.
13. Faux Suede Mini Skirt Outfit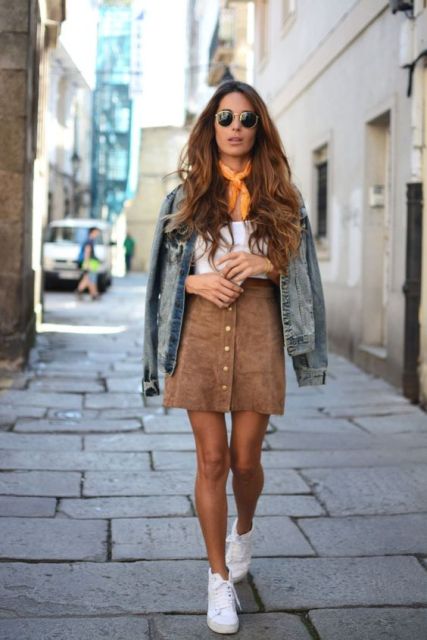 A short skirt outfit is a great way to experiment with new fabric trends, such as faux suede fabric. Faux suede has just been declared the good fabric of the year by one of the major colour consulting firms. We adore how the faux suede adds texture to this date-night outfit and how the mini skirt adds just the right amount of colour.
14. Dress in a Front-Wrap Mini Skirt for a Date Night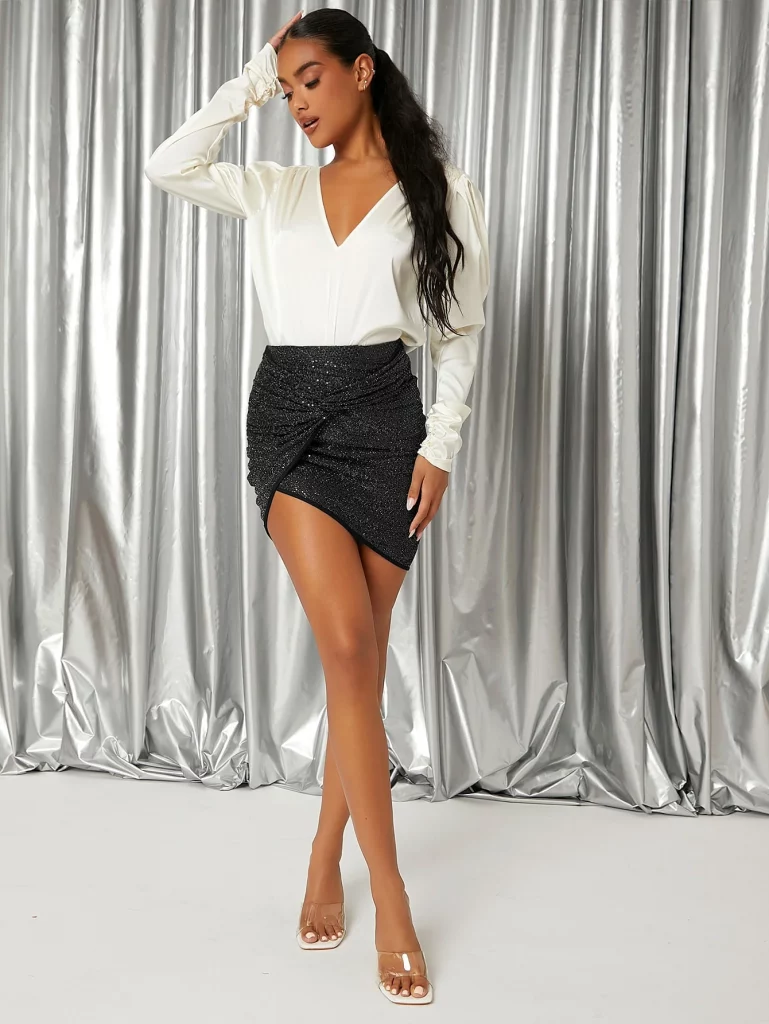 Wrap skirts look fantastic with your favourite sweater or hoodie. Mini skirts are an excellent option to explore the limits of fashion and try out new patterns, like this snakeskin print on fake suede fabric. Try pairing the flowered mini skirt and top to make the outfit look more stylish and let the design be the focus. To complete the outfit wear any closed-toe shoe, especially booties or boots.
15. Corset Mini Skirt Outfits
The beautiful corset top and mini skirt outfit are ideal for a girls' night out. By selecting a striking colour for the skirt, such as a hot pink or electric blue mini skirt, you can make it the focal point of the outfit. To eye-catching contrast to the skirt, match it with a corset top in white or black. You can accessorise with a bag and high heels to complete the look.
16. Beachy Chic A Crochet Mini Skirt Outfit
Swap out your boring beach cover-ups with this crochet miniskirt instead. Put the finishing touches on your outfit with your favourite swimwear, a stylish sun hat, and jelly slides. Mini skirts made of airy materials like cotton or linen are ideal for wearing in the warmer months. Bags, sunglasses, and jewellery can be added to the outfit for extra style.
17. Sparkly Black Short Skirt Outfits
When in doubt about what colours to wear with a black short skirt, choose an item in the same black hue. When you wear black, you can never go wrong. You can layer a black jacket over a black shirt while also carrying a handbag. In addition, you may create a completely simple yet stunning mini skirt outfit by pairing a tank top with a black sequin skirt.
18. Top and Short Skirt Dress
A top and short skirt dress is a good option when girls want to wear something classic and elegant. Mini skirts look fantastic with slightly modest tops as they maintain an elegant style while showing your legs. In this case, crop tops are a fantastic option as they show just the right amount of skin to make your outfit mini skirt outfit look attractive without revealing too much. This mini shirt outfit idea is perfect for going out to have fun with friends.
19. Black Mini Skirt with White Cropped Top and White Sneakers
This black-and-white outfit will be perfect for you if you want a more subtle look. If you don't want to show a lot of skin, just throw on an oversized button-down shirt—it makes for a stylish cover-up! The traditional and classic colour combination of black and white will always look stylish. If the weather gets cool, the baggy button-down shirt will keep you warm.
20. Stylish Short Skirt Design with Plain Tee
We offer yet another simple but stylish choice for you. Try it out on casual occasions by pairing it with a plain tee; you'll still seem more modern and young than a lot of the people you'll pass on the street.
21. Combine a Light-Washed Denim Skirt with a White V Neck Top
In the list of mini skirt outfits, this combination of a light-washed denim skirt with a white V-neck top is very classic and common. You may always rely on white and denim to look fashionable because they never go out of style! Add some gold jewellery to a wrap V-neck top and denim skirt to dress up the casual look. You'll look really stunning!
A miniskirt is an ideal piece of clothing that may be styled in different ways. Here you have it, then! There are 21 Mini Skirt Outfit Ideas that will bring fresh styles to your season's wardrobe.
Frequently Asked Questions
1. What to Wear with a Skirt?
Miniskirts tend to be overlooked as they are associated with a highly sexy look that most people may not feel comfortable wearing. But you'll be amazed by the countless ways that a mini skirt can be worn. Wrap-tied short skirts can be trendy and simple. Wear your mini skirt with confidence by pairing a white top. However, if you like a more feminine and sweet look, use wrap-tied skirts with floral prints.
2. How to Style a Mini Skirt?
There are various ways to style a mini skirt if you want a casual look then you can pair your mini skirt with a t-shirt or tank top and sneakers or sandals. For a more formal look, you can pair your mini skirt and top or button-down shirt and heels.
3. What to Wear with Short Skirts?
Wear a short skirt with sneakers, flats, booties, or tall boots instead of high heels. Heels attract attention to the wearer's legs, making them feel more skinny. They can also be uncomfortable and add to a feeling of being vulnerable and exposed.
4. What to Wear Inside Short Skirt?
A pair of shorts or leggings worn underneath your short skirt could provide extra coverage. Try to find something made of a breathable, sweat-wicking material, like nylon. A cotton material usually provides the right level of opaqueness.