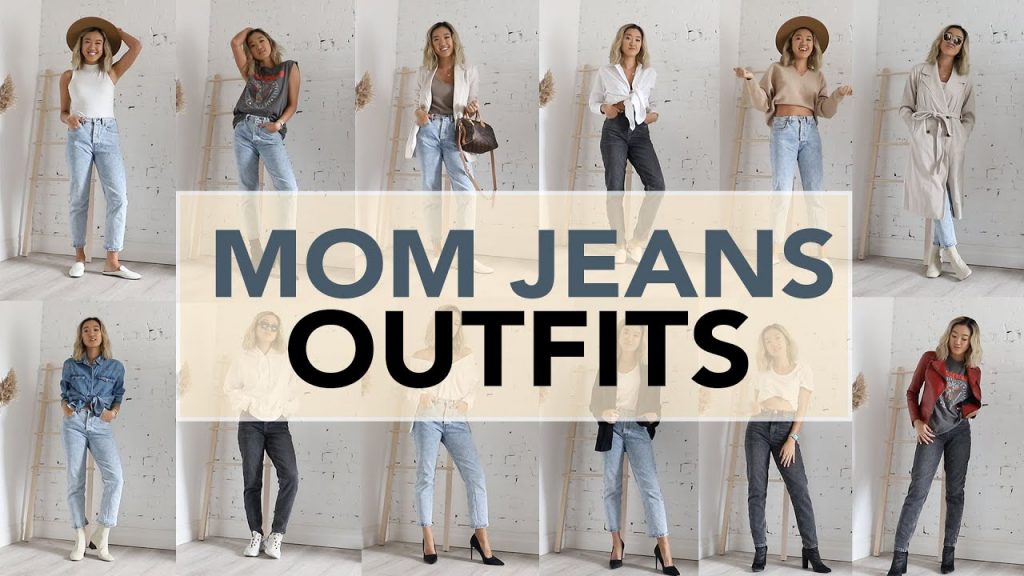 Jeans; that one piece of garment that is considered the most versatile and timeless piece present in your wardrobe. These days Mom jeans are one of the trending jeans types that are especially meant for moms or moms-to-be. But that doesn't imply mom jeans are restricted to only Moms. Mom's jeans outfit is a fashionable piece that any woman can style. Mom jeans will not only make you look great, but they will also keep you at ease because of the space they provide between your legs. So, are you looking for the how to style mom jeans? Don't worry! Here are some of the coolest mom jeans outfit ideas and ways to wear mom jeans.
List of Top Mom Jeans Outfit Ideas
1. Vintage Striped Baggy Mom Jeans with a Top
A fashionable and easily elegant style can be achieved by wearing a stylish top with a pair of vintage striped baggy mom jeans. To avoid looking like you're getting ready to make a surprise entrance at a 90s-themed party, it's best to wear a simple top. This will help you to create a look that successfully combines memory with modern fashion, making it both trendy and classic.
2. Combined with White Sneakers or Converse Shoes
When it comes to mom jeans outfits, you can update your look by adding classic pieces like white sneakers or Converse shoes. Because of the hemline style, sneakers look especially fantastic when worn with mom jeans. Choose a pair of mom jeans that fit you well. They should be neither too tight nor too loose. You can also pair a fitted top to look stylish.
3. Jeans with a Crop Top
Crop tops are stylish fashion attire that may be worn both formally and casually to highlight your midriff. They're great for hanging out with friends during the day or rocking at night. If you want to wear a crop top, you won't need an excuse. Put it on now! Wear it with trendy mom jeans that have the hem cuffed. You can also add extras like a belt, hat, or sunglasses if you're feeling extra.
4. Paired with a Tank Top, An Oversized Jacket, and Combat Boots
Do you feel like dressing in some grunge today? Put on your mom's jeans style and a black tank top, layer on a big jacket, put on any combat boots, and dye your hair a unique colour using a temporary dye. You can choose a traditional style, like black hair with blue streaks, or experiment with other colours.
5. Combined with an Animal Print Jacket, Sweater, and Neck Bandana
A mom jeans outfit can be made fashionable and edgy by adding an animal print jacket, sweater, and neck bandana. Start by wearing a fitting sweater in a neutral colour with your mom's jeans. Then, include an eye-catching animal print jacket in the ensemble. For the finishing touch, drape a neck bandana around your neck. You can complete your mom jeans outfit with accessories such as a necklace or a set of vibrant earrings.
6. Ripped Mom Jeans with A Woolen Cardigan
When winter arrives, different cardigans, sweaters, and layers are that we wear. With the addition of a striking statement neckpiece and a cardigan to match mom's jeans, you can dress up a simple white shirt. For a casual day out, nothing beats a pair of ripped mom jeans and a woollen cardigan. The cardigan keeps you warm and comfortable while the jeans give you some flair. You can complete your moms jeans outfit with sneakers and boots.
7. High Waisted Mom Jeans Outfit
High waisted mom jeans outfits always look stylish and give you a modern touch when you pair them with a crop top or tank top. Mom jeans have a high rise and typically fit at or above the waist, keeping everything in place. If you want a casual look you can pair high waisted mom jeans with a t-shirt or sweatshirt. Make sure to select a pair that is comfortable for you and neither too baggy nor too tight.
8. White Mom Jeans with a Blazer
Does your job allow you to wear casual or semi-formal clothing, such as jeans? Try pairing these whitewashed skinny mom jeans with a white shirt and a formal or semi-formal blazer. The ankle length means you may experiment with a wide range of shoes, from basic sandals to high heels. This mom jeans outfit is ideal for formal meetings or office outfits.
9. Black Mom Jeans Outfit
Black mom jeans outfit is a good idea to look edgy and simply trendy. This denim strikes the right balance between refined and edgy, making it a versatile wardrobe staple that looks great on a wide range of events. Put on a leather jacket and some boots, or put together a vibrant outfit for the office by pairing a white shirt with some mules.
10. Aesthetic Mom Jeans Outfit with a Puffy Jacket, Boots, and A Belt
If You have aesthetic mom jeans, add a puffy jacket and a heavy waist belt to look tough. You can wear any colour of T-shirt you like but don't forget boots. A T-shirt in a solid colour is an excellent option because it won't detract from the rest of your attire. Make sure the puffy jacket you get isn't too big or too snug. The waist belt ought to be strong enough to tighten your waist and give you a slimmer look.
11. Mom Fit Jeans with a Pink Striped Shirt
A cute and beautiful mom jeans outfit made with mom fit jeans and a pink striped top. A pink striped shirt's classic charm is improved by the mom jeans' casual yet attractive style. This pairing is an excellent choice for a variety of occasions, from casual outings to formal events, because it hits the ideal mix between ease and elegance. You can have your fashion moment with just a pink shirt and a pair of mom fit jeans.
12. The White Style
The look of all white is equally attractive and captivating as all black. In fact, when it comes to mom jeans, an all-white style is slightly superior to an all-black look. To make an all-white style you can pair a plain white top or t-shirt with the mom jeans. Complete your mom jeans outfit with a white blazer and white sneakers or white heels.
13. Mom Fit Jeans with a Ruffled Shirt and Hoops
When it comes to mom jeans outfit ideas there is no better way than these mom fit jeans with a ruffled shirt and hoops. To get this look, you should start with a good pair of mom jeans. Next, pick a light or bright-colored ruffled shirt. This will provide some structure against the loose cut of the jeans. To complete the mom jeans outfit add some vintage hoops.
14. Knee Clear Ripped Jeans with a Loose Shirt
An outfit may quickly add some edge by wearing ripped mom jeans. You can achieve so much with a pair of ripped mom jeans that you invest in or even make yourself. Wear it tucked inside a baggy striped or checkered shirt. Go one step more, fold the hem, and wear a pair of ankle boots. Wear them with a T-shirt and sneakers for a relaxed look.
15. Combine with a Off Shoulder Top A Perfect Mom Jeans Outfit
Are you looking for the ideal mom jeans outfit idea? Try this combination of classic jeans with an off-shoulder top. Mom jeans are an ideal bottom for showing off a hot off-the-shoulder top. Pairing an off-the-shoulder top with mom jeans is a great way to attract attention to your mom jeans outfit. You can wear this mom jeans style at a casual party or on a brunch date. Wear it with boots, and a pumpkin spice latte, and you'll be the picture of beauty.
16. Combine with a Trench Coat
Trench coats are precious, flawless, and eternal. They are versatile, simply elegant, and fit any body type. For a formal look, pair a trench coat with skinny jeans and high heels. A classic and stylish look that is appropriate for any season is achieved by layering on a classic trench coat. Rock your mom jeans outfit with a plain white T-shirt.
17. Mom Fit Jeans with a Red Sweater
This red sweater, a pair of trendy shades, and a glittery crossbody bag will make you feel and look like a true fashionista. This is an ideal mom jeans outfit that you can make more stylish by adding hoops earrings and a bold necklace. To complete the mom jeans style wear a pair of white sneakers. This look works well for partying with friends and going on casual outings.
18. Buttoned Up Mom Jeans Outfit
Are you in search of mom jeans outfit ideas? The Buttoned Up mom jeans outfit is a trendy choice you may select. This outfit has the classic style of mom fit jeans and the adaptable fit of a crop top, so it can be worn to a lot of different events. Whether you're going for a casual look or just need an outfit upgrade, this mom jeans outfit hits the sweet spot between comfort and elegance.
19. Combine with a Checkered Shirt and Baseball Cap
Mom's jeans look best with shirts checkered shirts or plaid shirts. If you want something different then pair a checkered shirt with a mom fit jeans, a perfect mom jeans outfit. To complete the mom jeans style wear a baseball cap to look cool and stylish. This combo gives your look a stylish, sporty twist. Wear a checkered shirt with a baseball cap that has a contrasting pattern.
20. Mom Fit Jeans with A Pastel Colored Top
As we know, mom fit jeans are a great option and it is a perfect bottom that can easily combined with any top. Your medium-washed mom fit jeans go well with a pastel top as well as mellowed down. Simply add your regular ballerinas, a body bag, and a choker in a neutral colour to complete the look. In the list of mom jeans outfits, this combination of mom fit jeans with a pastel-coloured top is ideal for looking fashionable.
21. Tapered Mom Jeans with A Bodycon Top and Boots
This outfit will turn heads at any summer concert you attend. The figure-flattering bodycon top, paired with denim mom jeans and electric boots, is extremely luxurious and light, perfect for the hot summer weather. The denim jacket will keep you cool, and if you tie it around your waist, it will also look great. A baseball cap, as we all know, makes everything look good.
22. Baggy Mom Jeans with a Loose Top
For a comfortable and stylish mom jeans outfit, try pairing these baggy mom jeans with a loose top. It will be easier to balance the look with the loose top, and you'll feel more comfortable and relaxed wearing the jeans. You can pair this outfit with sneakers or sandals, and you can add a hat, sunglasses, or a bag as an accessory.
23. Grey Mom Jeans with Oversized Sweater and Jeweled Boots
Grey mom jeans, bejewelled boots, and an oversized sweater will glam up your winter wardrobe. The boots can cover the glitter, while the jeans ensure a classic look. Pick a sweater in any style, colour, or pattern you like. Mom jeans are an excellent way to give an outfit some edge.
24. The Vintage Look
Do you have some of the retro vibe today? Or, if you want to add a hint of vintage style to your outfit, layer a silk shirt over a pair of medium-wash mom jeans. Wear platform heels with wide straps and a leather body bag with a retro theme.
25. High Waisted Mom Jeans with a Floral Biker Jacket
Dress like a biker girl with this high waisted mom jeans and floral jacket. Nothing can stop you, ever. You are a master of making a strong impression. You always carry yourself with style, whether you are driving down the road or facing the world. There are wonderful and unique ways to combine your floral jacket and mom jeans.
26. Rolled Up Blue Jeans With White Boots
What about a pair of white boots or heels with your blue jeans and black shirt? Sounds weird, one may say. But it's nice that someone disagrees while maintaining this expression. The fashionable white boots are highlighted by the rolled cuff of the jeans, giving your mom's jeans outfit a vibe of elegance.
27. Combine a Black Turtleneck and A Jacket- A Stylish Mom Jeans Outfit
For your upcoming formal business meeting, check out this unique mom jeans style. Switching to a turtleneck from your usual V-necks can give you a more professional look. The belt completes the look. To complete the mom jeans outfit wear Boots or heels that will give you a polished look.
Mom jeans are not only stylish but also really comfy to wear. And the best thing is that you can combine them with anything and still look stunning. Well! the top mom jeans outfit ideas that will make you look fashionable have been mentioned above. You can choose a retro look or any style according to your preference to attract the right kind of attention.