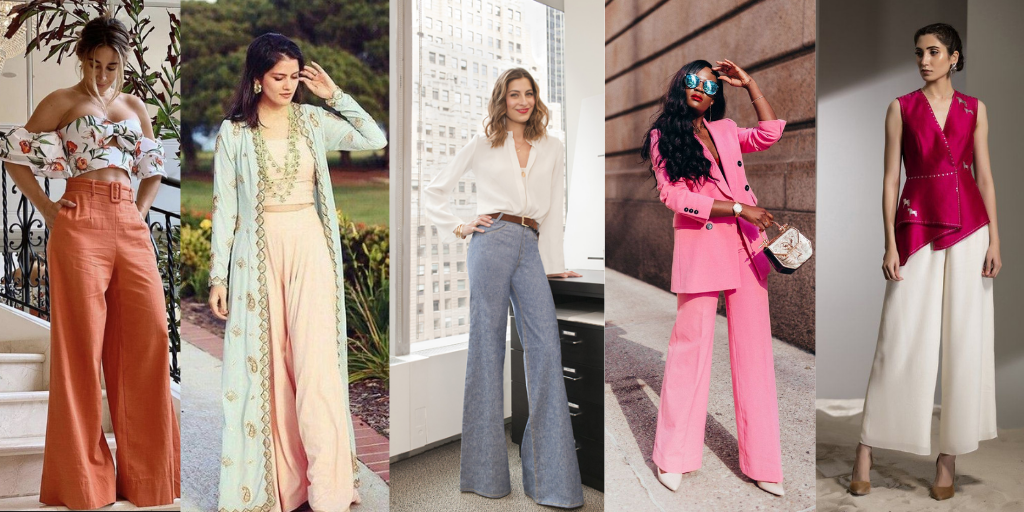 Palazzo Pants are highly in trend these days. These comfortable bottom wears can be mixed and matched with lots of top wears and astonishing fashionable outfits can be created. Well, it's high time and you should add palazzos to your wardrobe to style in the best ways. These days you can find stylish palazzo designs but that makes it even difficult to decide which design would be the best for you. We've brought you 15 easy fashionable ways to style palazzo pants in the best ways. Read and explore the amazing ways to style palazzo pants.
How to Style Palazzo Pants?
1. Try a combination of Black Palazzos with an Off-shoulder Top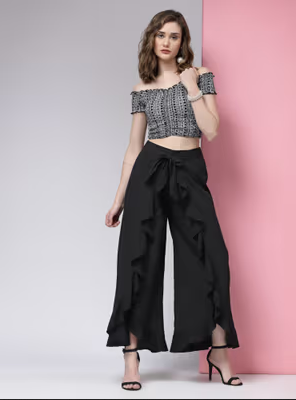 Black Pant Plazos are quite common these days. Although it's common, often you can't find ways to style it differently. Combining it with an off-shoulder top will not only offer you a trending look but you will appear amazing in just a few seconds. Black palazzos paired with an off-shoulder top create a stylish and sophisticated outfit combination. This stylish palazzo design is versatile, suitable for various occasions, and offers a trendy yet elegant look. Ensure that your black palazzos fit comfortably at the waist and hips. The length can vary from full-length to ankle-length, depending on your preference.
2. Try Wide Leg Palazzo Trousers with Stylish Tops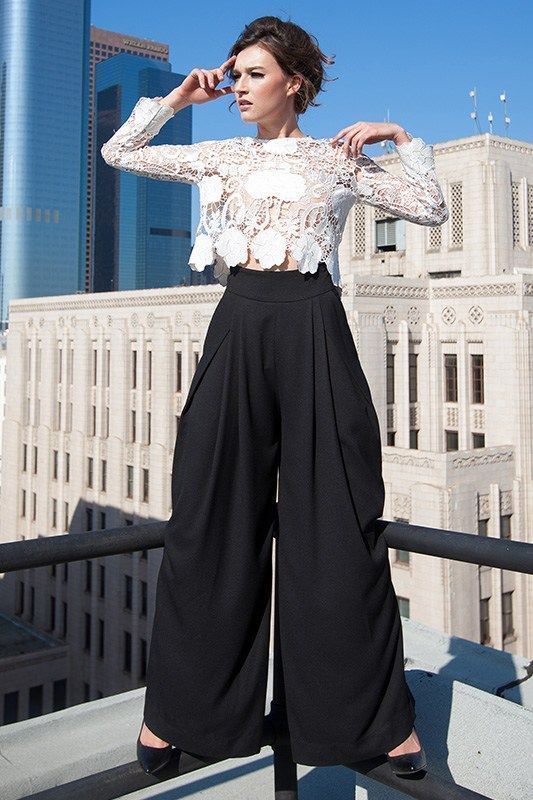 Wide-leg palazzo trousers are a versatile and stylish addition to any wardrobe. Known for their flowing and ultra-wide legs, they offer both comfort and fashion-forward appeal.
If you are wondering how to style Palazzo pants then give a try to wide-leg Palazzo with colourful stylish tops. The defining feature of Palazzo trousers is their wide-legged silhouette. These pants are typically cut to be very wide from the hips to the hems, creating a fluid and dramatic look.
3. Choose Cropped Folk Palazzo Trousers with kurtis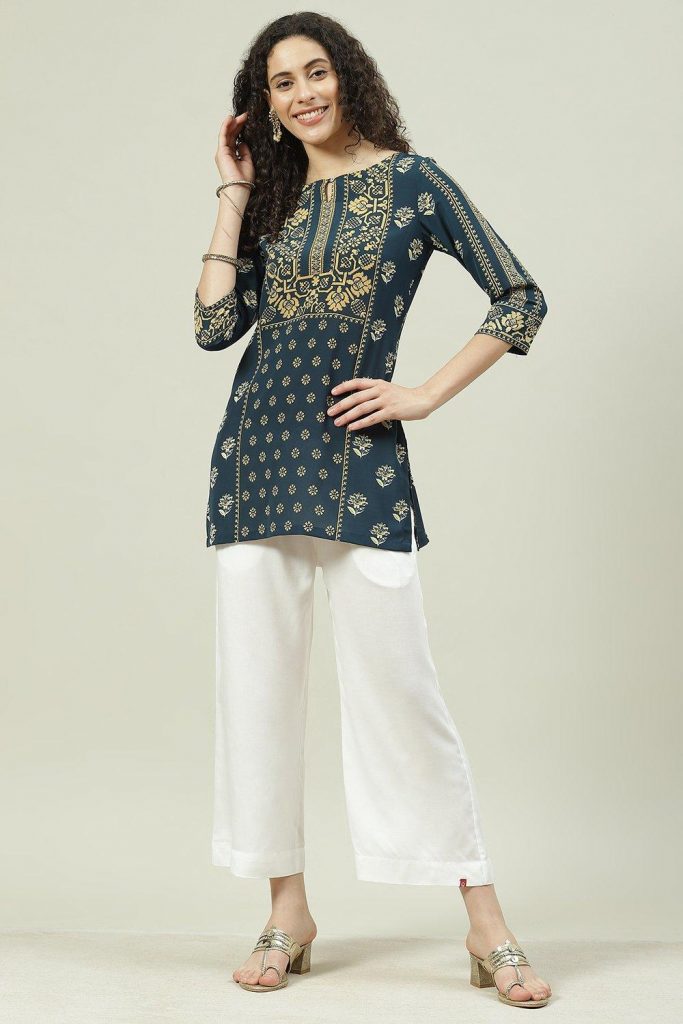 Styling cropped folk palazzo for girls can be a fun and unique fashion statement. These pants often feature folk-inspired prints and patterns, giving them a distinctive bohemian or vintage vibe. Pair your cropped folk palazzo trousers with a loose, flowy blouse in a complementary colour Opt for Pakistani Palazzo designs and add accessories like layered necklaces, beaded bracelets, and statement rings to create a fashionable, chic look. Add suede ankle boots or gladiator sandals to complete the boho look.
4. Fashionable Palazzos and Bodysuit Go Hand in Hand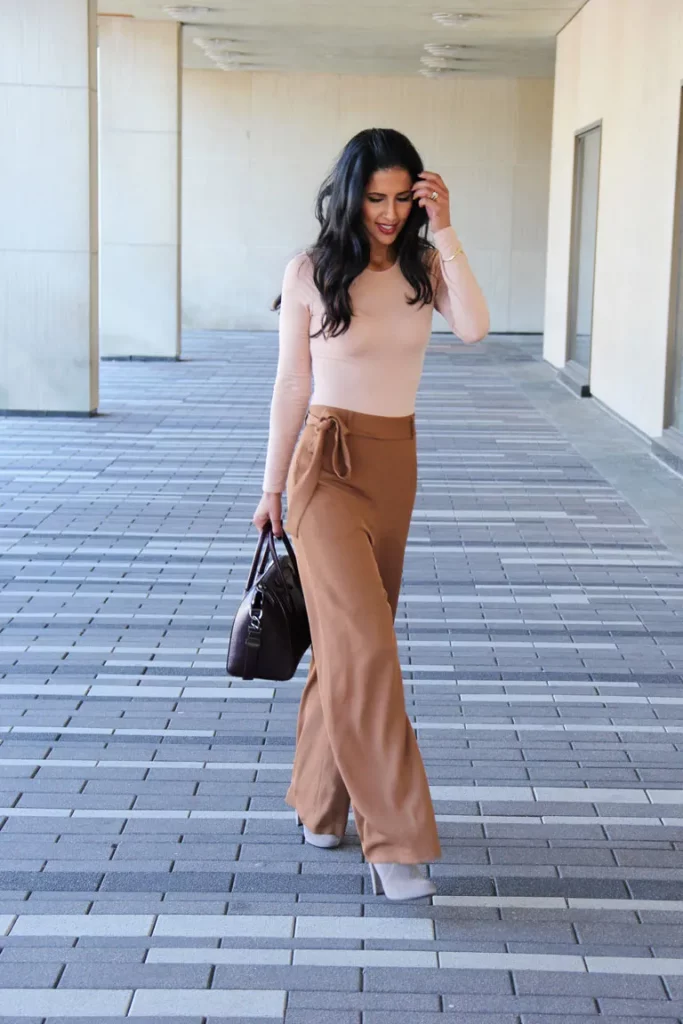 Styling 3/4th palazzos with a bodysuit can create a fashionable and chic look for all those who were wondering which type of top to wear with palazzos. 3/4th palazzos are versatile and comfortable, and when paired with a sleek bodysuit, they make for a stylish ensemble suitable for various occasions. Ensure that your 3/4th palazzos fit comfortably at the waist and hips. The 3/4th length should end mid-calf or just below the knee, depending on your preference.
5. Floral Sharara Palazzos with Solid Coloured Tops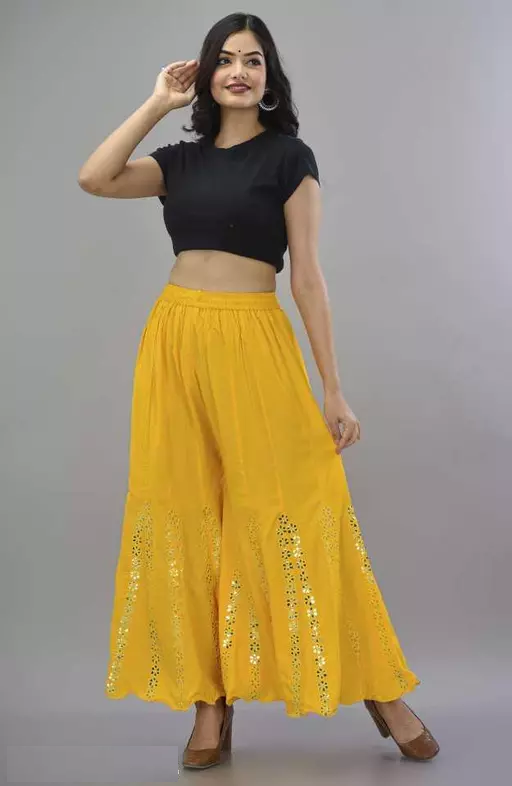 Among various types of palazzos Floral sharara palazzos are the most trendy and stylish choice for women who want to embrace both traditional and contemporary fashion. These palazzos feature floral prints that add a touch of femininity and flair to your outfit. Pair your floral sharara palazzos with a solid-coloured top to balance the boldness of the floral print. A solid white, black, or a colour that matches the floral pattern can work well.
6. Pair Palazzos with a Short Kurta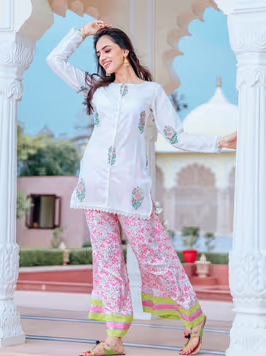 Pairing women's palazzos with a short kurta is a trendy and comfortable ensemble that blends traditional and modern elements. This outfit is versatile and can be worn for various occasions, from casual outings to festive celebrations. Instead of Palazzos with t-shirts, opt for palazzos that are full-length or ankle-length to create a balanced look with a short kurta. Choose palazzos that complement the colour and design of your short kurta. Short kurtas come in various styles, including straight-cut, A-line, asymmetric, and more. Choose a style that suits your body type and personal preference.
7. Palazzos with a Tube Top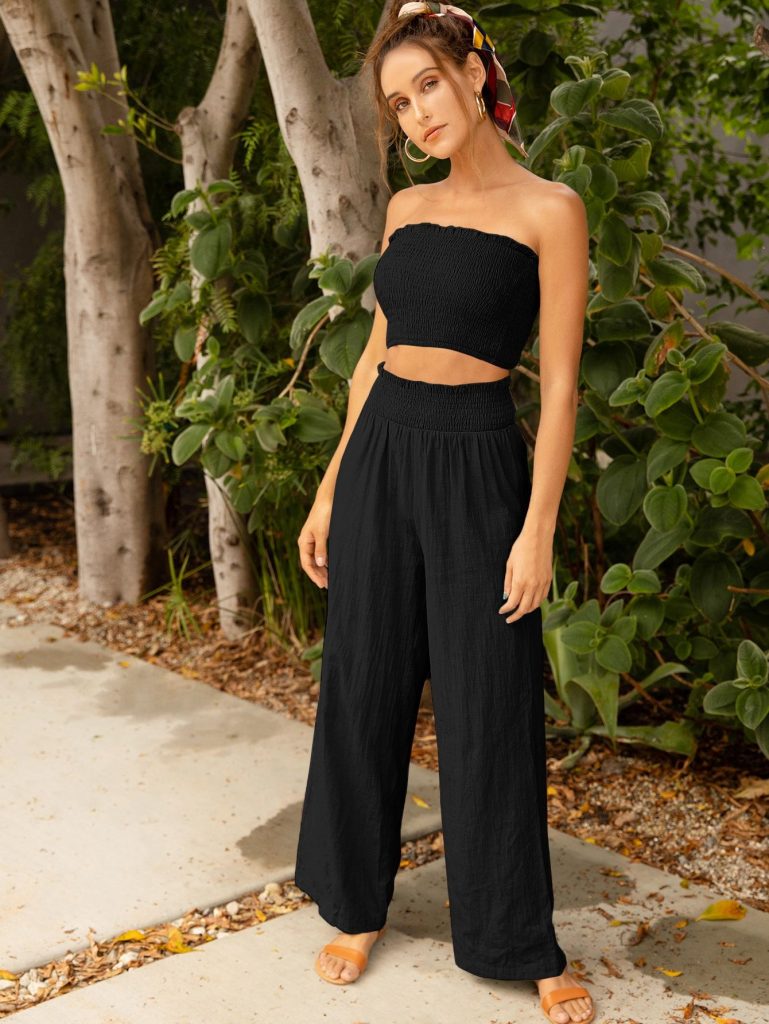 Palazzos and top sets are the best combinations, especially styling pastel-toned palazzos with a tube top to create a fresh and summery look that's perfect for warm weather or casual occasions. Pastel colours are soft and pleasing to the eye, and when combined with the flattering silhouette of palazzo pants and the allure of a tube top, you can achieve an effortlessly chic ensemble. Choose palazzo pants in pastel shades such as mint green, baby blue, blush pink, lavender, or soft yellow. Select a tube top that complements or matches the colour of your Palazzo pants. Creating a monochromatic look with the same pastel shade can be especially elegant.
8. Combine Palazzo Pants and an Oversized Tunic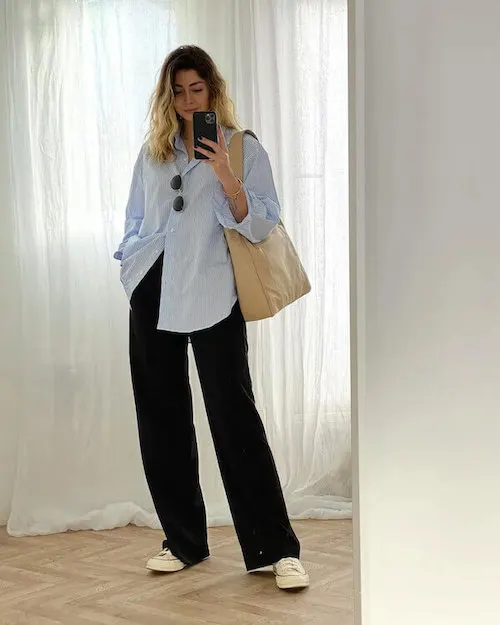 Pairing palazzo pants with an oversized tunic creates a comfortable, relaxed, and effortlessly chic outfit. This combination offers a bohemian and laid-back style that's perfect for casual occasions or when you want to feel comfortable without sacrificing fashion. Palazzo pants are known for their wide, flowing legs. Choose a pair with a generous and flowing silhouette to maximise comfort and style. Look for a tunic that falls at least mid-thigh or longer. The oversized nature of the tunic pairs well with the wide-legged pants.
9. Flowing Palazzos with a Halter Top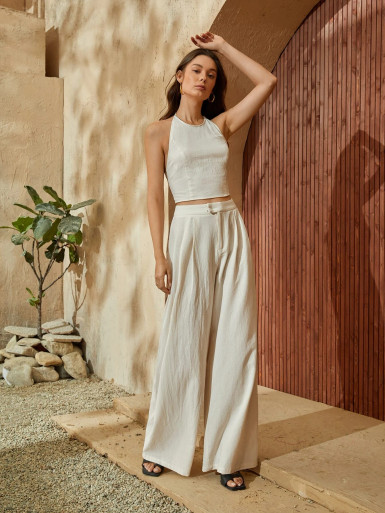 Pairing flowing palazzos with a halter top creates a stylish and elegant look that's perfect for various occasions, from casual gatherings to summer parties. There are various tops to wear with palazzos but a chic halter top offers a flattering and sophisticated ensemble. Opt for palazzo pants with a wide and flowing leg design. These pants provide a graceful and elegant silhouette. Look for a halter top with a halter neckline, which ties or fastens around the neck. This neckline creates an open back and showcases your shoulders beautifully. Halter tops come in various styles, including cropped, flowy, or fitted. Choose a style that complements your body shape and the Palazzo pants.
10. White Palazzos with Any Contrasting Colour Top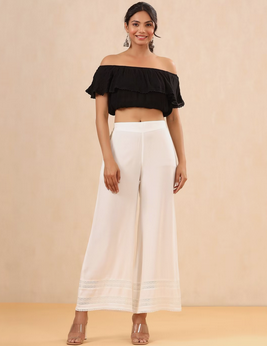 White palazzo pants are a versatile and timeless wardrobe staple that can be dressed up or down for various occasions. Their clean and neutral colour makes them easy to pair with different tops and accessories. Pair your white palazzo pants with a white blouse or top for a classic monochrome outfit. This creates an elegant and clean look that's perfect for formal occasions or the office. Add a pop of colour to your outfit by pairing white Palazzo pants with a vibrant top. Colours like coral, royal blue, or fuchsia can create a striking contrast.
11. Striped Palazzos and Crop Top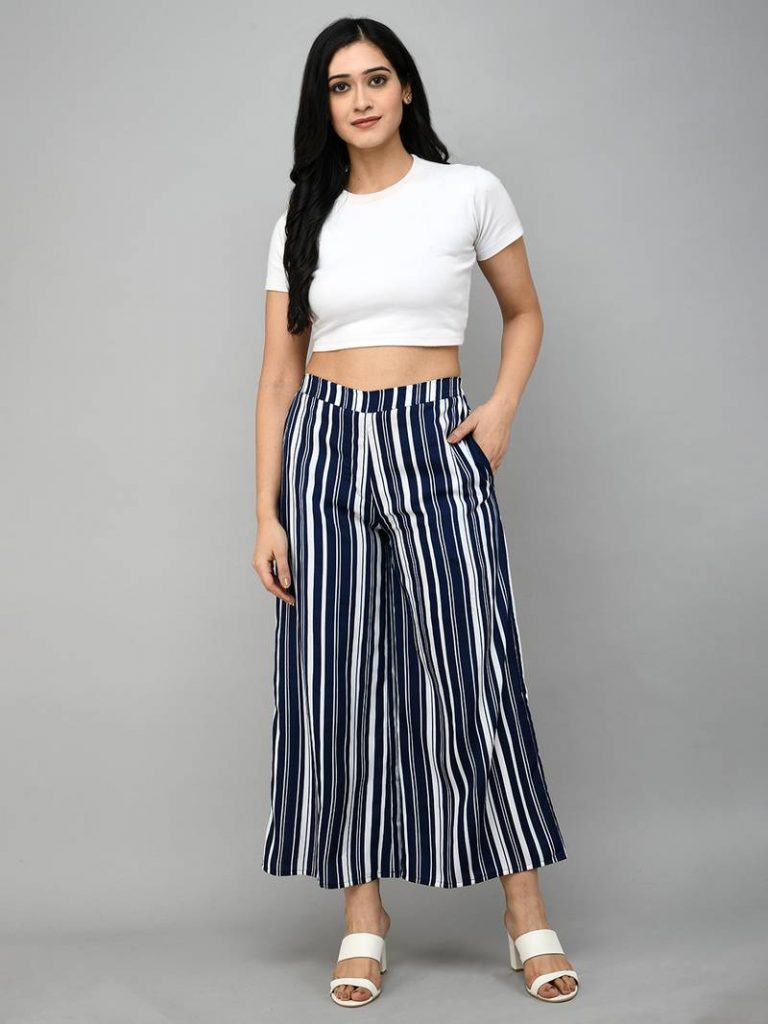 Well, every Ladies' plazo is amazing but Pairing striped palazzos with a crop top creates a trendy and chic outfit that's perfect for a variety of occasions, from casual outings to summer parties. Stripes add visual interest and playfulness to your ensemble, while the crop top adds a youthful and stylish touch. Consider the direction of the stripes. Vertical stripes can create a slimming effect and elongate your silhouette, while horizontal stripes can add width. Choose the direction that flatters your body shape. Striped palazzos come in various colour combinations. Opt for colours that complement your skin tone and personal style.
12. Straight Formal Palazzos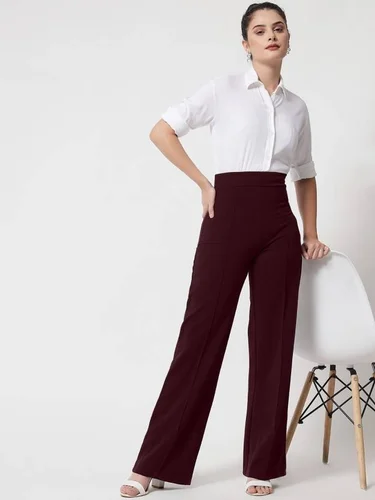 Styling straight formal palazzos can create a sophisticated and professional look suitable for various formal occasions, including the workplace, business meetings, or elegant events. Opt for straight palazzo pants made from high-quality fabric like crepe, silk, or wool. These materials give a polished and refined appearance that's ideal for formal settings. Pair your straight palazzos with a formal blouse, button-down shirt, or structured top. Solid colours like white, black, navy, or muted tones work best for a formal look.
13. Pair High-Waisted Beige Trousers with Shirt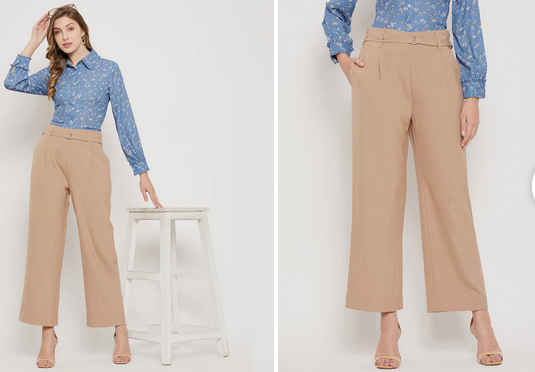 High-waisted beige trousers are a versatile and classic wardrobe staple that can be styled in various ways for different occasions. Pair your high-waisted beige trousers with a crisp white button-down shirt for a timeless office outfit. Tuck in the shirt and add a thin belt to define your waist. Finish with closed-toe pumps or loafers for a polished look. Go for a monochromatic look by pairing your beige trousers with a beige or nude blouse or sweater. This creates an elongated and sophisticated silhouette.
14. Palazzos for Wedding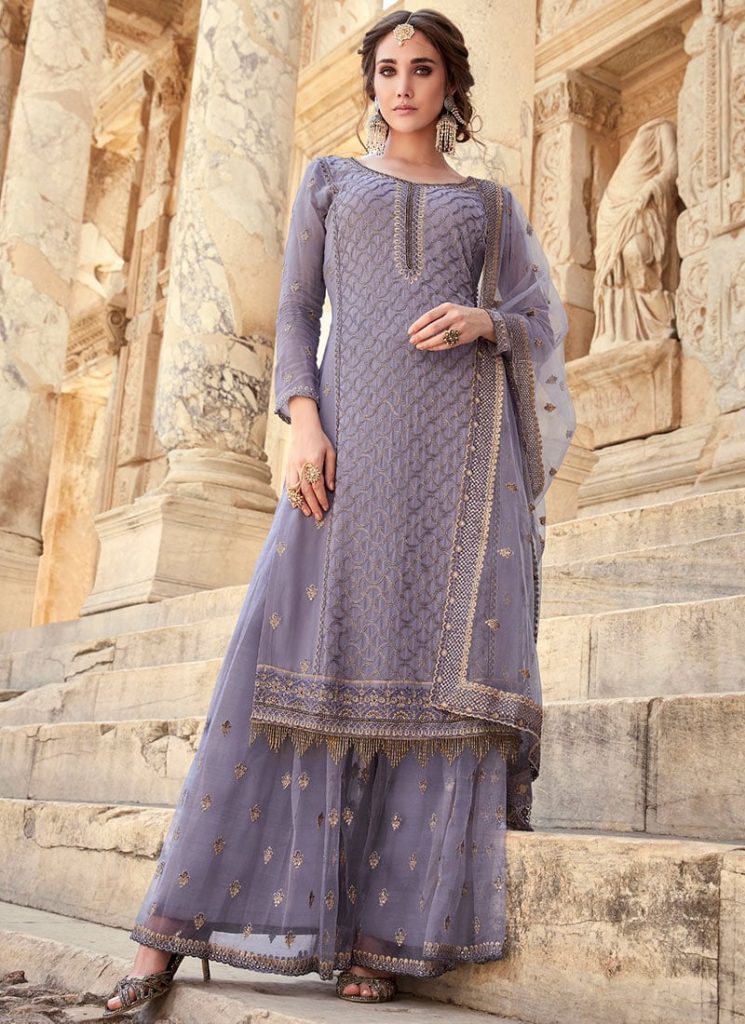 Palazzo pants can make a stylish and comfortable choice for attending a wedding, especially if you prefer a fusion of traditional and contemporary fashion. Consider wearing a palazzo suit set. These sets typically include a palazzo bottom, a kurta (tunic), and a matching dupatta (scarf). Look for palazzo outfits with intricate embroidery, zari work, or embellishments. These details can add a touch of opulence suitable for a wedding. You can also choose a lehenga-style palazzo outfit. This outfit combines flowy and wide-legged palazzo pants with a cropped or traditional choli blouse and a matching dupatta. It offers a modern twist on traditional lehengas.
15. Patterned Palazzo Pants with Tops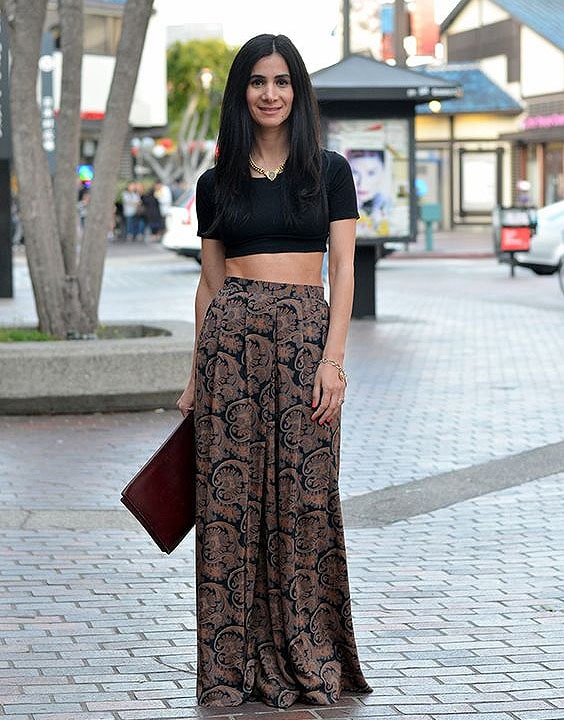 Patterned palazzo pants are a versatile and stylish addition to your wardrobe. They come in various prints and designs, making them suitable for a wide range of occasions. Floral prints are timeless and perfect for a romantic, feminine look. Pair floral palazzo pants with a solid-coloured top in a shade that complements the print. Geometric patterns add a modern and edgy touch to your outfit. You can pair geometric palazzo pants with a simple blouse or top to keep the focus on the pattern.
Conclusion
Palazzo pants have stood the test of time for good reason. Their comfort, versatility, and elegance make them a fashion essential. Whether you're dressing up for a special event or aiming for casual comfort, palazzo pants can fit seamlessly into your wardrobe. So, go ahead and embrace this timeless trend, and you'll discover a world of style and comfort at your fingertips.