Frizz-free straight hair is the dream of all. Straight hair is easily manageable and styled. How can you have straight hair? These days a huge number of hair straightening treatments and methods are available that help you to have sleek, glossy, and frizz-free hair. This blog at Hiscraves will take you across the best permanent hair straightening creams that make the hair straightening process a pleasure.
What is hair straightening?
The hair styling technique that flattens your hair and offers a sleek and streamlined appearance is known as hair straightening. There are numerous techniques by which hair straightening can be performed like using a hot comb, keratin treatment, blow dry method, or permanent hair straightening creams. Most of the techniques provide a temporary straightening effect. In case you want permanent straightening then opt for good creams that can offer you smooth and straight texture.
Why are permanent hair straightening creams the best?
If you are someone who is going crazy with your untamable hair then the straightening effect will make things easier for you. The permanent hair straightening creams not only make your hair straight but also add a natural and glossy look. The best thing about these creams is that they don't apply any heat to your hair. The temporary techniques like straightening rods cause several irreparable damages to the hair. That's why it is always better to opt for such techniques that will not only straighten your hair but also nourish it.
The best hair straightening creams have a lightweight composition in form of keratin and biotin complex. These compositions condition, smoothen, and relaxes the hair length. Once you have undergone this process of straightening you can easily style it in different ways. Moreover, these creams are loaded with enriching ingredients like tea tree oil, almond extract, lavender, aloe vera, etc that nourish your hair and make it luscious, thicker, and much stronger.
You May like: 15 Alluring Birthday outfits for women to stay Elegant
List of the best permanent hair straightening cream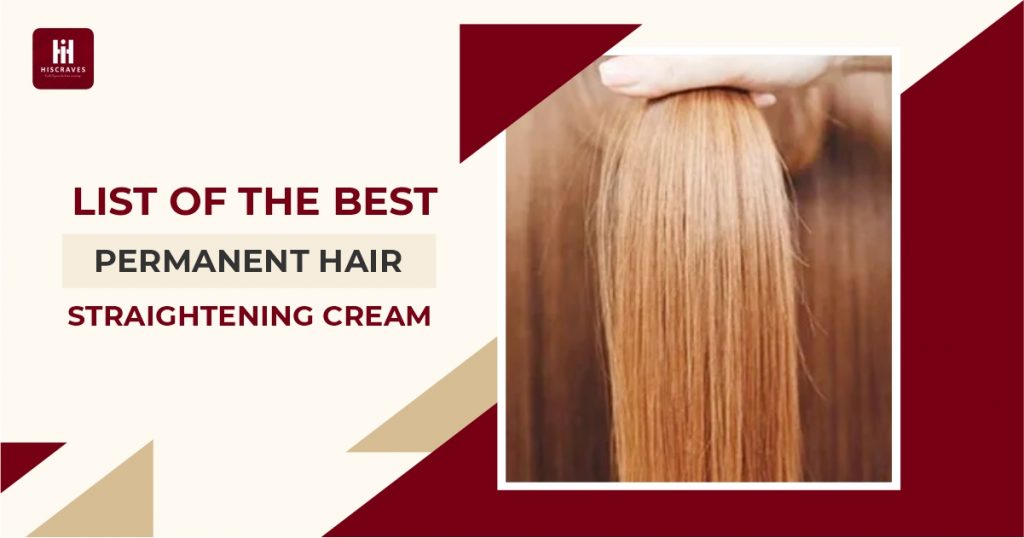 1. Indus Valley Deep Nourishing hair spa
Another popular permanent hair straightening cream is the Indus Valley Deep Nourishing Hair Spa with Keratin. It is a simple hair spa cream that can be used to get straight hair and immediately enhance confidence by obtaining stunning looks. If you are suffering from hair thinning or hair damage then this cream is the best pick. This straightening cream contains keratin that is known to promote hair health and scalp health.
It contains 12 different organic herbs which is a completely cruelty-free product. In fact, it is a completely plant-based vegan product that doesn't have any side effects on your hair. Moreover, it is known to moisturize dehydrated and damaged hair and also strengthen the hair follicles. You can easily style it with minimal damage to the scalp. This product can be used twice a week to tame frizzy and unruly hair. Within a single use, the changes can be noticed.
2. Arata Natural Styling and Hold Hair Cream
One of the popular picks of hair smoothing cream is Arata Natural styling and hold hair cream. This cream does the straightening job you want. The best thing about this cream is that it offers a natural look while it straightens your hair and helps you in styling. The organic flax seeds and olive extracts present in this cream also enable your hair to remain healthy. Only natural ingredients are used in it which add nourishment instead of impacting the hair adversely.
The organic additions present in this permanent straightening cream are great for the scalp and thus strengthen your hair follicles. It can be used on all types of hair like curly, dry, frizzy, and straight. In fact, all genders and ages of people can use this cream without any side effects. As it is a completely cruelty-free product so it is gentle on your scalp and doesn't cause any harm to the hair or the scalp. Olive extract and other essential oils present in the cream promote hair health and makes them strong.
3. Suave Professionals Sleek Anti-Frizz smooth & Shine Cream
If you have curly hair then Sauve Professionals Sleek Anti-frizz smooth & shine cream is for you. It contains silk protein and vitamin E that nourishes and tames frizzy hair and also provides the required nourishment to the hair. You can use this permanent hair straightening cream at home and get a salon-like keratin treatment effect.
The only active ingredient in ṭhis product is vitamin E which is extremely mild on hair. In fact, the cream nourishes the hair well and the keratin treatment with this cream offers a natural appearance. Even if you have curly and unruly hair you can style your hair in the best suitable style. The best thing about this cream is that it can be used daily without harming your scalp or hair.
4. NutriGlow Hair Spa Cream
Rejuvenation and revitalizing technology are used in the Nutriglow hair spa cream. These technologies enable you to nourish your hair and at the same time straightens it effectively. If you are wondering how to straighten hair at home without a straightener, then Nutriglow hair spa cream is for you.
The fact is that it allows you to keep your hair straight for a longer duration of time effectively. The natural ingredients present in this cream enable you to style your hair quickly and easily. You can easily get soft and bounce locks after straightening. Moreover, this cream nourishes and detoxifies your hair. You can use the cream and get long-lasting effects.
As it is free from all types of sulfates and parabens so it is considered healthy for the scalp as well. Nutriglow hair spa cream contains various organic products such as almond oil, tea tree oil, and aloe vera that are beneficial for quick and efficient hair growth.
You May like: 10 Aesthetic Oversized T Shirt and Jeans Outfits for Girls
5. Shills Professional Hair Straightening Cream
For those who have coloured hair and want to straighten it using permanent hair straightening cream, Shill professional hair straightening cream is the best. With minimal damage, it can straighten dry and coloured hair. It's not that it can be used only on coloured hair, it can be easily applied to all hair types and the result will be the best for all.
The shills professional hair straightening cream is a professional unisex cream that consists of keratin-enriched treatment. Within an hour of use, you can find effective results. It is free from fragrances and carefully crafted to make it suitable for both hair types.
6. Bio Reach Hair Straightening Cream
For all those who are looking for a perfect solution for temporary hair straightening opt for Bio Reach Hair Straightening cream. This is a permanent hair straightening cream that straightens and smoothes the hair temporarily. You can get a salon-like finish in no time although that will last for a short duration of time. This cream can be applied even on damaged hair.
It is quite similar to other hair straightening creams however it uses hair relaxers and some of the hair straightening ingredients. You can instantly have a soothing effect on the hair and simultaneously your hair will also get the benefits of keratin treatment.
7. Xbs professional Hair straight cream
One of the best permanent hair straightening creams for smoothening and straightening your hair is XBS professional hair straight cream. It offers long-lasting effects and makes your hair look naturally bouncy and luscious. In the pack of this hair straightening cream, there are hair relaxers and keratin protein that offers smoothening effects to your hair. The ingredients in the cream not only straighten your hair but also provide nourishment to your hair and scalp.
8. Wondersoft Professional Hair Straightener cream and neutralizer
Another popular permanent hair straightening cream is the wondersoft professional hair straightener cream and neutralizer. They are made using advanced technology which allows your hair to remain hydrated and conditioned. If you are trying to find out how to straighten hair without straightener and get effective results then give this cream a try to this cream.
This cream is suitable for untamable and curly hair and upon usage, it will offer manageable straight hair. In return, the keratin formula used in this cream also nourishes your hair and offers protection to your scalp and hair. It keeps both your hair and scalp healthy.
9. Keratin Complex Infusion Keratin Replenisher
An excellent technology has been infused in the Keratin complex infusion Keratin Replenisher cream. The technology used in it ensures that your scalp and roots gain all the benefits of keratin. The best thing about this cream is that it is completely safe to use in your hair and can be used daily for smoothening effects. Instead of harming your hair, it smoothens the texture and improves its lusciousness.
10. Giovanni Organic Straight Fast
As the name suggests Giovanni Organic straight hair fast is an organic permanent hair straightening cream that enables you to straighten your hair with ease. It can be used on coloured hair safely and have an extremely powerful straightening effect on your hair. The ingredients present in this cream produce a deep conditioning effect on your hair while it nourishes it too.
This product is completely free from animal-based ingredients and USDA-approved so it is preferred by a huge number of people. The straightening and smoothening effect upon using this product is amazing and the hair gets tamed easily upon single-use itself. However, you should avoid using the product on the roots of the hair.
How to use hair straightening cream at home?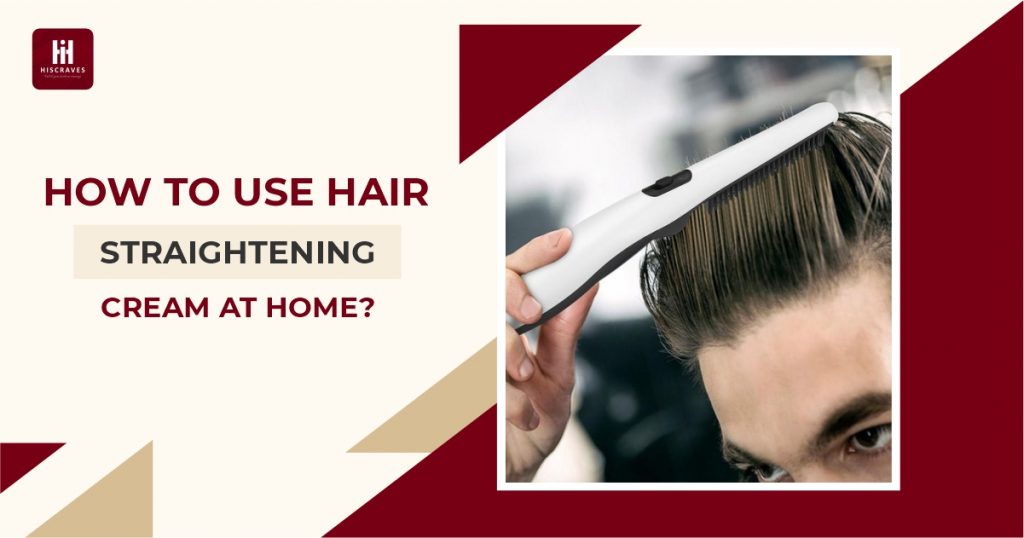 Using hair straightening cream at home is quite easy and includes only a few steps. However, it's essential to perform it properly for getting the best results. Below mentioned are the steps to straightening hair with cream:
Wash your Hair: The first important step is to wash your hair properly. Make sure it is very neatly cleaned so that all the specks of dirt get removed at the end of washing. You can either use hair spa shampoo that is recommended as per the permanent hair straightening cream or anyone else of better quality. For two to five minutes gently massage the shampoo in your hair and then wash it thoroughly. This step will remove dirt from the scalp and thus allow the nourishment of the cream to reach it.
Apply the straightening cream: Once you have washed your hair thoroughly now the next step is to apply the permanent hair straightening cream. As we've already discussed top 10 creams you can choose any one. However, while selecting the cream make sure that it is according to your hair type and is suitable for straightening your hair. Suppose you have coloured your hair, then you need to choose such creams that are suitable for coloured hair. Once you have suitable straightening cream then apply it from the head to the tips. Make small sections of hair then apply it using your hair or with a shampoo brush. All you have to ensure is that the cream is spread evenly over your hair.
Leave for a few minutes: Upon applying cream all over the hair now you should leave it on your hair for around 10 to 15 minutes. It is a crucial step as it will allow your hair to absorb all the nutrients present in the cream and react accordingly. Meanwhile also keep a check that nothing else mixes with the cream applied on the hair till you wash it off.
Wash and Blowdry: You need to wash your hair again after 10 to 15 of application of the cream. You have to remove the cream completely from your hair. After washing, blow dry it and dry your complete hair. Drying the hair is the crucial step to finding how straight your hair has become upon application.
Follow these simple steps of applying permanent hair straightening cream at home and get the best results. Although these are simple steps yet they will allow you to straighten your hair at home with ease. Permanent hair straightening creams can offer you salon-like treatment if applied in a proper way. Moreover, they nourish your hair and scalp with keratin and other nourishments to keep it soft, silky, and straight.