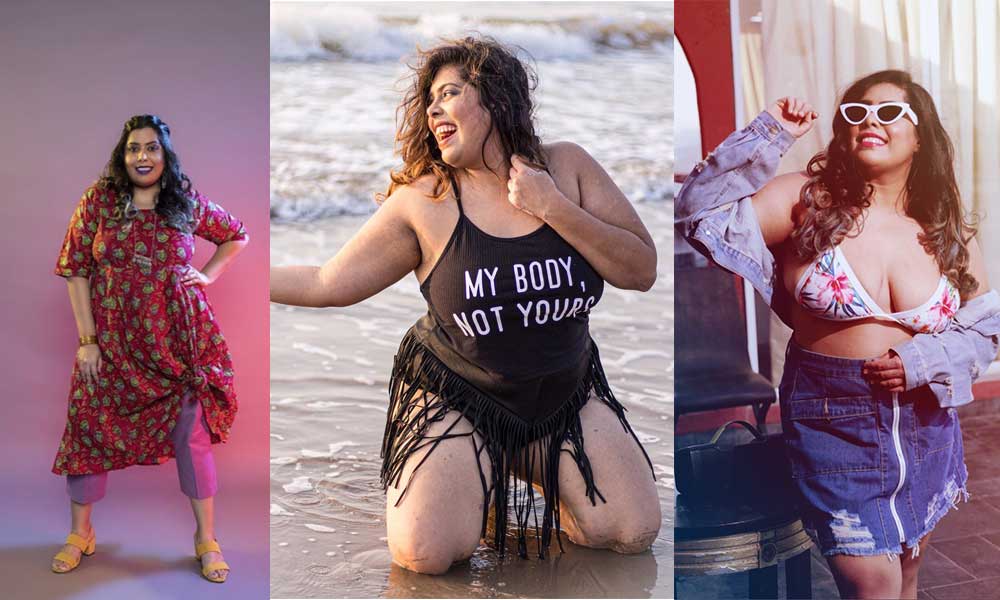 When it comes to beauty, size doesn't matter. Every woman is beautiful and so are our plus-size models. There are many talented and beautiful plus size models in India who have made significant contributions to the fashion industry and have helped promote body positivity and inclusivity. In this blog, we'll celebrate the beauty, confidence, and impact of some of the most inspiring plus-size models in India who are breaking stereotypes and making a lasting impression in the world of fashion.
Beautiful Plus Size Models in India:
Here is the list of few most beautiful plus size models in India:-
1. Aashna Bhagwani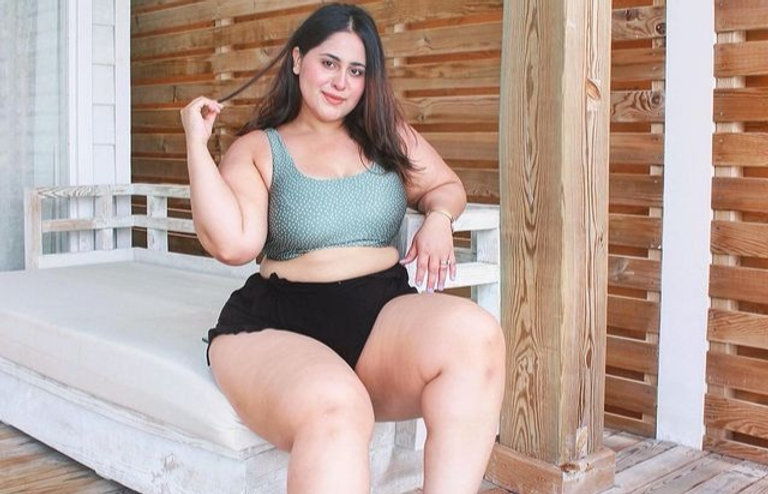 Among famous chubby Indian models, Aashna Bhagwami is a beautiful plus-size model who is from Pune and works as a model and a fashion blogger. She has worked for famous brands like Shein and Fastrack. She launched her first blog in 2016. Her goal is to create plus-size fashion where every woman can live happily and comfortably in her skin.
2. Shweta Pandita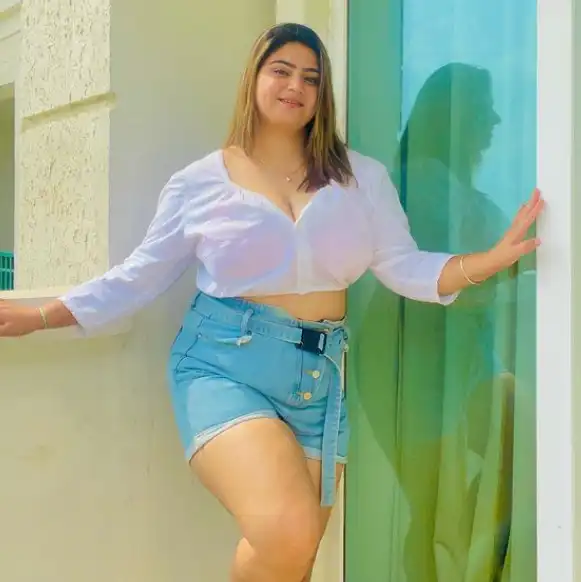 There are many plus size Indian girls but Shweta Pandita is a Kashmir-born plus-size model. She inspires women of all shapes and sizes to love themselves as they are. Working as a body positivity advocate, she inspires every woman to embrace their body and to stay confident in each and every size. She is breaking the beauty standard by working for brands like Ever Teen, All Plus Size, and Zipvami for plus-size clothing.
3. Ishleen Kaur Sethi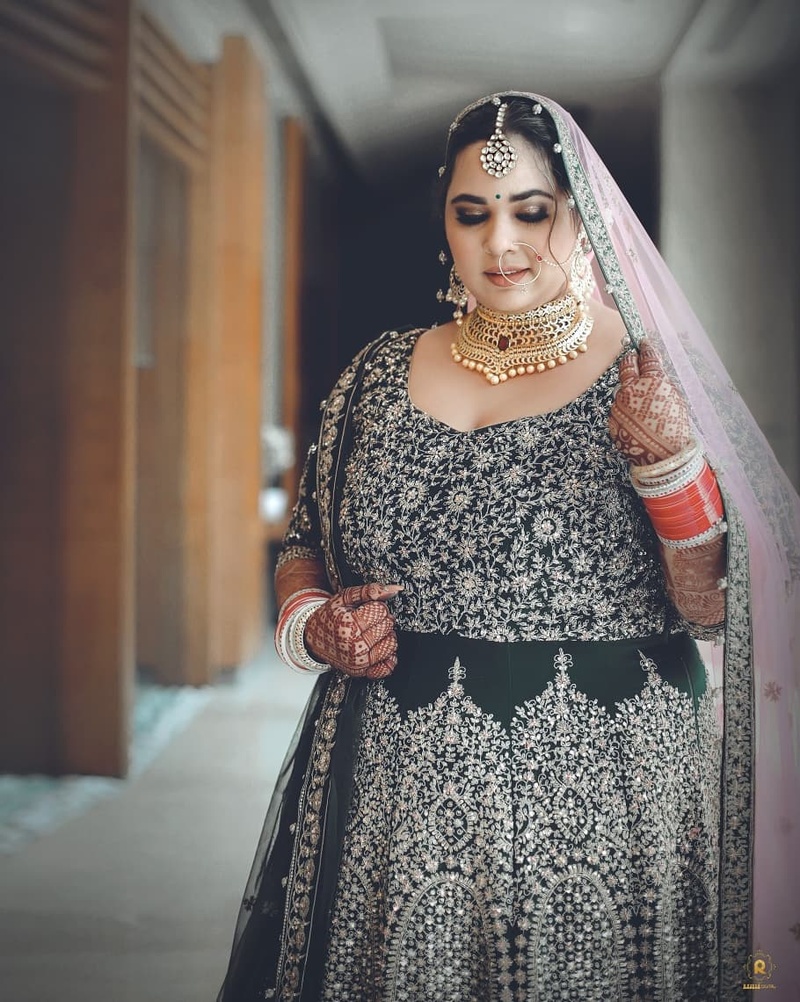 Ishleen Kaur Sethi who lives in Australia had a big fat Punjabi wedding. She is among the best hot plus-size models. She has 60 thousand followers on Instagram and she is fighting for equality through her blogging. On Instagram, everyone was captivated by her stunning wedding photos. She is also called a body-positive bride and is also known as the curvy princess. She sets an example for ladies to understand that beauty has no shape or size.
4. Shreeya Khade
Shreeya Khade is among the top plus size models from Mumbai, India. She graduated as an electronic engineer and has also done an MBA in marketing. She is now working for website stylecracker.com where she promotes clothes for plus size women. She is a beautiful model who also works for the brands Shein and stalkbuylove, Apart from working for clothing brands she also runs a tiffin service in Mumbai. She tries to influence women to love themselves the way they are and to not compare themselves with others' bodies and shapes. She wants people to realise the uniqueness of being the way you are.
5. Sakshi Sindwani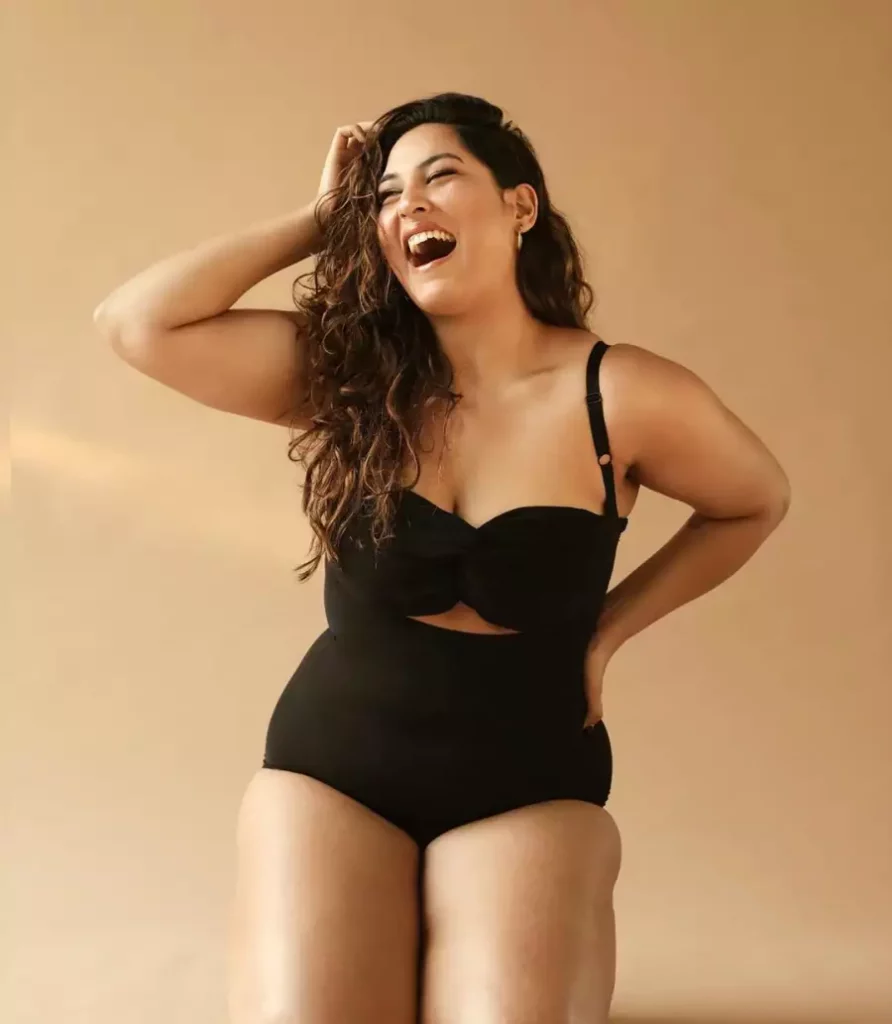 Sakshi Sindwani is an Indian chubby model who is a fashion model and a size-positive influencer. She influences ladies to love their bodies in every shape and size. When she started feeling that there were no or very few plus-size fashion videos for women, she decided to start her YouTube career at that point. She walked the ramp for Naresh, Shivan and many more. She has 440 thousand followers on Instagram and 87 thousand followers on YouTube. Due to her cheerful attitude and honest conversation about her size and skin, she gained so much popularity. She also became the cover of Harper's Bazaar.
6. Tanvi Geetha Ravishankar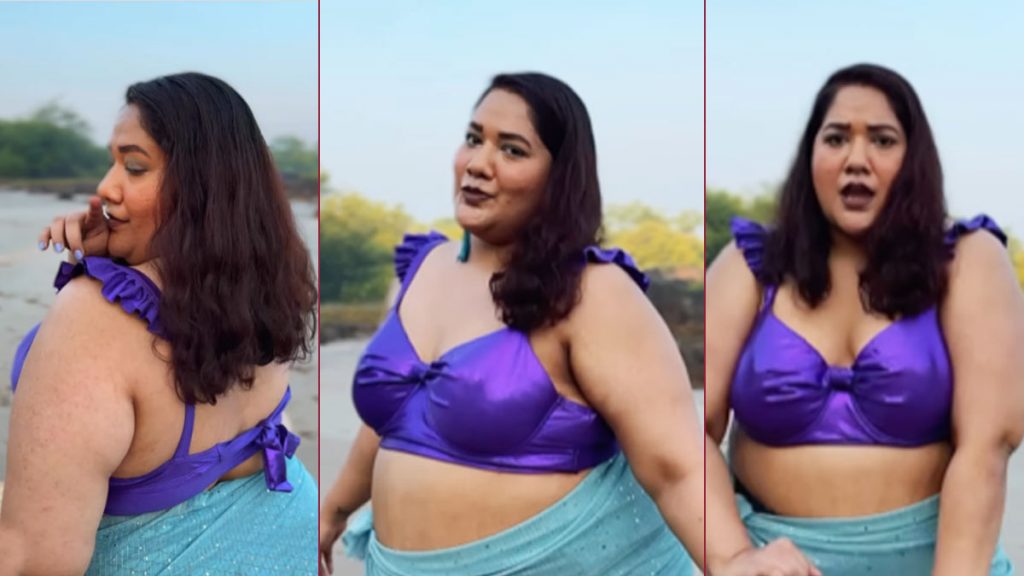 There are many chubby models in India but Tanvi Geetha Ravishankar is not only a beautiful plus-size chubby fashion model but is also a dancer, blogger, fashion stylist and voiceover artist. She has 27.5 thousand followers on Instagram. She is basically from Mumbai and Only at the age of 28 she gained so much popularity for promoting plus-size clothing and she got the most appreciation for her bikini images. She walked for the first-ever plus-size Lakme fashion week. She won the top social influencer award by working too hard in her career. She set an example for the women who are not confident in their own skin. She mostly wears clothes from Shein, Boohoo, H & M, Torrid, Simply Bee and ASOS.
7. Neha Parulkar
Indian plus-size models are working too hard in the fashion industry nowadays and Neha Parulkar is one of the confident and beautiful plus-size models. She has made a significant impact on the Indian fashion industry, particularly in promoting body positivity and inclusivity. Neha Parulkar has worked with various brands and designers, appeared in fashion campaigns, and participated in runway shows. She has garnered attention and recognition for her work in the fashion industry, as well as her advocacy for body positivity and inclusivity. Many people consider her one of the best plus-size fashion models in India due to her impactful contributions to changing beauty standards and promoting self-confidence among individuals of all body types.
8. Akshaya Naik
She is a plus size model who has worked in multiple channels including MTV or Big F and Starplus for the famous serial 'Ye Rishta kya kehlata hai'. She is confident about herself and is a television actress who can pose anytime with a smile. She is the first runner-up for Miss Navi Mumbai bliss. She has 183 thousand followers and a blue tick on Instagram. She has broken all the stereotypes with her looks and positive thinking.
9. Varshita Thatavarthi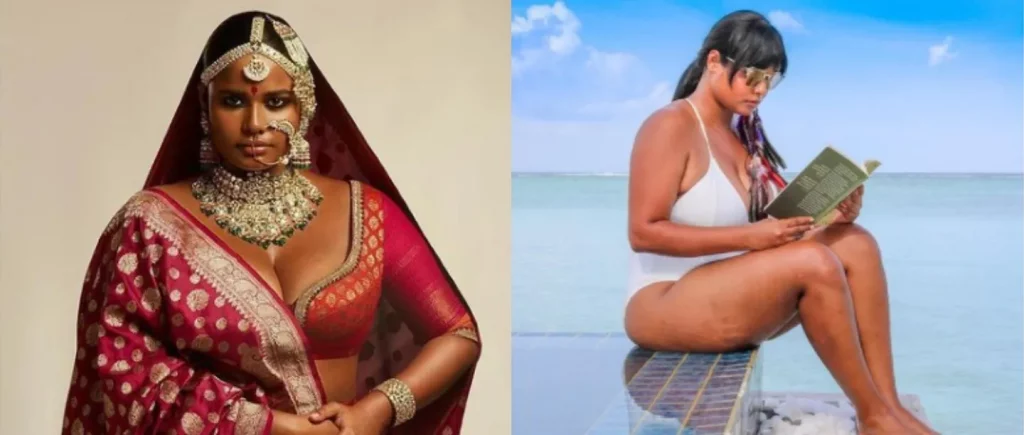 She is a beautiful plus-size model who has surprised everyone with her amazing looks. She has also gained popularity with her inspiring looks and she also inspires others with her positive body structure. Though she got multiple rejections in her profession, but she has amazed everyone with her looks. Besides this, she has also admired ladies as well as gents, who have plus size in improving their lifestyle and looks.
10. Jeesha Chowdhury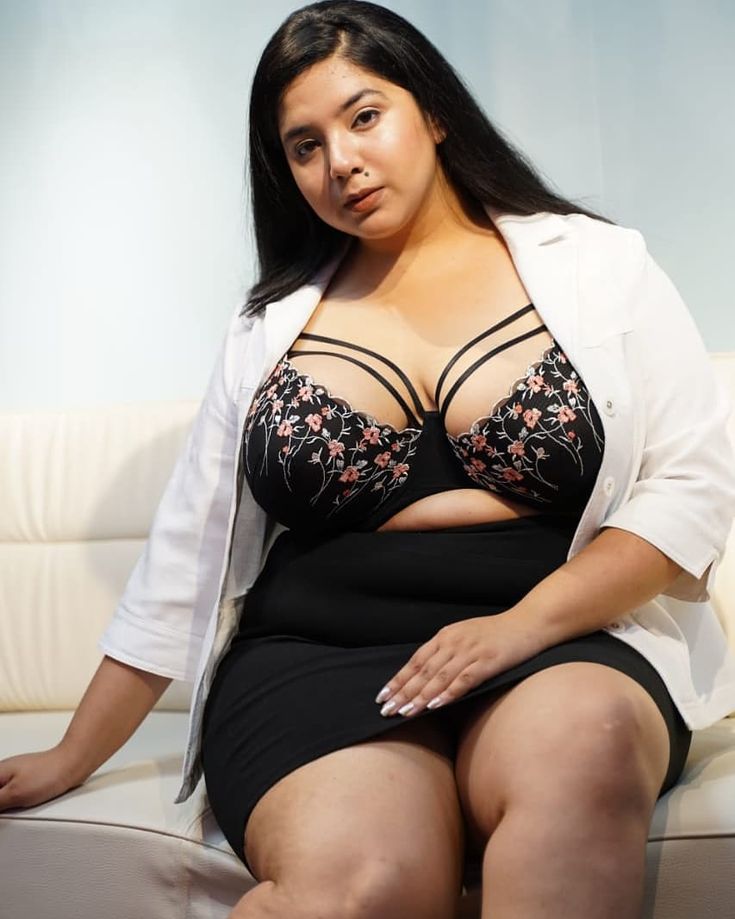 Jeesha Chowdhury is an Indian plus-size model and a body positivity influencer. She is Miss India Plus Size 2018 and Miss India International Plus Size 2019. She is working as a fashion stylist at Parfait Lingerie India Pvt Ltd. Furthermore, she has worked with multiple clothing brands including Amydus, Myntra, Ruup Chikan Wear, and UNMADE. She has walked a ramp as a showstopper at India Cult Lifestyle Fashion Week and also worked with Cwaty.org which is the world's first virtual animal influencer for animal welfare.
11. Diya Basu
Being nominated for Bloggers Awards India presented by Cosmopolitan, Diya Basu is known for her excellent sense of fashion. She has appeared in ethnic pieces to Western outfits and with every attire her look has blended well. She believes that fashion is all about being yourself and the way you present yourself in whatever attire you wear. She never worries about her plus-size figure and thus always tries new outfits to create new looks. Today, she is an inspiration to many such girls.
12. Neelakshi Singh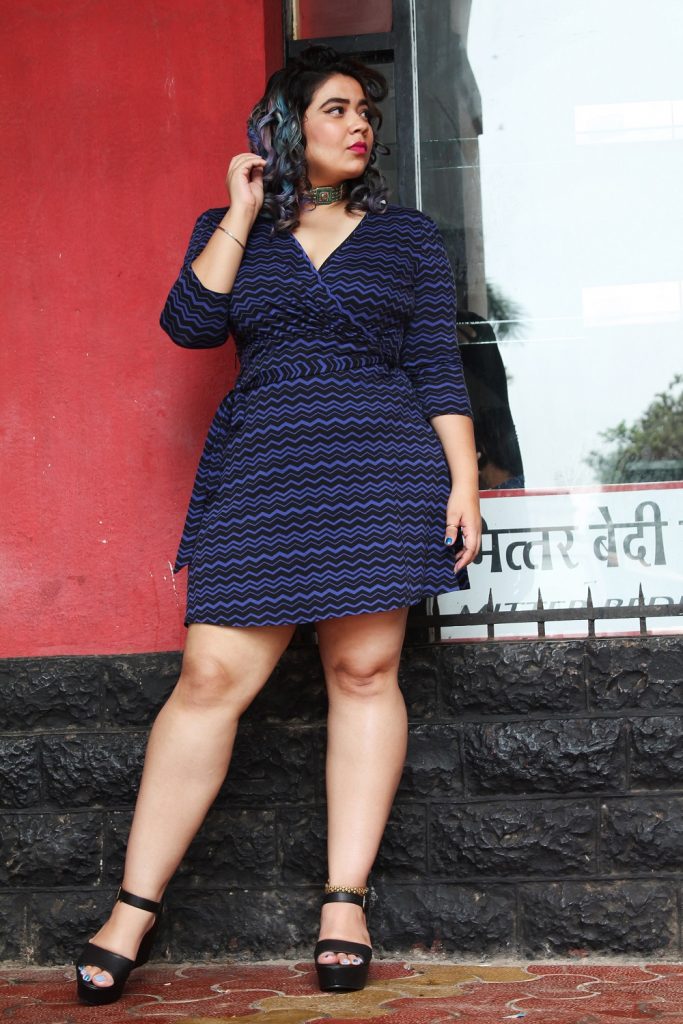 Neelakshi is a full-time fashion influencer and apart from that she owns her own blog. According to Neelakshi, she came to the fashion industry after learning that fashion is painful because everything needs to be aesthetically perfect. Being plus size she considered herself imperfect compared to the beauty standards of the world. But one thing that motivated her was that having the right set of outfits would allow her to stand out from the crowd.
Conclusion
These 12 most beautiful actual plus-size models in India have influenced other people to storm against the conventional mindset of society. They have challenged the fashion myths and as a result today fashion brands have also understood the importance of plus-sized fashion. We hope that this entire society accepts plus-size fashion wholeheartedly!