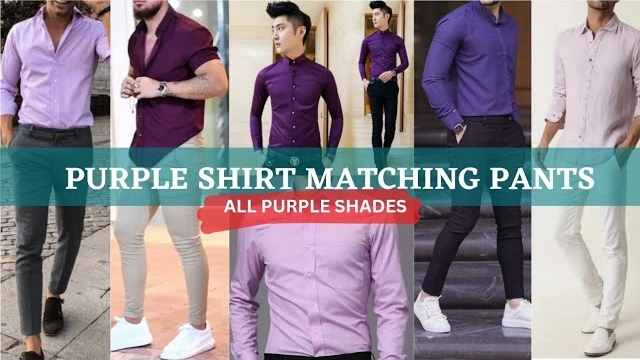 Fashion changes from person to person and depends on individual preferences. Everyone has their ideas when it is about choosing colours and mixing them. Most men may prefer neutral colours like black, white, and grey in shirts but options like blue, red, and purple shirt combinations also look great. When you have to dress up for different occasions and appear unique and fashionable, it's advisable to try varied colour options and mix and match to create the perfect look. In this blog, we'll share some of the best purple shirt matching pant ideas for men. Keep reading and find out which one suits you the most!
List of 10 Purple Shirt Matching Pant Ideas for Men
Purple is a colour that blends well with lots of other options. Be it white, pale yellow, cream, or olive green, all pair well with purple shirts. However, the matching pant colour completely depends on the shade of purple you have selected. Shades of green like olive and sage green look great with deeper and richer shades of purple. Whenever you have plans to try purple shirt matching pant combinations then choose accessories in silver. With almost all shades of purple, silver accessories blend well. Here are some of the options that you can consider while planning the combinations:
If you are opting for a purple colour shirt matching pants and if the shirt is in dark purple colour then navy blue jeans are a great combination. You can also choose navy blue colour pants with it. This combination not only looks professional but makes you appear stylish too. You can choose to wear this combination for any semi-formal occasions or casual outings with friends. If you want to add some colours to your outfit then this will be a great choice. Navy blue jeans or navy pants are versatile and will make a great violet shirt matching pants combination.
2. Purple Colour Shirt matching Jeans Pants
Looking for a perfect outfit for a casual day out? Choose this purple shirt combination pants! These patchwork jeans will be the ideal pick that will instantly pop up the purple colour of the shirt. While picking the patchwork jeans you should opt for the pale colour blue jeans as that will highlight the patchwork details and visually it will be a great match for any shade of purple colour shirt. This is a combination idea that is perfect for any type of casual occasion like an outing with friends.
3. Purple Shirt With White Pants Combination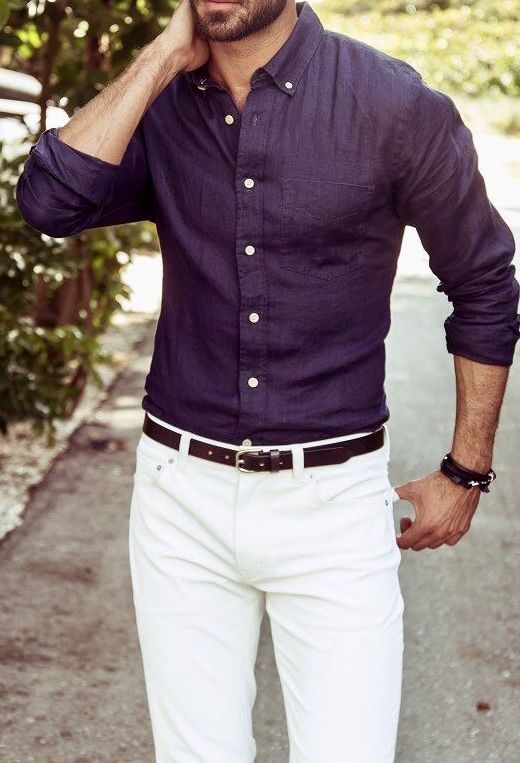 Whether you opt for simple white trousers pants or white chinos, this will be the perfect pick for a violet colour shirt matching pant combination. Especially in summertime and in spring purple shirts look great when paired with white chinos. Violet colour is itself an eye-catching and vibrant colour option while white looks contrast and creates an airy and light feel. Men can try this purple colour shirt combination with pants in white colour to look stylish without appearing too formal.
4. Purple Shirt Combination with Khaki Pants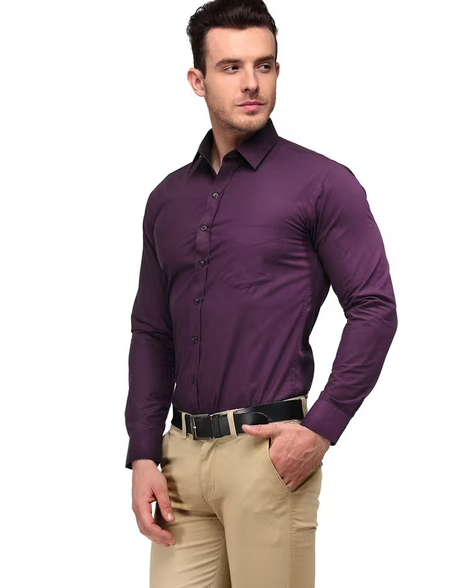 Khaki Pants are one of the best choices when you are looking for purple color shirt matching pant combinations for men. Purple is an awesome colour option for shirts and it allows you to stand out from others. While khaki pants offer a nice contrast to your overall appearance. If you want to get a dashing vibrant look, then complete this entire outfit with a pair of dark green shoes. When you opt for violet shirt combinations there are always a few such options that fit well and this combination with Khaki colour pants is one of them.
5. Purple shirt and Black Pant Combination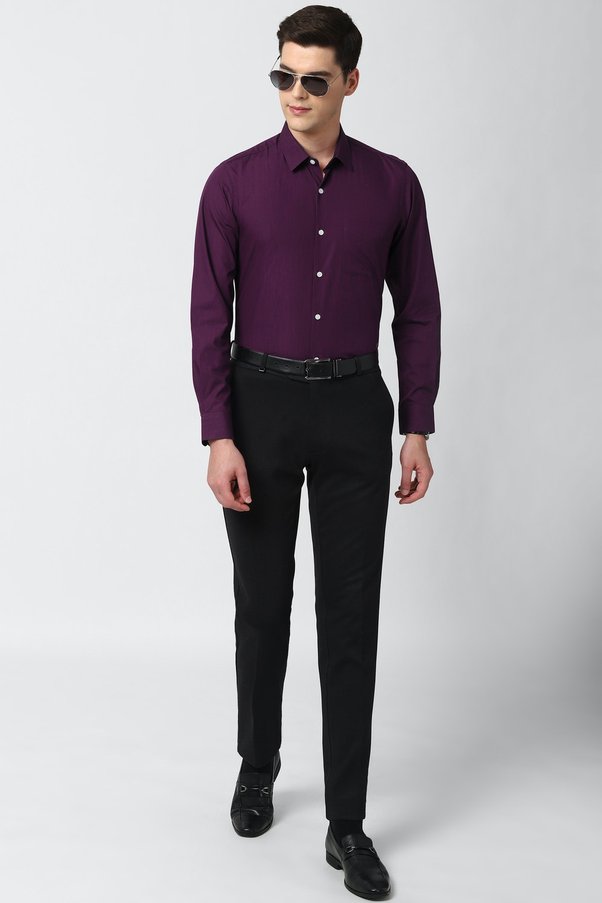 Black is a versatile colour and looks great in all types of colour combinations. Yes, even in the case of pants for a purple shirt, a purple shirt and black pants combination share a certain level of sophistication. These colours work together to create a stylish and sober look for men of all age groups. However, you can choose different shades of purple to create different purple shirts black pant looks. If you want to appear classy, then team up purple and black with some excellent black accessories like black watches and sunglasses. A pair of black shoes with this outfit will also enhance your overall appearance.
6. Purple Shirt and Grey Pant combination idea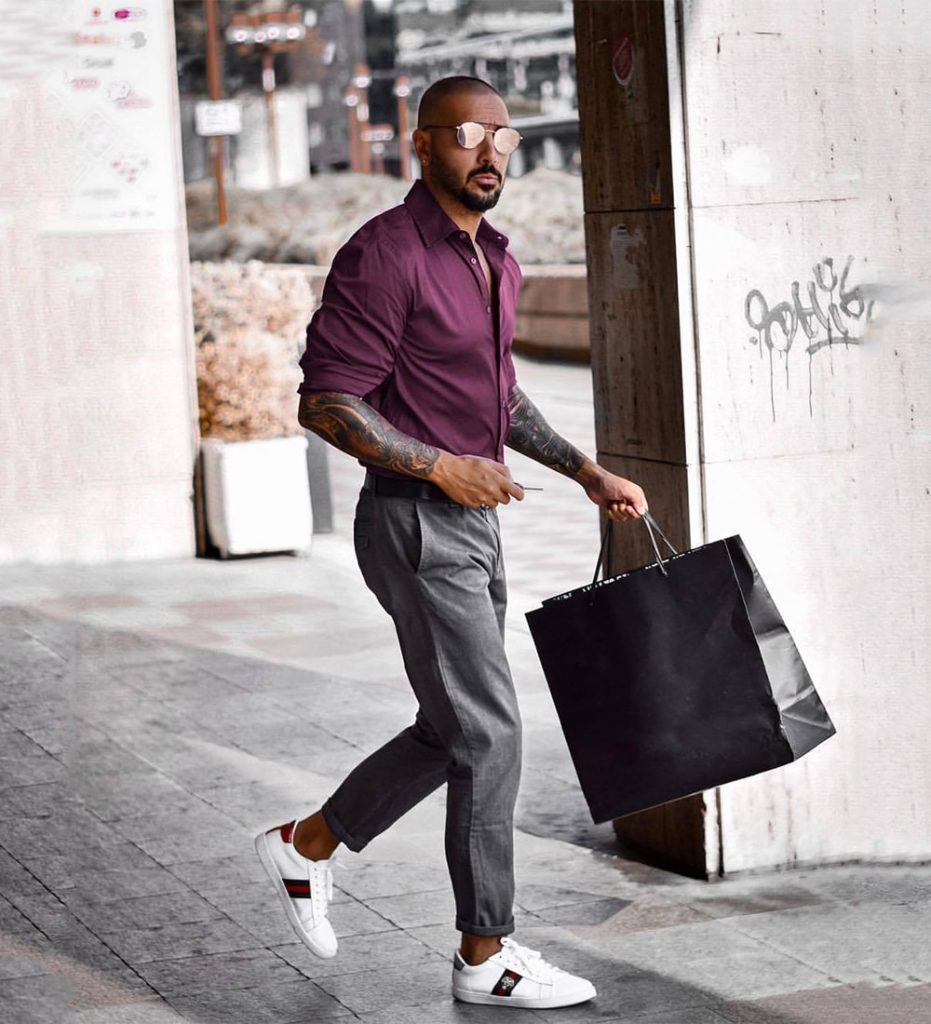 Red, Blue, white, or Purple shirts, and grey pants always look classy with every colour shirt. Be it formal or casual wear black, grey pants are the favourite pick of every man. If you desire to appear professional and sleek then choose a dark purple shirt combination with grey pants. There can't be anything better than this combination. However, you can even opt for light purple shirt combination pants in grey for a formal look. You can opt for this outfit for an office meeting, or for even a night out with your friends.
7. Purple shirt and Blue Pants combination 
As we have already discussed about dark purple shirt combination pants in navy blue, in place of navy blue you can even opt for light blue or aqua blue pants. Blue chinos pants will be a perfect choice for this combination. There can't be anything more vibrant than combining these two colours together in an attire. This summer stay cool by combining these colours together and obtain your favourite outfit idea. These are fun shades so opt for them when you are planning to get out with friends or have a team lunch. Adding a blazer or cardigan with this violet colour shirt and matching pant combination will offer you a more polished appearance.
8. Purple Shirt and Cream Pants combination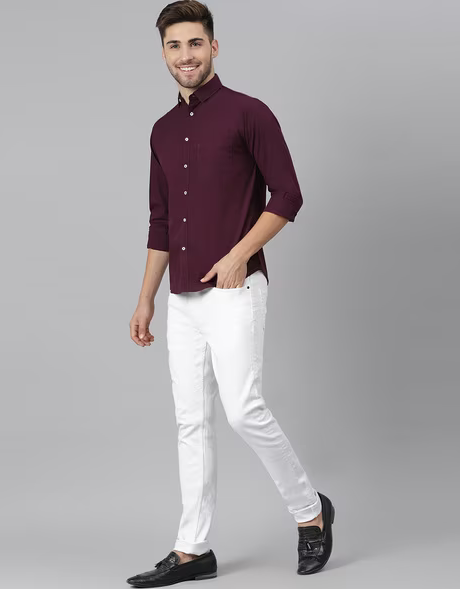 If you are a fan of subtle colours then try a dark purple colour shirt matching pants in cream colour. This combination will add a pop of colour to your overall appearance. You will not only appear fashionable but it will enhance your personality. It's a great way to add a touch of sophistication to your look. Purple is a great colour for summer and any matching colour looks great with it. But cream-coloured pants have their own charm. If you are in search of matching pants for a purple shirt or trying to find which colour pants suits a purple shirt then there's no other better option than cream pants.
9. Light Purple Colour Shirt and Matching Pants in Beige
Have you ever tried a purple shirt-pant combination? If not, you should certainly give a try to the combination of light purple shirts with beige pants. They look great together and can be worn for any formal meetings. Add a blazer in cream or beige colour and this entire formal attire is the epitome of your formal look. However, this combination is not only limited to formal occasions, you can very well dress up in this outfit for any festive occasion as well. Purple and Beige are great colours to wear together as they tend to complement each other. If you want to get a better look and you are looking for matching pants for a violet shirt then opt for beige pants.
10. Lavender Shirt Matching Pants in any colour
The lavender shade of purple shirts is highly in trend. The best thing about this lavender colour shirt and matching pants in any colour is that it is a timeless combination. It is such a versatile colour that it compliments a wide range of colour options including black, grey, and white. If you are worried about what to wear with a brinjal colour shirt and matching pants then you can opt for either black or grey pants. In fact, lavender colour shirts are also available in different shades. So, the shade you choose will decide the pants colour that will complement the purple shade and allow you to achieve your desired look.
Now, you have 10 Purple shirt matching pant ideas for men handy. Which colour pants do you like the most? Black and white are definitely the safer options but you can always try blue and grey colours too. Experiment with different combinations of purple shirts matching pants in different colours and determine what suits you the best. By using different colour options you can create stylish and unique outfit ideas.