Every day there are some or other changes happening around us. In the case of fashion, it also keeps on changing generation by generation. The changes in a fashion largely depend on the taste and preferences of the public. In recent times it has been observed that the good old days' fashion trends are back again. A fashion trend can be brought back into the trend by recreating that style again. With a few simple elements, one can easily make a regular outfit a retro-style dress. Continue reading at Hiscraves to find out ideas to create retro style dresses to look unique and stylish and grab everyone's attention!
What are Retro Style Dresses?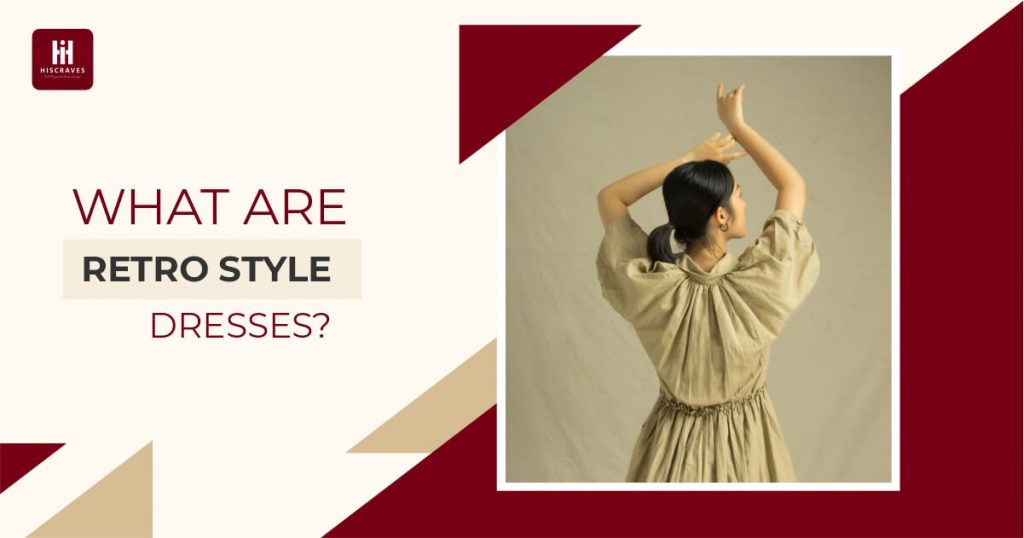 The good old styles of the 70s, 80s, and 90s when adopted again in the modern days it is referred to as retro style. Indian women are popularly opting for different retro style dresses. Usually, these styles have been put up by celebrities and Bollywood actresses. Retro-style saree draping is quite popular these days. Besides retro style dresses, retro hairstyles and makeup are quite trending in modern times. Once you are aware of retro styles, you would surely like to choose these dresses, hairdos, and makeup all over again.
Fashion is a combination of glamour, comfort, and creativity. Once a style is followed by the majority of people it becomes a trend. Gradually, the trend may subside but that doesn't imply it will not come back again. After decades, the same trend may be adopted again by adding a few simple elements. Recreating retro styles won't cost you much and can be easily done by including a few elements that are readily available in your wardrobe. Just pick a style from the mentioned retro style dresses and flaunt into a Bollywood retro theme look and become a fashionista.
List of 16 Retro Style Dresses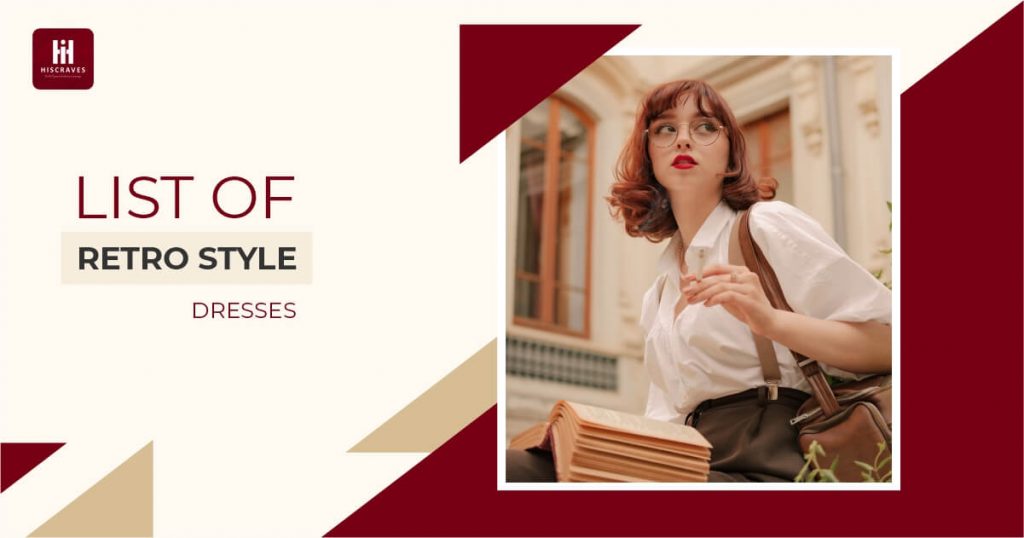 Women are highly concerned about their fashion and dressing sense. Usually, you get to know about vintage fashion from fashion magazines. Are you someone who wants to know about the latest retro styles? We've got a complete compilation of 16 retro-style dresses that would not only enable you to obtain the retro look but you will look stylish as per the latest ongoing trends. Check out these amazing retro-style dresses:
1. Puff Sleeve Dresses
Sleeves are a significant part of any outfit. Just by adopting designer sleeves, any dress can become ten times unique and better. For a retro look for women, puff sleeves can serve the purpose. In the 70s and 80s puff sleeves were quite popular and it is again back in trend. These days many celebrities have been spotted wearing dresses with puff sleeves. In fact, the comeback of puff sleeves has been more graceful and elegant. One can opt for tops with puffy sleeves with high waist jeans or skirts and you are good to get into the desired retro look. Coats and blazers with puffy sleeves are also quite popular in recent times.
2. High waisted Skirts with Ruffle tops
Skirts have been women's favourite for decades. In the 80s and 90s movies, most of the actresses opted to wear high-waisted skirts. Again this trend is back and many celebrities have been spotted wearing such skirts. Usually, these skirts are paired with ruffle tops. It has been another discerning choice of retro-style dresses for women.
3. Denim with oversized t-shirts
Denim is the all-time favourite of every woman. They are a go-to outfit that you can opt for and they can be paired with a variety of shirts, t-shirts, and tops. Oversized t-shirts were the common t-shirts that were preferred by women of old times. Do you think oversized t-shirts are a new invention? No, they were worn even decades ago. Women used to wear oversized t-shirts tucked in their denim for a punk-rocking look. If you are looking for ways to dress in retro style then try this. All you will need is a pair of denim and oversized t-shirts. You can opt for either printed or plain bold colour oversized t-shirts.
4. Mom's Jeans
The mom jeans are not the ones that are meant for only moms. They acquire their names from the fact that many women want to remain comfortable and at the same time look stylish. One can identify these types of jeans from a distance as they are high-waisted, loose-fitted, and tapered around the ankle. Among 90s women, mom jeans were highly popular. Currently, you can again see the craze of these jeans among modern women. The best thing about these jeans is that a number of different retro-style dresses can be created using them and that is loved by many women.
5. Scarves
You may be surprised by the fact that scarves have made a comeback. Yes, they didn't come back from the past. Definitely different types of scarves were always available in the market. The silk ones were not that much in trend among the younger generation. Recently, silk colourful scarves have made their way as vital elements of retro-style dresses. Being a part of the Italian fashion industry in the 50s, today it is loved by women for its unique look. Besides that, silk scarves are also used as versatile garments for protecting hair from pollution and dust.
6. Polka dot dresses
There are very few women out there who are not fans of polka-dot dresses. It would be extremely wrong to mention they made a comeback as retro-style dresses in recent times. In fact, they haven't ever left the fashion industry and have been one of the most loved patterns. Polka dots are available in tops, dresses, hair bands, and on every other type of garment out there for women. Every era celebrates this pattern and if you have the desire to get in the Bollywood retro look then you must try polka dot dresses. It looks cute, playful yet decent.
7. High-waist pants
If you want to get into the retro look with ease then opt for high-waist pants. It will offer a chic and elegant look yet render you comfort throughout the day. In the coming days, it will be more in trend. So, opt for good quality high-waist pants and pair them with either crop tops, shirts, or t-shirts for a casual retro look. This is such a retro style that will always have a special place in everyone's heart.
8. Pleated Trousers
One of the popular fashion mantras of the 80s is pleated trousers. In the old days fully tucking your shirt was a common practice. However, the trousers that people used to wear with the shirts were mostly high-waisted. Along with shirts, it could be paired, however, you can also pair them with crop tops for a dapper look. Along with pleated trousers, stretched and cropped trousers, tights and printed pants are some of the other types of bottoms that were preferred by women in the 80s. All these retro styles are back in fashion.
9. Printed tops/blouses
In the 80s most women opted for structured outfits and printed blouses. If you analyse the recent retro style dresses printed blouses and tops are highly in trend. Neon and other vibrant colours are popular among young women. When it is about retro fashion nothing is incorrect. Bohemian-style blouses are also quite popular nowadays. You can opt for modern prints for summer and style in a retro look.
10. Denim Jackets
Since forever denim jackets have been the favourite of every woman. It never went off fashion yet whenever one wants to style in retro theme dresses, it is the option that is readily available. Often women prefer to layer denim jackets with printed tops or blouses for a vintage look. It is comfortable yet highly trendy. Moreover, denim jackets offer a cosy feeling on colder days.
11. Vintage denim skirts
Women in the 80s used to dress in vibrant colours yet whenever they wanted to look elegant then they opted for minimalistic attire. Vintage denim skirts with the bold colour structured tops were their first pick. Originally, denim skirts were mostly long. Later, they were available in a number of varieties ranging from midi to maxi lengths. Elongated versions of denim skirts are opted as retro-style dresses by numerous women in modern times. A denim high-waisted skirt made of cotton looks great when paired with contrasting t-shirts or tops.
12. Evening Dresses
Whenever it was an evening party look, a glistening evening dress would be enough to look trendy, especially in summer. Even in recent times a lot of women love to dress in vintage dresses and there's no better option than a charming evening dress. Whether it's sequins, lame, or subdued metallic, all types of glittering evening dresses are suitable for a party look. Usually, sequin dresses are made with either rayon or elastane material and have short sleeves, crew neck, and pullover design. This is one of the favourite retro dresses of all women.
13. Jumpsuit
Do you know jumpsuits are not a recent creation? They were staples for parties in the 80s. If you look at the Bollywood celebrities of that era then you can easily find them in jumpsuits at parties. Often they like to wear jumpsuits or such types of outfits for parties. If you want to get into the retro look of Bollywood in the 80s then opt for jumpsuits or sequined jumpsuits.
14. Leopard print dresses
Many people don't find it comfortable to style in animal prints. However, leopard print dresses are timeless. In the 80s they were highly in trend. From sarees to jumpsuits there were huge varieties of animal print dresses. In recent times designers play around with these prints in various types of dresses, handbags, and shoes that allow you to create a vintage look. Retro fashion is the latest trending style. With simple leopard print dresses, one can not only stand apart from the crowd but it will surely enable one to get into Bollywood retro look with ease.
15. Crochet dresses
Another popular retro-style dress is crochet creations. The dresses that are aesthetically knitted with wool or cotton fabrics are known as crochet dresses. They are handcrafted creations that are available in tops, dresses, and skirts. If you are looking for a vintage-style dress then opt for crochet dresses in neutral colours. These days white crochet mini dresses made of cotton are quite popular. For a Bollywood theme dress opt for crochet dresses that feature multicolor embroidery, an open back with ties, and a halter neck.
16 Floral printed dresses
Summer is the time when women love to wear floral motif dresses. Most retro-style dresses commonly have floral motifs. The delicate, vintage-inspired florals are ideal for a casual chic look. Soft tulle and chiffon fabric clothes are mostly preferred for floral printed dresses. If you are looking for an ideal dress for women without experimenting much then simply opt for floral printed dresses.
These are the top 16 retro-style dresses that women can opt for to look stylish and different from the crowd. Fashion trends come and go but some trends always return back sooner or later. A trend that was popular in the 80s may return back in the future. Above discussed are some of the retro theme dresses for a female that one can try to style in a retro look.
You May like: 15 Alluring Birthday outfits for women to stay Elegant
Conclusion
Hopefully, now you have an idea to mix and match different styles from your existing wardrobe and create retro theme clothes. Whenever you desire to style in a retro look, you may not always require vintage dresses for women. Add a pop of neon color to your regular dresses or opt for high-waisted jeans or pleated trousers and you are good to go.
Follow the styles mentioned in this blog to create the desired look. Whether you want a retro party look or a regular day look these styles will enable you to pick the outfit according to your comfort and style preferences. Style your way and steal the attention of others!
Frequently asked questions
1. Do I need to buy retro dresses for a retro look?
To style in a retro look you don't have to buy a complete outfit, simply adding some elements that are already present in your wardrobe will enable you to get into the desired retro look. 
2. Which types of bottoms are popular in retro-style dresses?
High waist pants and pleated trousers are popular retro style bottom wears. 
3. What types of tops are popular in retro look?
Floral motifs tops, ruffle tops, leopard printed tops and polka dot tops are some of the popular tops for a retro look. 
4. What is the difference between vintage and retro styles?
Retro styles are a few decades old whereas vintage styles are near about hundred years old. 
5. How to make retro styles unique?
A completely new and unique design of retro styles can be created by using the characteristics and features of old styles and blending them with new trends.