Shraddha Kapoor is one of the most gorgeous and talented actresses of this generation. No doubt her smile can win a million hearts in one go. But her impeccable acting in popular Bollywood movies has impressed everyone. From Aashiqui 2 to Baaghi she has swooned us with her killer looks in different outfits. But Shraddha Kapoor in saree Looks are perfect and highly admirable. 
Are you also a fan of Shraddha Kapoor in Saree? Here we have brought you a compilation of some of the adorable Shraddha Kapoor saree looks.
Continue reading to find which one you liked the most!
Shraddha Kapoor in Saree Looks Stunning
1. Shraddha Kapoor in Yellow Saree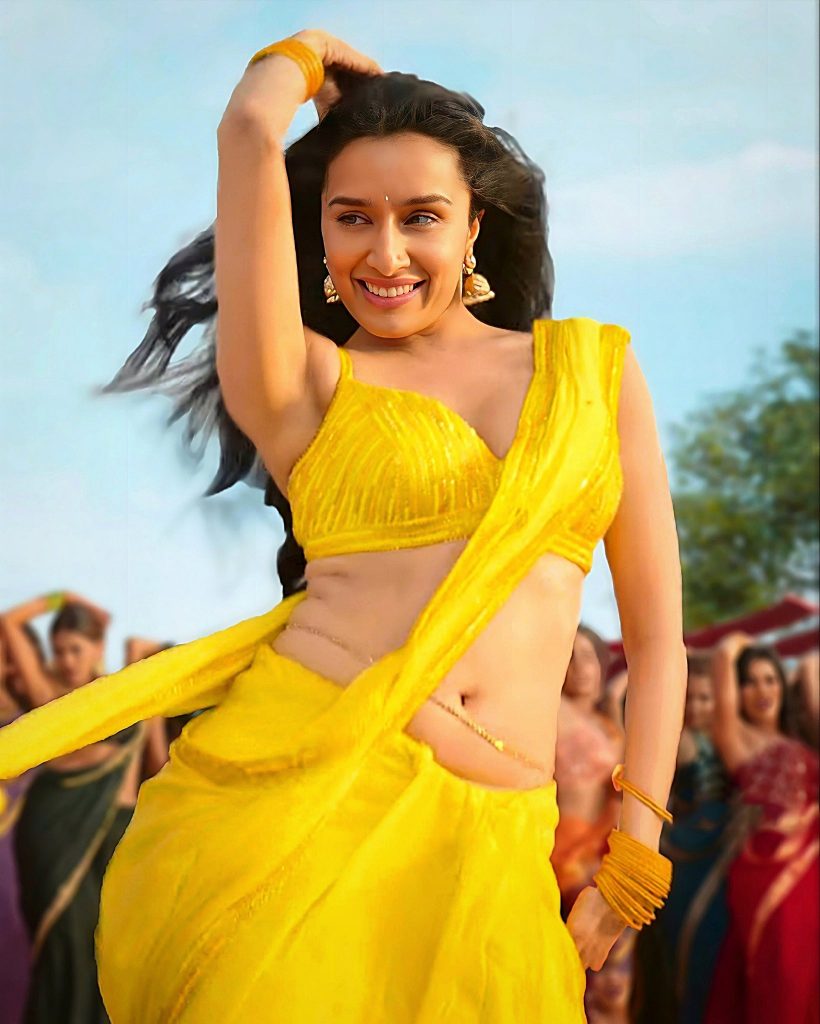 Shraddha Kapoor's fusion style is loved by her fans. Her yellow saree look was totally amazing and she appeared super gorgeous. In this Indian ethnic saree look she was looking like a diva. You can't scroll her astonishing pic in this yellow saree. Indeed she is picturesque and young girls take her inspiration. In this sheer yellow saree she not only looked stylish and modern but her look was enough to make everyone fall. This sunny outfit brightened up this gorgeous actress.
2. Shraddha Kapoor in Blue Saree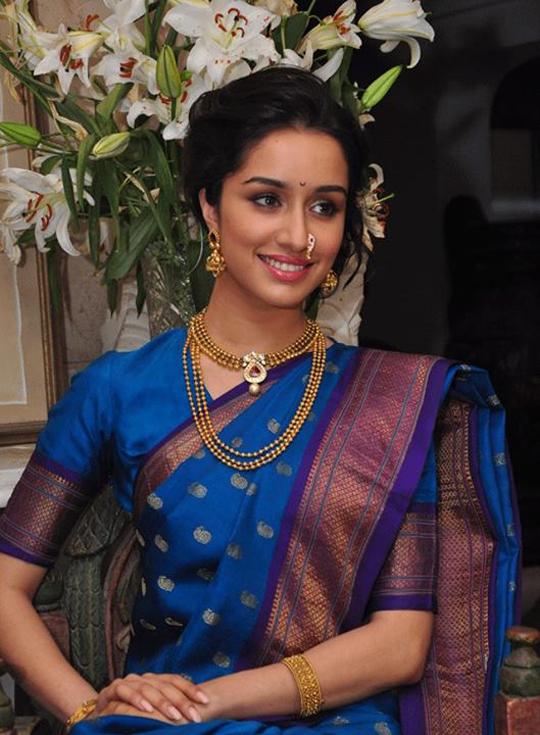 In the blue georgette saree, Shraddha Kapoor appears bohemian and this chic look is highly appreciated by her fans. This unique blue saree enhanced her charm when she paired it with an even more unique piece of silk monochrome blouse. The dash of sky blue is enhancing her overall outfit manifold. While she kept her jewellery minimal and her hairstyle simple, she appeared beautiful yet classy. Her entire look can be summed up as a dash of contemporary on the ethnic blue colour saree.
3. Shraddha Kapoor in Black Saree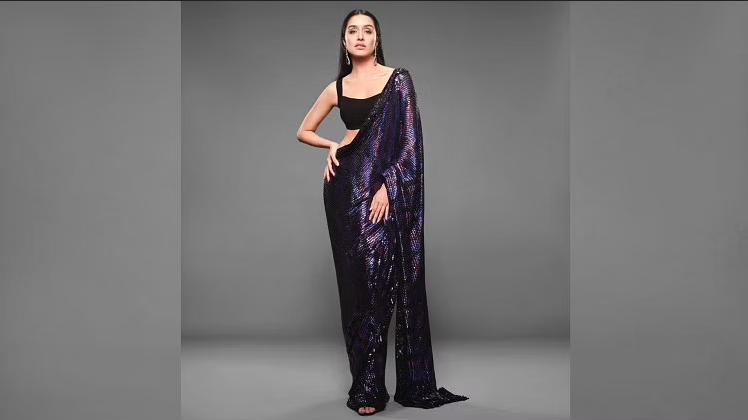 Bollywood actress Shraddha Kapoor looks ethereal and elegant in this black saree. This classy black saree makes her appearance even more beautiful and gorgeous. Just like a diva, she appears! The contrasting border and classy blouse that she has paired with this saree has enhanced her elegance. Her light subtle makeup refreshes her overall look. In this contemporary yet traditional saree style Shraddha Kapoor's personality is getting highlighted. Every girl who wants to add charm to their appearance can choose this type of black saree.
4. Shraddha Kapoor in Pink Saree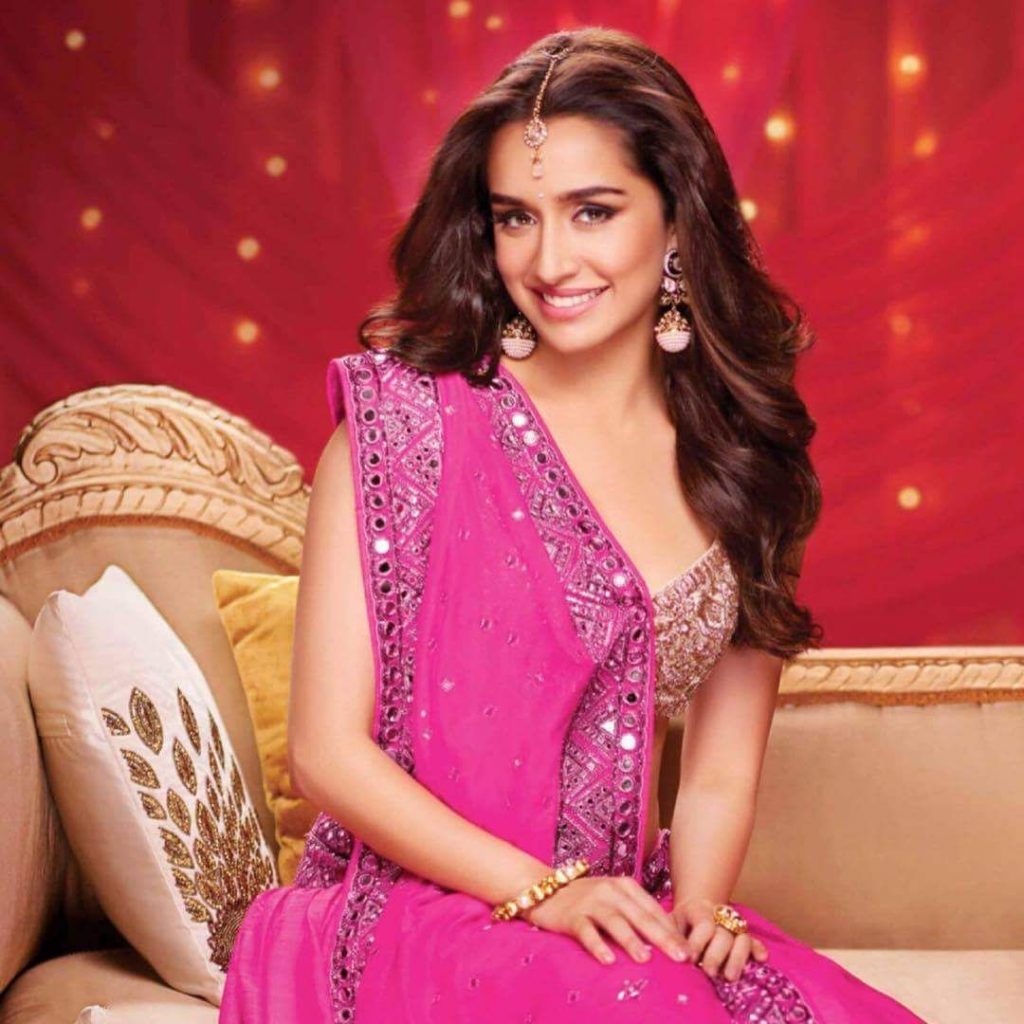 As an epitome of grace and charm Shraddha Kapoor looks mesmerising in this pink saree look. She adorned this ensemble elegantly and in this saree, she exudes a radiant aura that has won million hearts. The flawless complexion of Shraddha Kapoor gets complimented by the soft pink hue of this saree. The delicate embroidery and intricate detailing on the saree accentuate her graceful appearance. With a touch of sophistication, the flowing drapes add to her grace. She has an infectious smile that enables her to carry this pink saree effortlessly leaving behind an indelible impression.
5. Shraddha Kapoor in Red Saree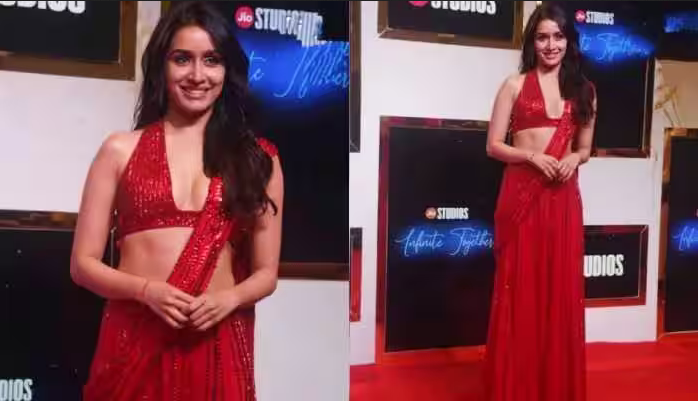 In a true sense, Shraddha Kapoor is a fashion icon as she carries herself effortlessly in every type of attire. Her recent red saree look has captivated the hearts of many. Draped in elegance, this vibrant red colour of the saree complements Shraddha Kapoor's radiant complexion. This saree makes her appear classy and sophisticated. The intricate golden embroidery adds a touch of allure to her overall look. With poise and charisma, Shraddha Kapoor exudes timeless beauty with every step. This red saree look reflects her essence of Indian tradition as well as her modern allure.
6. Shraddha Kapoor in Green Saree
Being an enchanting Bollywood actress, Shraddha Kapoor looks beautiful and charming in this captivating green saree. This Shraddha Kapoor Saree look accentuates her mesmerising features. The vibrant shade of green highlights her natural beauty. The delicate embellishments and patterns on this green saree allow her to exude elegance and sophistication. The charm that she reflects in this green saree look has won her million fans. As the green saree indicates a connection with nature that showcases freshness and vitality in her look too. This timeless beauty makes the true vision for such an exquisite green saree.
7. Shraddha Kapoor in Paithani Saree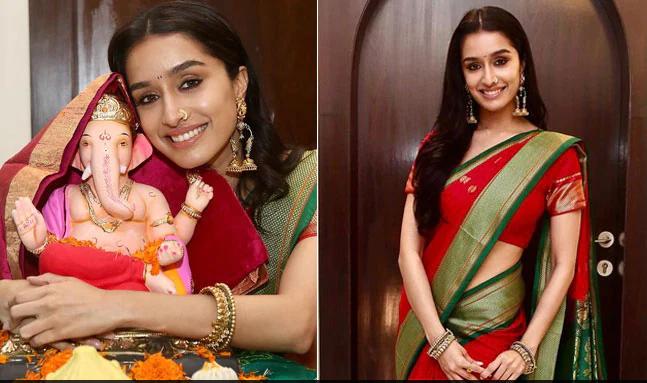 Shraddha Kaporr's latest look at Mukesh Ambani Culture Centre in Paithani Saree has stood as a testimony to elegance. She wore this traditional Paithani saree with a Western twist which brought in a ravishing look. She attended the Ambani event which was held in Mumbai recently in this custom-made Paithani saree. This saree is blended with a classic black gown and is designed by the famous designer Manish Malhotra. The stylish saree-gown look with traditional earrings, neckpiece, bangles, and statement rings added to the charm. Shraddha kept the makeup highlighted with contoured cheeks and nude shade glossy lipsticks.
8. Shraddha Kapoor Aashiqui 2 Saree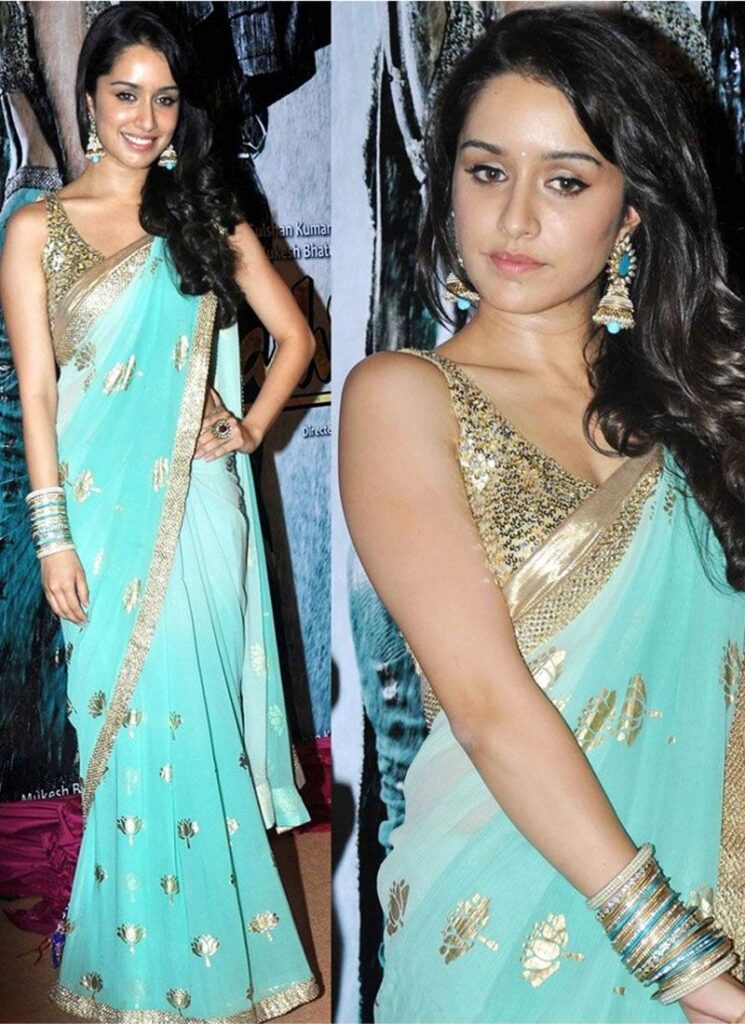 Whenever it is about Shraddha Kapoor's Aashiqui 2 saree look, it's always about the sky blue saree with a golden sequin blouse. Shraddha Kapoor appeared stunning in this georgette sky-blue saree. The golden sequin blouse made her appear even more adorable. The golden lotus motifs all over the saree enhanced the look manifold. The pastel blue colour in the chiffon saree is ideal for anyone who wants to flaunt their body features. When she flashes a smile for the camera in this beautiful look fans fall for this breathtaking look.
9. Shraddha Kapoor in a White Saree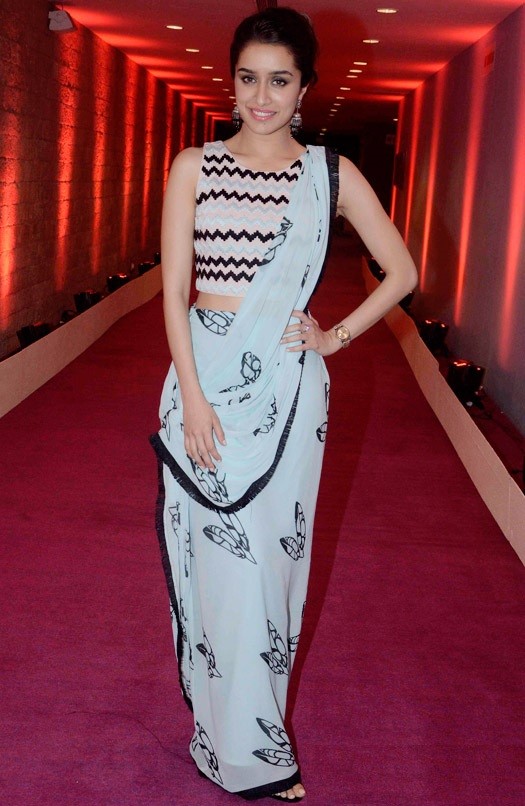 The pristine white saree makes Bollywood actress Shraddha Kapoor appear dashing. In this white saree, she embodies purity and sheer elegance. The excellent white hue of this saree blends well with her flawless complexion. Simply in her personality, this white hue saree adds an aura of serenity. The delicate lacework adorns the saree and thus adds a touch of sophistication. She effortlessly carries this enchanting look, captivating the hearts of her fans. Although the white colour is often understated, this white saree accentuates her powerful charm.
10. Shraddha Kapoor Half Girlfriend Saree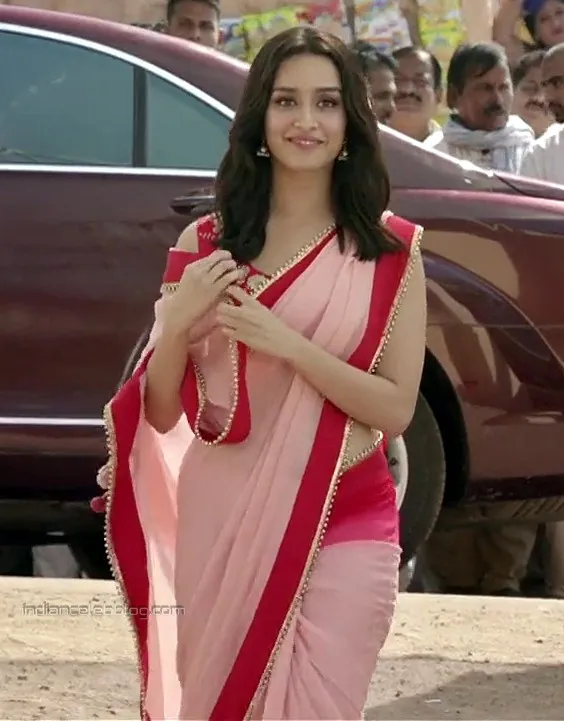 The recent saree look of Shraddha Kapoor for Half Girlfriend has become the talk of the town. This peach and red border georgette saree look is one of the most popular. She appeared amazing in this avatar for the movie Half Girlfriend. This Shraddha Kapoor's cool traditional look for her film has inspired many girls out there to adopt this avatar. Indeed this look is not only stylish and elegant but screams a fierce and strong appearance.
11. Shraddha Kapoor in Purple Saree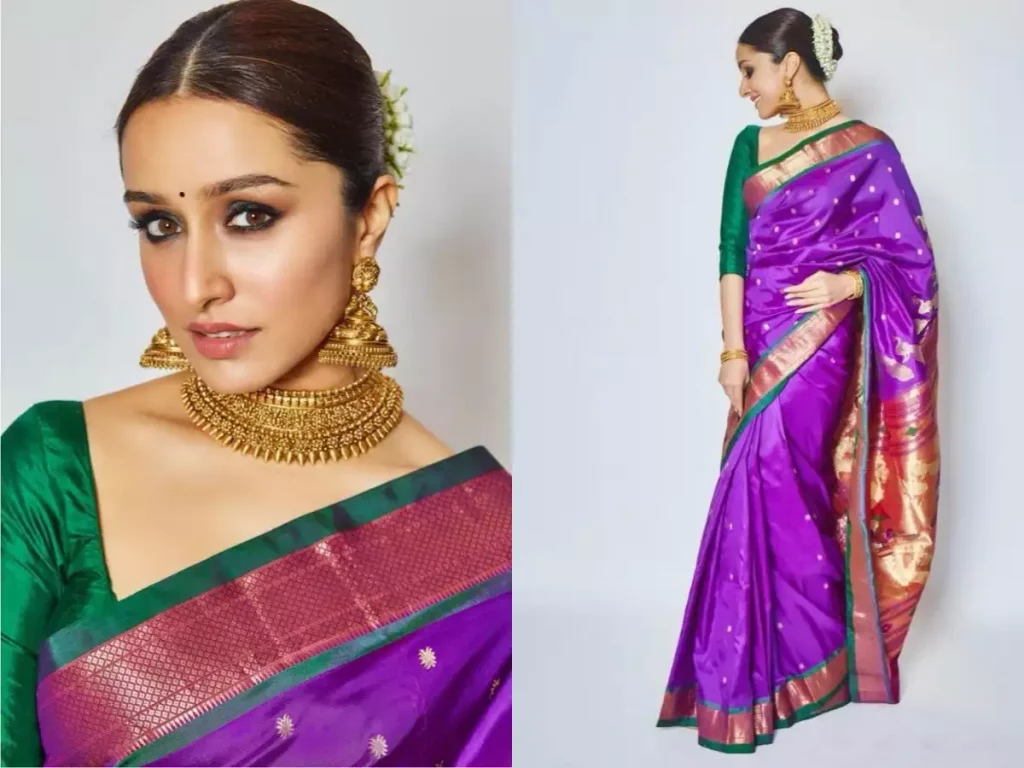 This regal purple saree makes Shraddha Kapoor, the captivating diva appear enchanting. The rich shade of purple is radiating her charm and perfectly blends with her complexion. This Shraddha Kapoor saree look accentuates her innate beauty. The intricate embroidery and embellishments in this purple saree showcase opulence. The royal essence of this saree comes out when Shraddha gracefully adorns it. She embodies this purple hue saree and steals the spotlight effortlessly.
12. Shraddha Kapoor in Indya Pink Saree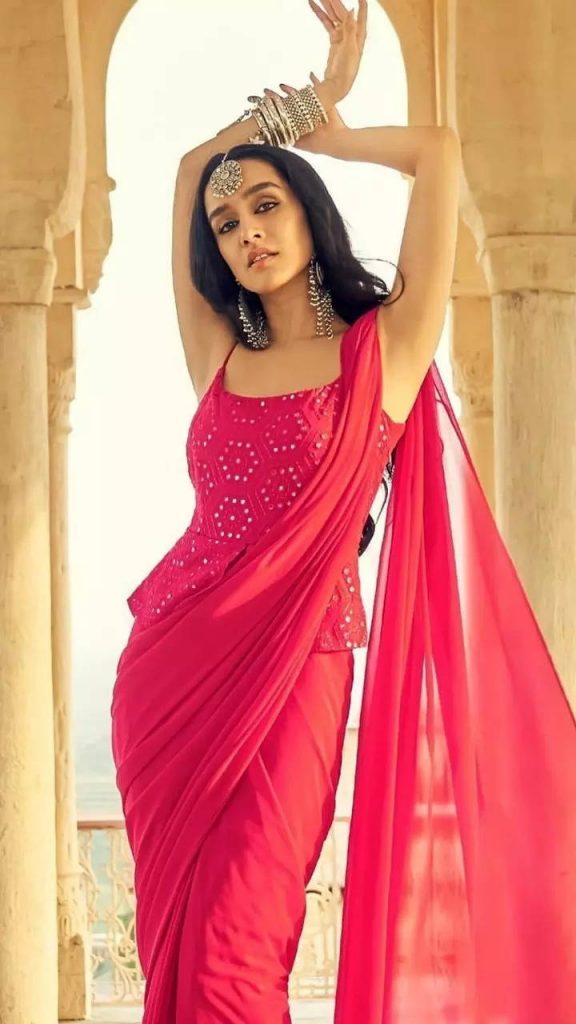 Shraddha Kapoor's saree look in this Indya Pink saree mesmerised everyone. This Bollywood diva appeared stunning in this saree look. Effortlessly she was able to maintain her style and grace in this saree. Indya Pink Saree is a vibrant shade of pink and this hot saree is crafted with meticulous details. Due to this, it seems to be radiating energy and charm. The embellishments on this exude a sense of opulence and sophistication. Shraddha's excellent body features are highlighted in this Indya Pink saree which is ultimately enhancing her natural beauty.
13. Shraddha Kapoor in Sky Blue Saree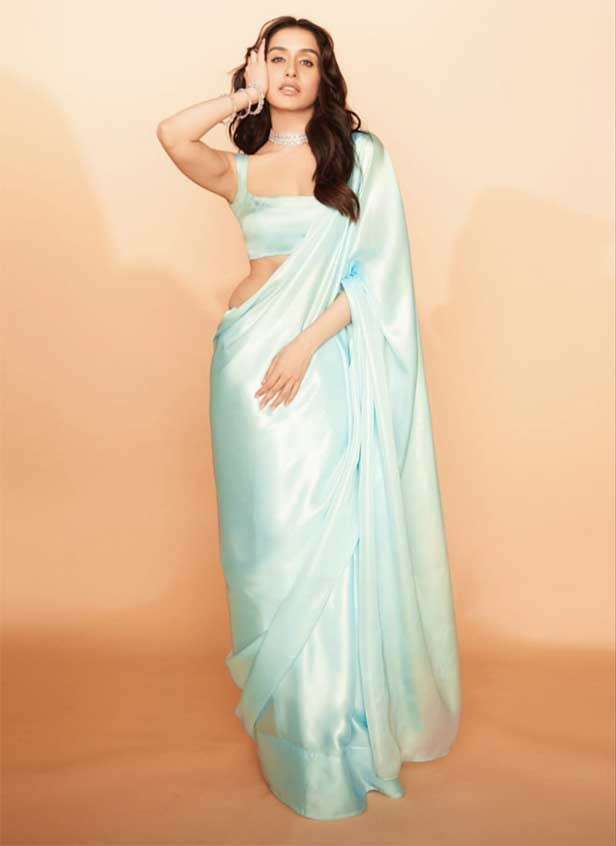 Bollywood diva Shraddha Kapoor left everyone spellbound in this sky-blue saree look. Sky blue hue is perfectly blending with the radiating complexion of Shraddha Kapoor. In this Shraddha Kapoor saree look, she is appearing serene with an angelic aura. The patterns and silver thread work on this saree is adding a touch of elegance to her overall look. This sky-blue saree is accentuating her graceful curves which is depicting her impeccable sense of style.
Be it her sense of style or impeccable fashion choices, Shraddha Kapoor Saree's looks are divine and impeccable. In all the saree styles, she has carried herself gracefully leaving a lasting impression. Whether it's her yellow saree look or the rose pink Half girlfriend saree look, she has showcased timeless elegance by adorning the traditional Indian attire, saree gracefully. She continues to set new fashion trends and has acquired the position of the style icon. Well, you might have enjoyed this compilation of Shraddha Kapoor's Saree looks!