Whenever we talk about the look of Sushmita Sen in saree, we always notice how well she rocks every style. The first thing that comes to mind when we think of Indian clothes is a saree. Although Sushmita Sen rarely wears traditional outfits, when she does, she always looks stunning. She always appears stunning whether she is wearing Western or traditional attire. It doesn't matter what style of saree, Bollywood actress Sushmita Sen looks stunning in saree. Her toned body and radiant complexion are constant points of attention. If you get inspiration from Sushmita Sen's stunning saree ensembles and add a few to your wardrobe, you can have the elegance and charm of her saree looks. Here are some of Sushmita Sen's saree looks. You would like to look at Sushmita Sen saree looks if you are a big fan of her. Continue reading!
The Stunning Looks of Sushmita Sen in Saree
1. Sushmita Sen in Saree
Sushmita Sen is a well-known Bollywood actress who has been in several successful films. She is also a fashion star whose signature look has influenced many women. She has perfected the art of appearing stunning in any outfit, whether it's a beautiful saree, a fitted tee, or a flowy maxi dress. In the Bollywood fashion industry, sarees have always been a popular choice. If you like to wear a plain saree, choose one that Sushmita Sen wore for her first role in the Farah Khan film and match it with a designed blouse and apply light makeup.
2. Sushmita Sen in Red Saree
Women who wear red saree are often complimented on how stunning they look. Sushmita Sen always grabs attention with her elegant looks, but when she wore the beautiful red flowy saree, she truly stunned us. Because it is one of the most alluring colours in nature, Indian women have long dreamed of wearing a red saree. Women wearing red sarees are especially stunning. Everyone has seen her in the Main Hoon Na movie, where she wore a gorgeous red saree. Sushmita Sen in a red saree is a sight to see, whether she is on the red carpet or at a high-profile event.
3. Sushmita Sen in Main Hoon Na Saree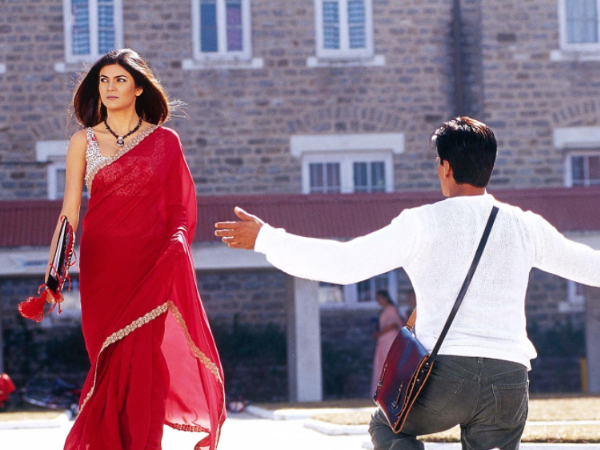 The film Main Hoon Na was one of Sushmita Sen's biggest box-office successes. Through her different on-screen and off-screen performances, Sushmita Sen has added significantly to the country's fashion trends, but her look in Farah Khan's movie 'Main Hoon Na' was the one that everyone could not stop talking about. In the movie, she looked beautiful in a chiffon flowy saree with a sleeveless blouse. Sushmita Sen was seen in the movie playing the role of Chandni, a teacher. This black and red polka dot saree of Sushmita Sen quickly went viral and became a fashion trend for many women.
4. Sushmita Sen in a Yellow Saree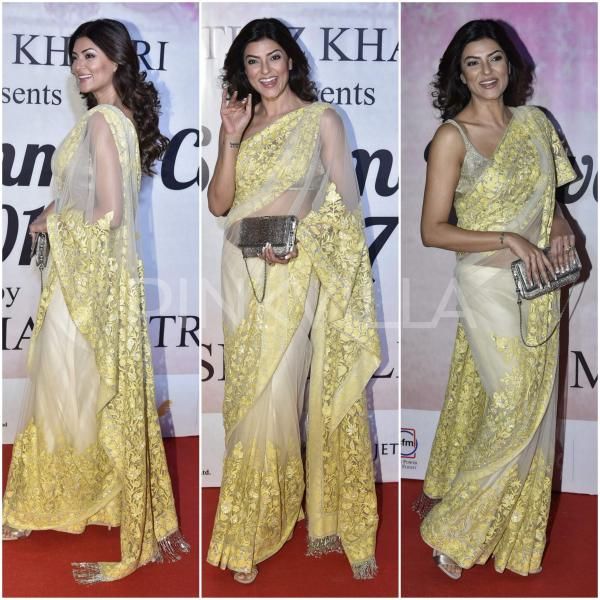 The former Miss Universe and current Bollywood star Sushmita Sen certainly grows with age. Every one of her posts on social media has become a favourite among her followers. Seeing Sushmita in her iconic lemon-yellow saree in 'Tumhe Jo Maine Dekha' was enough to make anyone fall. This sunny outfit was a perfect reflection of the carefree spirit of spring. In a yellow saree, Sushmita Sen looks gorgeous. If you're ever unsure about what to wear, go with the hue yellow. A sunny yellow saree is ideal for this purpose.
5. Sushmita Sen in Black Saree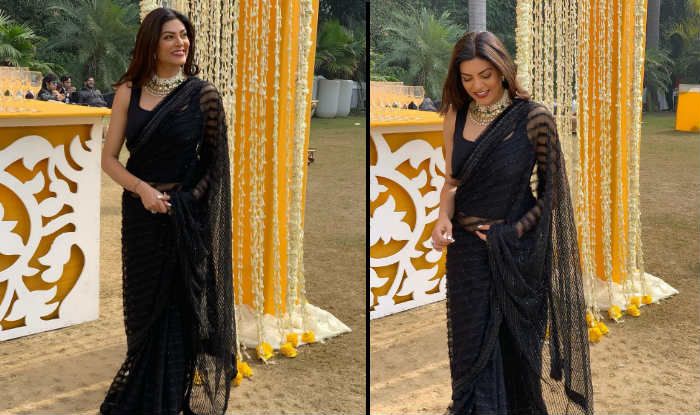 Every woman loves to wear black sarees. A black colour saree is perfect for both casual and formal events. Sushmita Sen wore Neeta Lulla's black saree to a family wedding occasion, and she looked stunning. Black thread was used to stitch stripes that highlighted her saree. She wore a plain black blouse without sleeves and a saree draped with a sheer pallu in the new style.
6. Sushmita Sen Saree in Aarya
Aarya, a web series featuring Sushmita Sen, in the lead role character is attracting national attention. Sushmita Sen returned to the big screen after a long break, and she did it with a great performance. In addition to her regular appearance in the series, she also wore two celebratory sarees for a wedding ceremony scene, and both of them made her look elegant and regal. Sushmita Sen's green saree in Aarya is the perfect combination of elegance and sophistication.
7. Sushmita Sen in Orange Saree
An orange saree is a stunning choice for an evening out because of its beautiful and vibrant colour. Sushmita Sen danced while wearing an orange-coloured saree in the song Laga Laga Laga Re, and she looked gorgeous in it. She wore a simple saree with a nivi-style draping of its sheer pallu. She accessorised her saree with earrings, bangles, and rings, and wore a sleeveless, matching, sparkly blouse. Sushmita let her straight hair down and added some finishing touches to her appearance with pink blush, eyeliner, filled brows, and light lip colour.
8. Sushmita Sen in Green Saree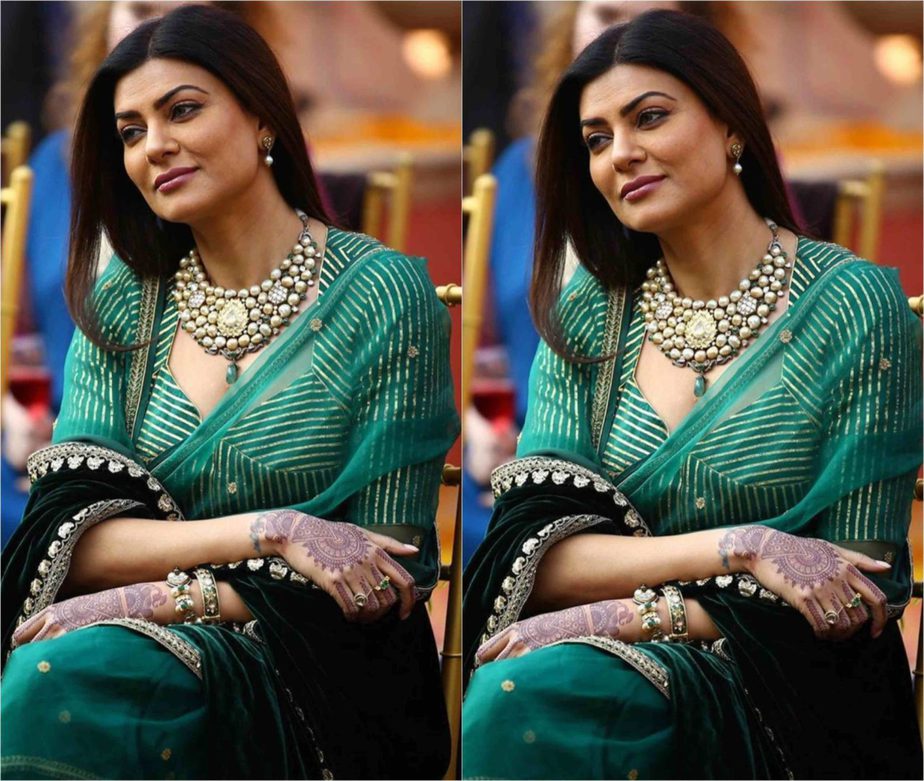 Sushmita looked extremely elegant and regal with a basic green chiffon saree and a golden-patterned, dark green blouse. It was the ideal combination of sparkle and simplicity. She accessorised with an eye-catching pearl choker and gorgeous earrings. We felt she looked great, especially with the addition of the green rings. Sushmita Sen in a green saree is stunning and she enhances it with dazzling jewellery. You can also wear this look with minimal makeup in a casual or semi-casual event.
9. Sushmita Sen in Pink Saree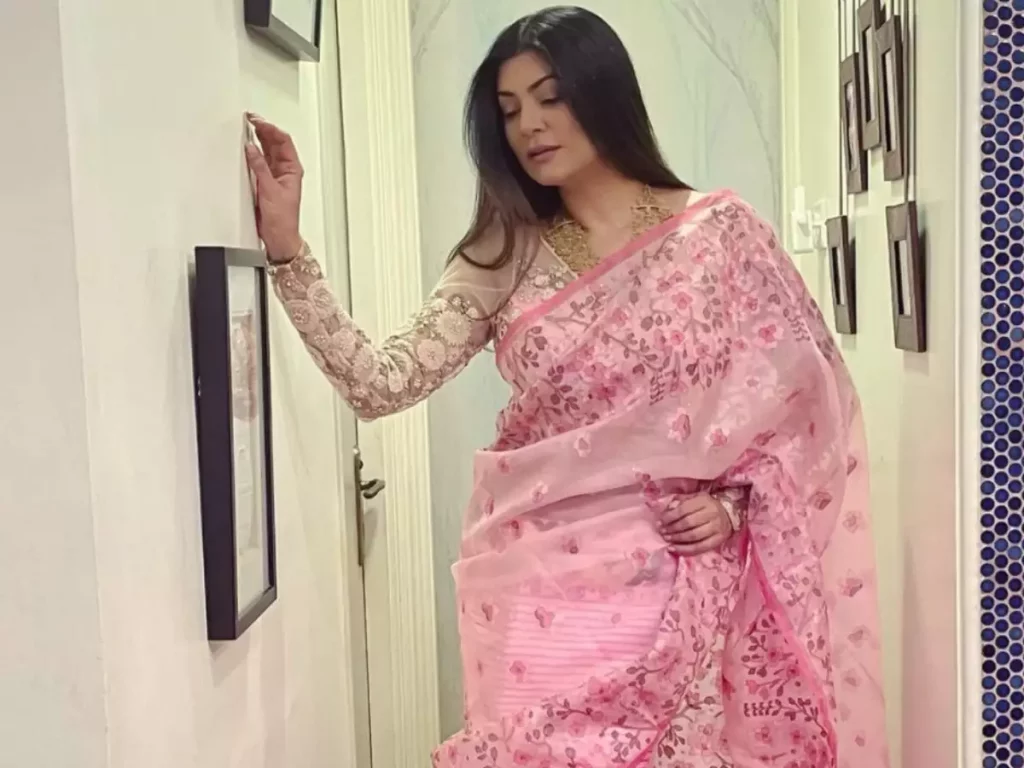 The pink colour is the favourite colour of every woman and when it comes to sarees, nothing can beat pink. Dressed in a stunning pink saree, Sushmita Sen looked absolutely gorgeous. She wore a saree with a border of pink and yellow flowers blooming between striped designs. She wore a saree with a nivi-style drape and a sheer pallu with a printed pattern. In addition to completing the look, she wore a necklace in golden stones and apply minimal makeup with light pink lipstick and eyeshadow. She looked lovely when she let down her straight hair.
10. Sushmita Sen in white Saree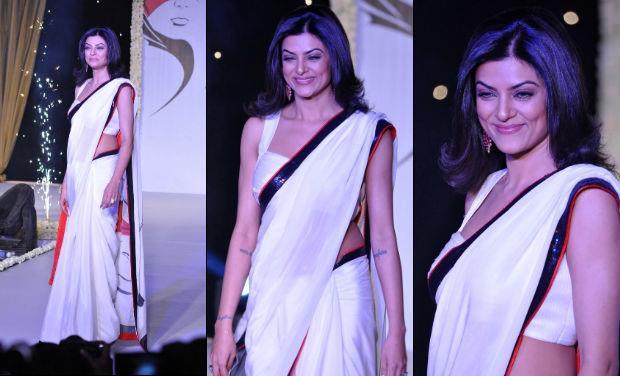 If you want to look elegant and graceful, you must try a white colour saree. Sushmita Sen recently wore a white net saree of Falguni & Shane Peacock with an embroidered scalloped border paired with a red embroidered sleeveless blouse at a wedding. Sushmita Sen in a white saree radiates grace and beauty. She applied minimal makeup for this look and kept her hair in a simple bun. We can't stop thinking about how beautiful Sushmita Sen looks in a white saree. It's time to experiment with fashion by wearing gorgeous and stunning white sarees. When attending an event, this is the ideal attire to wear if you want to look classy and simple.
Well! We've mentioned the Bollywood actress Sushmita Sen's saree look in this blog. All the saree looks have a variety of colours and styles according to your preference. You should try these wide varieties of saree styles. So why are you still waiting? Try out these Sushmita Sen's saree looks. Tell us which saree look you liked best in the comments section.