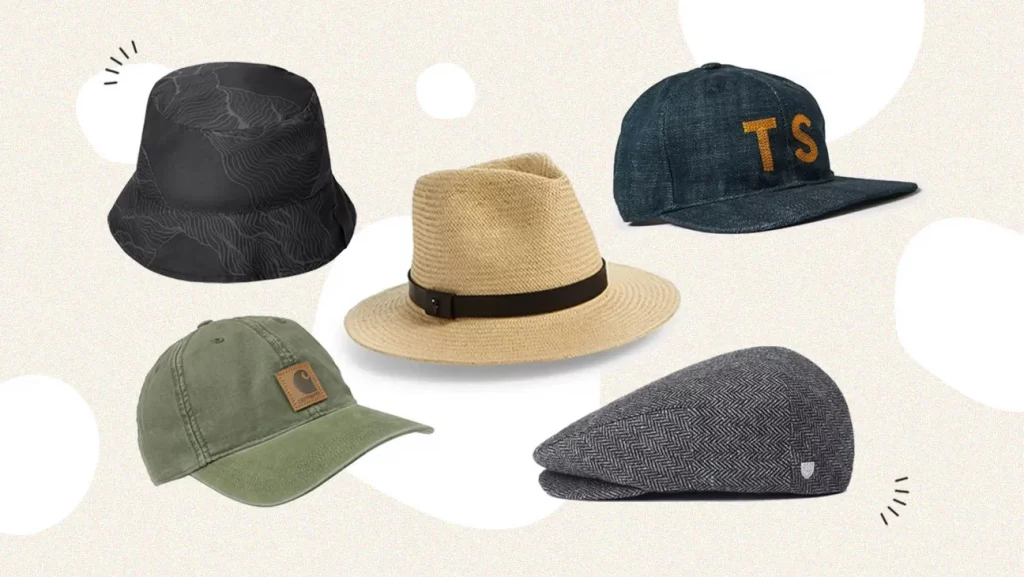 In the world of men's fashion, accessories play a significant role in adding that extra flair to one's outfit. Among these accessories, types of caps for men have gained immense popularity as versatile and stylish additions to any wardrobe. From street style to sporty looks, there's a cap for every occasion. In this blog, we'll explore the various types of caps for men, helping you understand their distinct features and how to incorporate them into your outfits.
20 Types of Caps for Men
1. Beanie Cap
It is a close-fitting knitted cap that covers the head and often extends to cover the ears as well. These caps are typically made from various materials like wool, cotton, acrylic, or blends of these materials. These hats are known for their stretchiness property, which allows them to accommodate a range of sizes. Some beanies even have a decorative pom-pom on top, which adds a playful and cozy element to the design.
2. Snapback Cap
A snapback cap is among the types of caps for men of baseball cap characterized by an adjustable at the back with snaps that allow for a customizable fit. These caps are known for their casual and sporty look They come in a wide range of colors, patterns, and designs, making them versatile and suitable for various casual outfits. The snaps that are the plastic or metal buttons allow the wearer to easily adjust the tightness of the cap, making it suitable for different head shapes and sizes.
3. Trucker Hat
A trucker hat is among the best types of caps for men that originated from the trucking and farming industries in the United States. They typically have a structured front panel that is made of stiff material, often foam, to maintain its shape. These hats often feature logos, graphics, slogans, or designs on the front panel. They are known for their casual and laid-back style. These types of hats are generally unisex and can be worn by people of any gender.
4. Fedora Hat For Men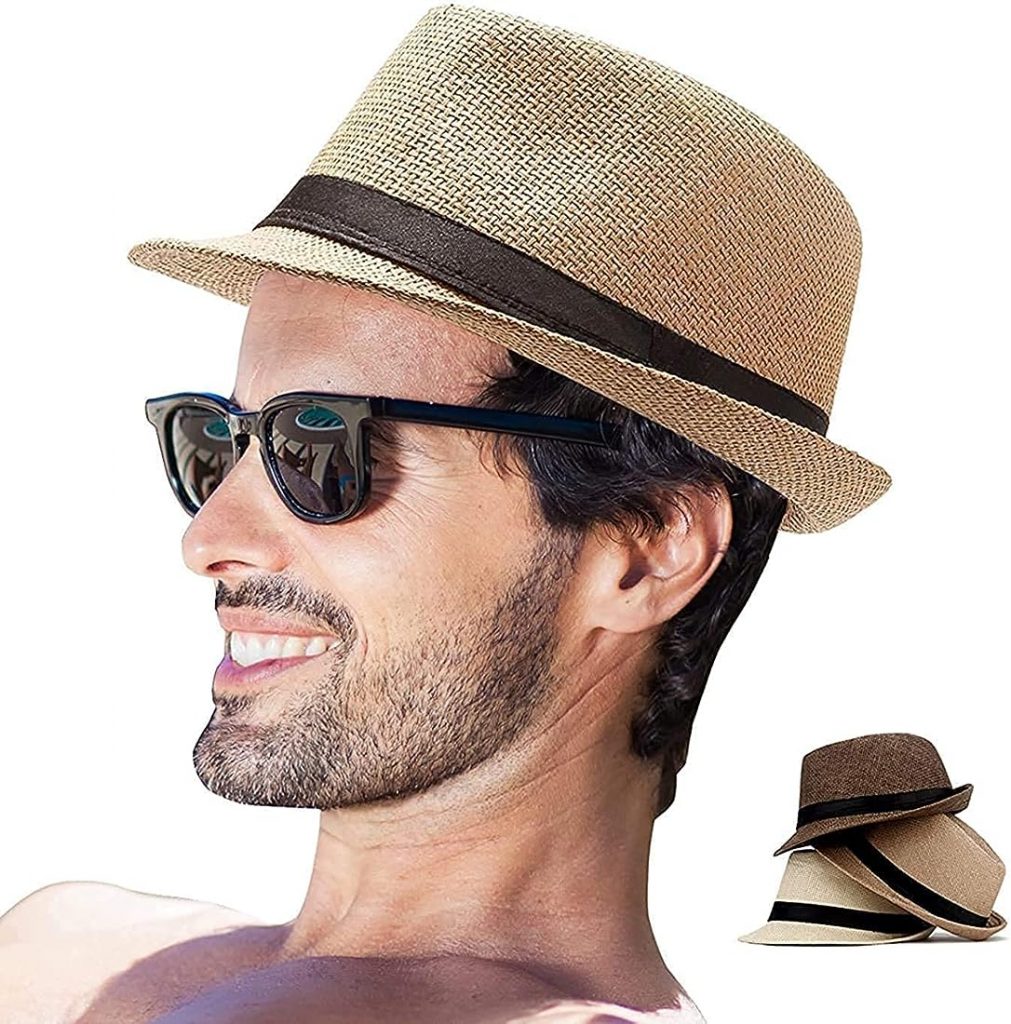 Fedora is also a beautiful men fashion hats that is very classic with a distinctive creased crown and a medium-width brim that is typically turned up at the back and slightly down at the front. It has a rich history and has been associated with various fashion trends and cultural contexts. These hats can be made up of various materials, including wool, felt, straw, and even leather, fabric, or other materials. Fedora has a vintage charm and is very popular among men due to its versatile nature.
5. Trilby Hat for Men
Among trending hat for men, Trilby is a type of hat that is closely related to the fedora but has its own distinctive characteristics. It's a stylish and versatile option that has been popular among men. The Brim of Trilby is shorter and narrower compared to the fedora. It is typically sharply upturned at the back and slightly down in the front. These hats are made up of various materials, including wool, felt, straw, and even synthetic fabrics. These hats look best with jeans, t-shirts, and other casual clothing.
6. Panama Hat
This is a traditional hat made from woven straw-like material which is known for its lightweight and breathable properties. They are often associated with summer and warm weather fashion. The weave of a Panama hat is intricate and tight, allowing for excellent ventilation while providing shade from the sun. Many Panama hats are adorned with a simple, decorative, hatband made of ribbon or fabric. These hats are often associated with beach vacations, resort wear, and outdoor events.
7. Bowler Hat
This is a classic and distinctive type of headwear with a rounded crown and a short, rolled brim. This hat is typically round, low in height with a slight indentation on the top. Bowler hats are often made from wool felt or other stiff materials to maintain their shape. These hats come in various neutral colors like black, brown, or gray. These hats can add a dapper and sophisticated touch to an outfit. It adds a touch of classic elegance, and personality to your attire, making them a unique and timeless accessory.
8. Dad Hat
A Dad hat is also a type of baseball hat that is quite popular among men nowadays. It often features a curved beam. These hats have an unstructured design which means the front panel is soft and not reinforced with stiff material. This gives the hat a more casual and relaxed appearance. They can be made of various materials such as cotton, denim, or blends. These hats usually have an adjustable strap or a metal buckle at the back, allowing for easy customization of the fit. Dad hat can be worn with a wide range of casual outfits, from jeans and T-shirts to shorts and hoodies.
9. Newsboy Cap
Among stylish caps for men, Newsboy is a hat that is classic and stylish which is characterized by its unique shape and historical associations with a working-class versatile accessory that has made a resurgence in fashion trends. These hats have a short, stiff brim that is often curved and can vary in width. These beautiful hats strike a balance between casual and dressy, making them versatile for various occasions. Newsboy hats are suitable for colder months and can be paired with coats, sweaters, and scarves.
10. Flat Cap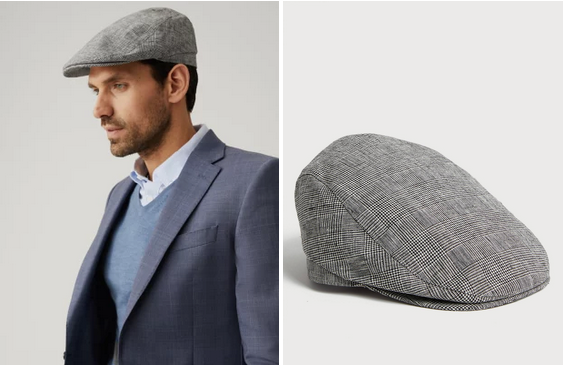 A flat cap, also known as a driver cap or ivy cap, is the best hats for men and a versatile hat style that's been popular for generations. It's characterized by its close-fitting, flat crown and a small, stiff brim. Flat caps have a timeless charm and can be worn in various fashion contexts. Flat caps are made from a variety of materials, including wool, tweed, cotton, and blends. The choice of material can affect the hat's warmth and texture.
11. Bucket Hat
A bucket hat is a casual and comfortable type of hat that features a wide, downward-sloping brim and a rounded crown. It's known for its laid-back and practical style, and it has become popular in various fashion trends. The brim of a bucket hat is wide and slopes downward, providing good sun protection for the face, neck, and earsBucket hats can be made from various materials, including cotton, denim, nylon, canvas, and even waterproof materials for outdoor activities.
12. Baseball Cap
These caps are famous among men's casual caps. A baseball cap is one of the most popular and widely recognized types of hats. It originated from the sport of baseball but has since become a versatile and iconic accessory that's worn in various contexts beyond sports.
There are many styles of baseball caps, including fitted caps, adjustable caps (with snapbacks or straps), and trucker caps (with mesh panels). The style you choose can affect how the cap looks on your head. Baseball caps vary in price, depending on factors like brand, material, and design. There are options available in various price ranges to suit different budgets.
13. Trapper Hat
A trapper hat, also known as an aviator hat or trooper hat, is a type of headwear that's designed to provide warmth and comfort in cold weather. It's characterized by its ear flaps and typically features a chin strap to secure the hat under the chin. Trapper caps are often made from warm materials like wool, faux fur, or shearling to keep the head and ears insulated in chilly conditions. Trapper hat come in various styles, from classic and rustic designs to more modern and fashionable options. You can find them in different colors and patterns to match your personal style.
14. Boater Hat
A boater cap, also known as a boater hat or straw boater, is a type of flat-brimmed hat with a flat crown. It's traditionally made from straw and is characterized by its lightweight and structured design. Boater caps have a wide, flat brim that goes all the way around the hat. The crown of a boater cap is typically flat and shallow. It sits atop the head without a lot of height. Boater caps have a classic and somewhat formal look. They were traditionally worn for outdoor events and activities during the warmer months. Today, they are often associated with vintage or retro fashion.
15. Pork Pie Hat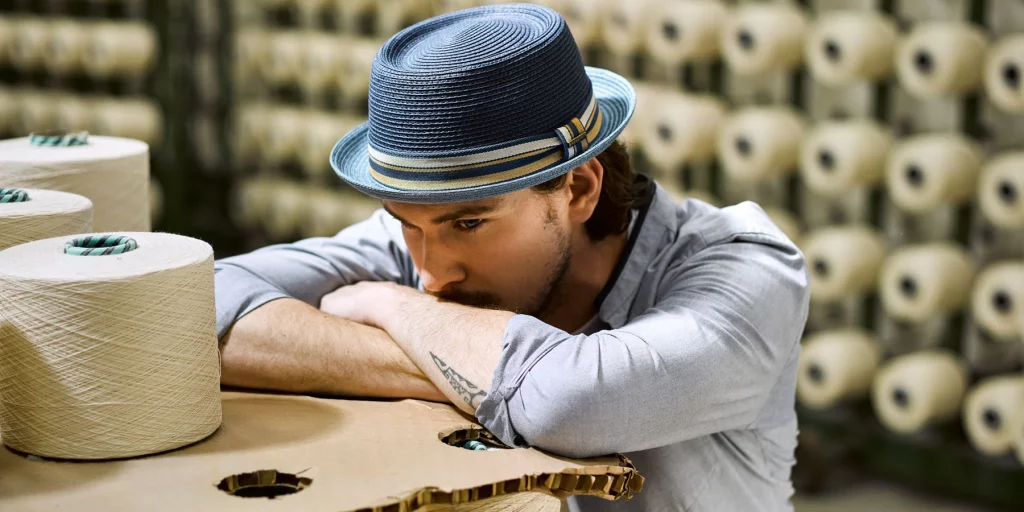 A pork pie cap, also known as a pork pie hat, is a type of hat characterized by its flat top and short brim. The design of the hat is said to resemble a traditional British pork pie dish, which is where it gets its name. Pork pie caps have a distinctive and stylish appearance that can add a unique touch to a man's outfit. The crown of a pork pie cap is typically flat and cylindrical, with a slight indentation or crease around the top. Pork pie caps can be made from a variety of materials, including wool, tweed, straw, and even synthetic fibers. The choice of material can affect the hat's overall appearance and suitability for different seasons. Pork pie caps come in a range of colors and patterns, allowing you to choose one that complements your personal style and outfit.
16. Visor Cap
A visor cap, also known simply as a visor or visor hat, is a type of headwear that features a brim to shade the eyes while leaving the top of the head open. Visors are popular for outdoor activities and sports where sun protection is important, such as golf, tennis, and various other outdoor events. They are designed to provide shade and reduce glare without fully covering the head like a traditional cap. Visors can be made from a variety of materials, including cotton, polyester, nylon, and even materials with moisture-wicking properties. Choose a material that offers comfort and durability. Visors are often associated with sports and outdoor activities, so they have a sporty and casual appearance.
17. Cowboy Hat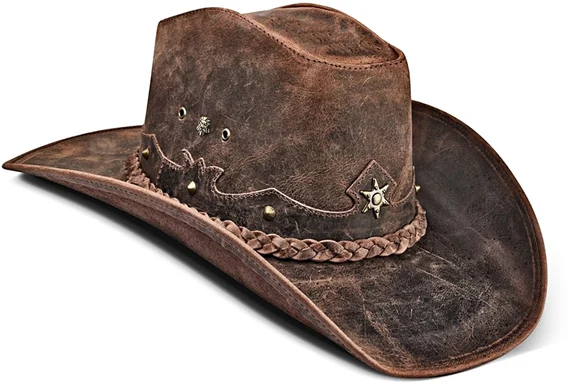 A cowboy hat is a distinctive style of headwear that originated in the American West and is often associated with ranching, rodeos, and Western culture. Cowboy hats come in various styles, materials, and designs, and they have become a symbol of both practicality and fashion. Cowboy hats are characterized by their wide brims, which provide shade from the sun and protection from the elements. The brim can be shaped in different ways, and the width can vary from style to style. Cowboy hats can be made from various materials, including felt, straw, leather, and more. Felt hats are often warmer and more durable, while straw hats are lightweight and breathable, suitable for warmer weather.
18. Homburg Hat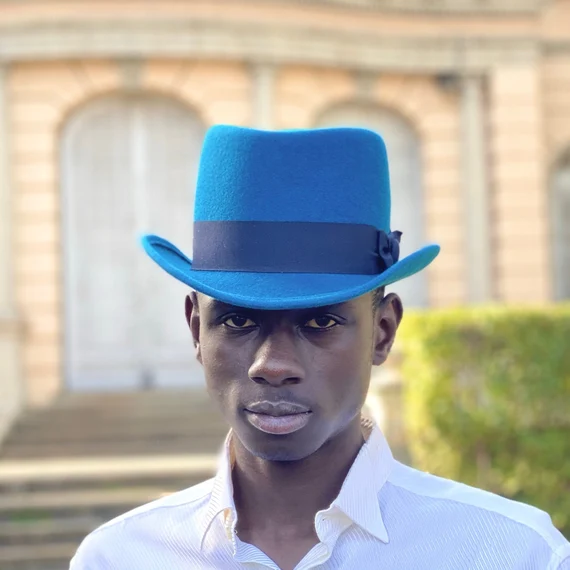 The Homburg hat is a classic and formal type of men's headwear that originated in Germany. It's known for its distinguished and stylish appearance, making it a popular choice for formal occasions, business attire, and other elegant events. The Homburg hat has a unique design that sets it apart from other types of hats. Homburg hats are traditionally made from high-quality materials like wool, fur felt, or even straw for warmer weather. The choice of material can affect the hat's durability, appearance, and suitability for different seasons. Homburg hats are often found in classic colors such as black, gray, brown, and navy. The color can depend on the formality of the occasion and your personal style.
19. Top Hat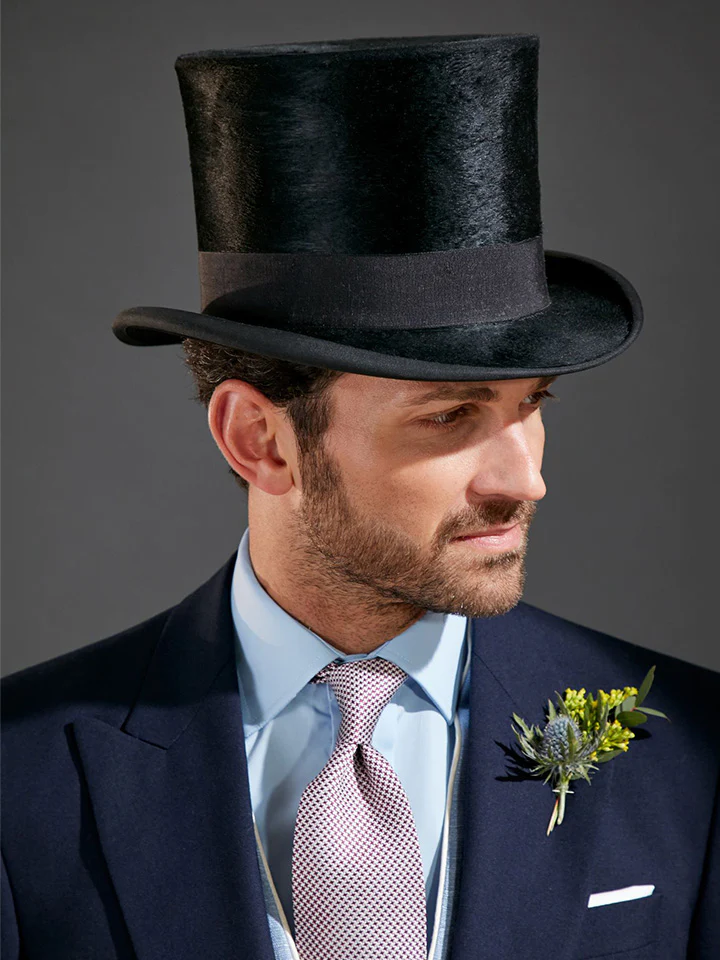 A top hat is a formal and iconic style of men's headwear that is often associated with elegance, luxury, and formal occasions. The crown of a top hat is tall, straight, and cylindrical in shape. It gives the hat its distinctive and elegant appearance. Traditional top hats are often made from silk, while modern versions might use wool, fur felt, or other materials. The brim of a top hat is flat and relatively narrow. It encircles the crown and extends outward from the base. The material can influence the hat's appearance, durability, and cost. Top hats are highly formal and are typically worn with a full morning dress or white tie attire for events like weddings, operas, and other prestigious occasions.
20. Boonie Hat
A Boonie hat, also known as a bush hat or jungle hat, is a type of wide-brimmed hat that was originally designed for outdoor activities in hot and humid environments. It's characterized by its floppy brim, often with a chin cord to secure the hat during windy conditions. Boonie hats are functional and versatile, making them popular choices for outdoor adventures, hiking, camping, fishing, and other activities. Many boonie hats feature an adjustable chin cord or chin strap. This can help secure the hat during windy conditions or when you're on the move. Boonie hats are particularly well-suited for providing sun protection, which makes them great for hiking, camping, and other outdoor activities.
Conclusion
Caps are more than just functional accessories; they are style statements that reflect your personality and fashion sense. Whether you're aiming for a casual street style or a refined and polished look, there's a cap type to suit every occasion. By understanding the distinct features of different cap styles and how to incorporate them into your outfits, you can effortlessly enhance your overall appearance and create a lasting impression with your fashion choices.