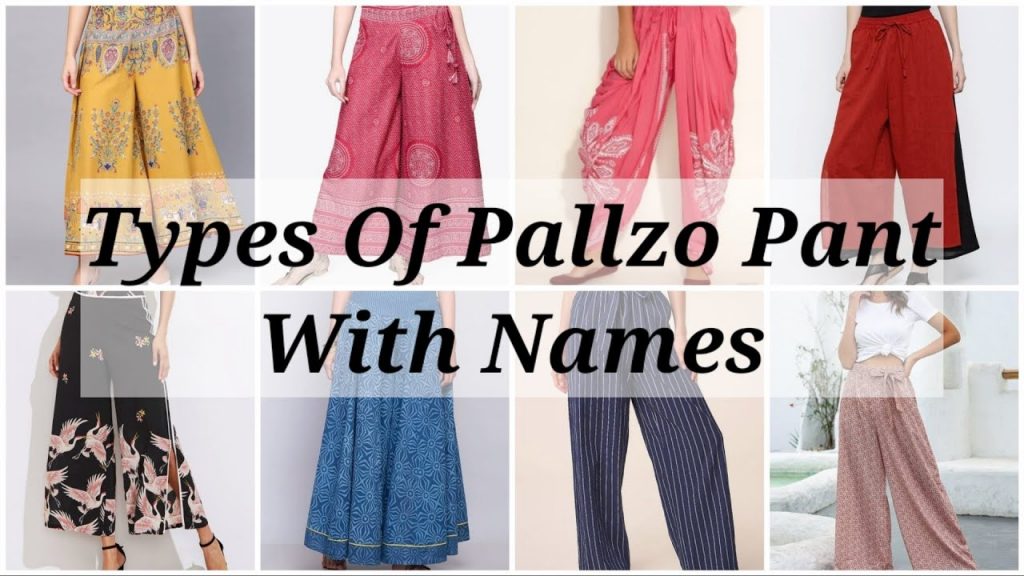 Every woman has a unique body type, but they don't all know what to wear that will look good on them as well as make them feel comfortable. In addition, there are 17 types of palazzo pant styles from which women can choose. Palazzo is as cosy as your favourite pyjamas but twice as stylish. The different types of palazzo pants are a trend that always stays in style. Because of the lightweight fabric and loose fit, they are perfect for a comfortable and stylish summer outfit.
Palazzo pants are made from natural fabrics like cotton, chiffon, rayon, crepe, and many others. It is very comfy and can be worn on a formal, semi-formal, or casual occasion. Let's have a look at the 17 types of plazo every woman should have in her wardrobe.
Different Types of Plazo
1. Pleated Palazzo A Stylish Palazzo Look
Pleated palazzos are hugely popular among fashionistas all over the world, just as pleated skirts became a great hit. This type of palazzo for women has creases in the front and looks like a skirt. The wide-legged plazo for women provides an extra touch of flair to the outfit with every step. Your pleated palazzos should be worn with a jacket in darker colours. Accessorise with dazzling jewellery, a clutch, and shiny, strappy heels. You may choose to wear coloured boots or shoes. Dress it up for a Western occasion by adding heels and Kurtis, crop tops.
2. Printed Palazzo A Textured Palazzo Look
The fashion mantra all prints, everything makes us thrilled. Printed palazzos are an excellent option and upgrade the wardrobe classic. In the list of types of palazzo when wearing the one-colour type of palazzo pants every day becomes old, switch to a pair of printed palazzos. It is not necessary to create different patterns if you print on them. It will naturally give its prints a distinctive look. These printed ladies' plazo would look great with a crop top and plazo pants as well as a statement necklace. For a casual day out, if you can find some animal-print palazzos, combine them with a halter top and a straw tote.
3. Denim Palazzo A Jeans Plazo Look
Denim lovers who want ease of movement can consider denim types of palazzo pants. The denim palazzo is made of comfortable denim material and will give off a plazo jeans look. The flared hemline of the trousers is a very attractive touch, making them suitable for more formal occasions. For a romantic lunch with your significant other, you should dress to impress. He will be in awe of your fashion sense when you wear a cropped lace top with jeans plazo. Add a striking bag and strappy sandals to complete the look. Keep your hair down. Wear a tank top tucked into some denim palazzos if you are going to a brunch. For a lovely final touch, wear it with pearls and understated earrings!
4. Flared Palazzo
In the list of different types of palazzo, the flared palazzo is a common style but slightly unique. It has a very wide waist and is airy and loose. It is perfect for plus-size and thin women because of its wide design. As they are of the skirt type plazo pants these plazo for women give you the best of the two styles. Cotton and rayon are used in the making of types of palazzo pants. This is a versatile summertime piece that may be worn for many kinds of events. For an ethnic look, wear a long Kurti if you are of medium to tall height. If you want to try something new, you may choose prints on both the kurta and the Palazzo. You can get a hippie look, or boho style by pairing a bralette with some plazo type jeans.
5. Straight Palazzo
As the name implies, Straight palazzos are narrower rather than wider. Straight plazo is a very common and most popular plazo style. This pant style plazo has a normal flare and they come in nearly neutral colours. Palazzos may not be every small girl's best friend, yet as they have less flare, straight plazo suits everyone. It usually comes in viscose, cotton, and linen. Try pairing it with a straight-cut Kurta and a pair of heels or a traditional kholapuri. You can get a plazo with shirt look with just sneakers and your regular top, or shirt. Because of this, this palazzo for women is suitable for almost any situation, including work.
6. Belted Palazzo
The waistline of the belted women plazo is often made with a belt. You can either tie it as a lovely bow on the side or belt it up. The design of this plazo for women has a modern look and is a stylish choice for the current fashion trend. They not only offer a perfect fit, but they also enhance your body shape. This plazo for women works best as a casual outfit or for parties. Crop tops and slim-fit tops go well with belted palazzos. Want to elevate your outfit for the festival or wedding season? Try the belted palazzo style with a bustier and long ethnic jacket combination. Add jhumkas as well as juttis to complete the look!
7. Slit Palazzo Pants
Among the different types of palazzo, these slit palazzo pants are the most popular. Regular or broad flares can be found on slit palazzos, but they also have slits on the front or sides. Slits can be made anywhere from the calf to the thigh. These plazo for women come in georgette, silky viscose, chiffon, and free-flowing fabrics. With these different types of palazzo, you can flaunt your toned legs! Pair slit palazzo in the leg with a crop top in a matching or contrasting print. To look stylish wear a neck chain and sunglasses as accessories!
8. Tassel Palazzo
Another different type of palazzo is Tassel Palazzo. These types of palazzo pants are not only stylish, but they also pull focus from the tassels. But these pant style plazo have a special detail that makes them attractive to any woman. It is fantastic apparel for a relaxed summer evening on the beach and perfect for casual summer days. It pairs best with tops, strappy tops, and crop tops. Additionally, if you enjoy wearing bohemian outfits, this palazzo is sure to become your best friend. To complete the look add some feminine flair to this stylish palazzo by accessorising with tassel earrings and stilettos. Tassel Palazzo is also perfect for casual activities like shopping.
9. Cropped Palazzo Pants
Different types of palazzo go all the way to the floor however, cropped palazzo pants are usually more modern plazo style and go well with both western and ethnic clothes. They end a few centimetres above your ankle, allowing you to wear them with any style of footwear. Cropped palazzo pants can give your ethnic clothing a modern edge. Make sure you pair the crop palazzo with a long kurti in the frock style. Do not forget to wear statement earrings and juttis with the outfit. You can complete the look with a messy ponytail or by letting your hair down.
10. Layered Palazzo
Among the different types of palazzo, these layered palazzo are unique and modern. It always has one or more fabrics in this style of women's plazo. The design will work best with cotton and rayon. Wear this at a casual or semi-formal event. You can pair this plazo type dress with with a T-shirt or tank top and sandals. They can be dressed up by wearing a belt, a fitted top, and as well heels or flats. You can also add a blazer for a more formal look.
11. Skirt Palazzo
One of the different types of plazo is skirt palazzo. The skirt palazzo looks like a palazzo dress for girls because it has more flare than normal pants. Also, the patterns make a style statement that is different from the latest style. Pick a palazzo skirt with the proper length for your body type. Tank tops and crop tops look amazing with it. Women usually wear palazzo skirts for formal occasions. Wear it to a cool party with your best buddies or present the awaited dancing performance.
12. Tiered Palazzo
A palazzo for women that has different levels or tiers in the bottoms is a tiered palazzo. Tiered palazzo are more of a fashion need than anything else, and they look really dramatic. Each tier often has a smaller size than the one below it. Tiered palazzos have a disco-inspired style. It will be form-fitting at the waist and flowery at the knee. Use any fabric you like to create these types of plazo. To achieve a more vintage-inspired style, you can also add accessories. Wear this when you're going out for fun.
13. Formal Palazzo A Professional Palazzo Look
Are you looking for a formal look? Try wearing this formal palazzo. As the name implies, this palazzo is only for formal wear. Wearing this dressy palazzo to the office will make you look even more stylish. With these formal palazzo pants, you'll look sharp and smart. Pair this formal palazzo for women with shirts, full-sleeved tops, or well-fitted basic tees to look like a bossy girl. For this ladies plazo, choose a rayon or cotton fabric and wear it with formal shirts. Formal palazzo also gives the look of jeans plazo and creates professional vibes.
14. Trouser Style Palazzo
As the name implies, trouser style palazzo is more structured than regular trousers but with more flair. Most palazzos have an elastic band around the waist, but a trouser palazzo holds buttons instead, which makes it fit better. We could say that trouser palazzos have it all: they are comfy, stylish, and look professional. Given this quality, pick up a pair of pure cotton palazzo. Try a tunic with an elegant pattern and a pair of timeless Oxford shoes to complete your trouser palazzo outfit.
15. Wrap-Front Palazzo
A wrap palazzo can add a little bit of a new look while wrap skirts are popular in women's wardrobes. The wrap on the wrap front palazzo pants is in the front, not on the sides. These palazzo for women have a stylish look that has made them popular for a long time. They are ideal for evenings when you want to look nice. In modern wrap palazzo styles, buttons are used in place of drawstrings. For a more casual look, pair them with a t-shirt and sandals, or glam pants up with a top and heels for a more formal event.
16. Culottes
Palazzo for women that are usually about knee or calf length and are made to look like skirts are Culottes. Although they could be mistaken for a skirt, they are actually pants. They come in soft materials including cotton, linen, khadi, crepe, and denim. Nothing compares to the comfort of culottes, and nothing compares to how many different ways you can style them! Nothing is more perfect than a midday outfit consisting of the finest printed culottes in soft tones and a crop top or short top! If you need a fresh formal outfit for warmer days, put on a sweater and choose culottes for your bottoms. Complete the look with heels and stud earrings.
17. Traditional Palazzo
These different types of palazzo don't require any introduction now because they are a basic part of every woman's wardrobe. Traditional palazzos, which come with gota patti and other ethnically based decorations, are certainly wardrobe winners. As intimate events are popular right now, why not take the chance to change your style and keep up with the times? The best thing to wear is a pair of traditional palazzos with jhumkas and kolhapuris.
Well! we have mentioned above the best 17 types of palazzo. If you are aware of your body type, you can experiment as much as you like with palazzos. Explore the different plazo style and show off your palazzo look to the fullest.